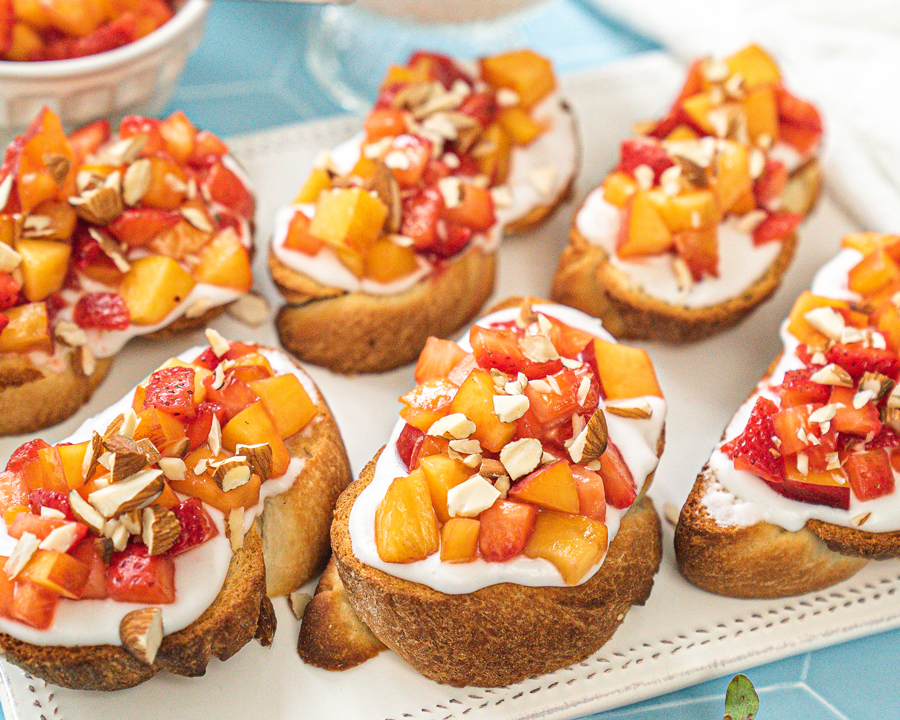 The Best Fruit Bruschetta Recipe

This vegan fruit bruschetta recipe is the perfect bite for a sweet and refreshing breakfast. While a Classic Bruschetta is made with diced tomatoes on toasted bread, you can use your favourite fruits and creamy yogurt sauce for this treat, optionally topped with nuts. I am so happy to share this simple and sweet breakfast bruschetta recipe that is completely vegan!
Vegan Fruit Bruschetta Recipe
Breakfast can be more creative with this recipe because you are collaborating what you would typically eat for breakfast into a whole new recipe. This simple and easy-to-make recipe is both satisfying and filling. To create this recipe, you just need freshly toasted slices of bread, topped with a pre-made creamy yogurt sauce, seasoned fruits and chopped nuts. I guarantee you that this dish will make you want to wake up earlier just to start your morning right. If you want to make something really special for someone, this is the perfect breakfast-in-bed meal.
Are there other ways to make it? 
You can change up the fruit combinations, toppings and optional sweeteners to anything you have in your kitchen. This recipe is also great with basically any fresh bread, but challah is my favourite.

Fruit Bruschetta with Creamy Yogurt Spread
One of my favourite things about living in Canada is tasting the fresh produce of our ever-changing seasons. This recipe is such a fun way to integrate different fruits, from berries to stone fruits, the options are endless. And if you don't have access to fresh produce, you can also defrost frozen fruit prior to cooking, wild blueberries are a great addition!
This recipe is a simple start to your morning routine. Just a couple of simple ingredients that can satisfy your entire week. All you need to do is mix up the yogurt spread, toast your bread, then spread the sauce over your toast, topped with fruit, nuts and optional other sweet options you can enjoy!

How many servings does this make?
This recipe makes 2 servings, but it's easy to double or even triple the recipe if you're serving more guests.
Can I make it ahead of time?
You can absolutely make the coconut spread at the beginning of the week or the night before and store in an air-tight container in the fridge to use all week! You can also pre-chop any fruits that won't go brown.
Related Post: Olive Sheet Pan Bruschetta

INGREDIENTS FOR FRUIT BRUSCHETTA (VEGAN):
KITCHEN EQUIPMENT:
Fruit Bruschetta
This vegan fruit bruschetta recipe is the perfect bite for a sweet and refreshing breakfast.
Instructions
Preheat your oven to 350F, and line a baking sheet with a silicone baking mat or parchment.
Open the refrigerated can of coconut milk and remove only the thick hard coconut cream and place it into a medium-size bowl. Save the liquid for smoothies.
Add the plant-based Yogurt, and with a whisk, hand mixer, or in a stand mixer, mix the two together until combined. If you want the whipped yogurt a bit sweeter, add in additional sweetener of choice now 1-2 tbsp at a time. Place in the fridge.
In another medium bowl, stir together your chosen fruit. Set aside.
Arrange the bread slices in a single layer and toast in the oven for 4-6 minutes, or until the top is golden and crispy (Timing will all depend on your oven). Flip the bread slices, and toast for another 3-4 minutes.
When toast has cooled, evenly spread the yogurt mixture between the bread slices, and scoop some fruit onto the yogurt spread. Garnish with optional garnishes of your choice.
Nutrition Information
Serving size:
1 serving
Calories:
243
Fat:
13.2g
Carbohydrates:
25.5g
Sugar:
8.5g
Fiber:
2.5g
Protein:
4g
Hey, welcome to The Edgy Veg – we veganize popular food recipes for vegans, plant-based diets, eco-conscious eaters & people who are trying to eat more plants over… y'know animals or their by-products. We hope you enjoy this tasty vegan recipe!
---
Looking For More Vegan Breakfast Recipes?
Made this recipe? Let me know what you think by leaving a ★★★★★ star rating & comment below. It truly helps me & I really appreciate any support! Feel free to share your food photos on social and tag me @edgyveg so I don't miss it!