Fruit Bruschetta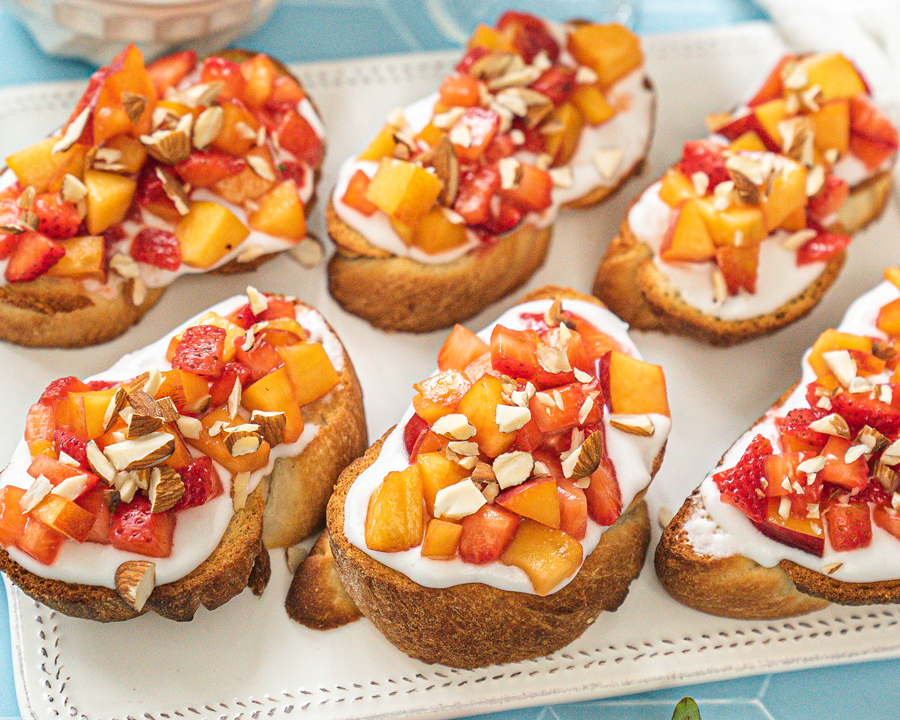 Preheat your oven to 350F, and line a baking sheet with a silicone baking mat or parchment.
Open the refrigerated can of coconut milk and remove only the thick hard coconut cream and place it into a medium-size bowl. Save the liquid for smoothies.
Add the plant-based Yogurt, and with a whisk, hand mixer, or in a stand mixer, mix the two together until combined. If you want the whipped yogurt a bit sweeter, add in additional sweetener of choice now 1-2 tbsp at a time. Place in the fridge.
In another medium bowl, stir together your chosen fruit. Set aside.
Arrange the bread slices in a single layer and toast in the oven for 4-6 minutes, or until the top is golden and crispy (Timing will all depend on your oven). Flip the bread slices, and toast for another 3-4 minutes.
When toast has cooled, evenly spread the yogurt mixture between the bread slices, and scoop some fruit onto the yogurt spread. Garnish with optional garnishes of your choice.
Serving size:
1 serving
Calories:
243
Fat:
13.2g
Carbohydrates:
25.5g
Sugar:
8.5g
Fiber:
2.5g
Protein:
4g