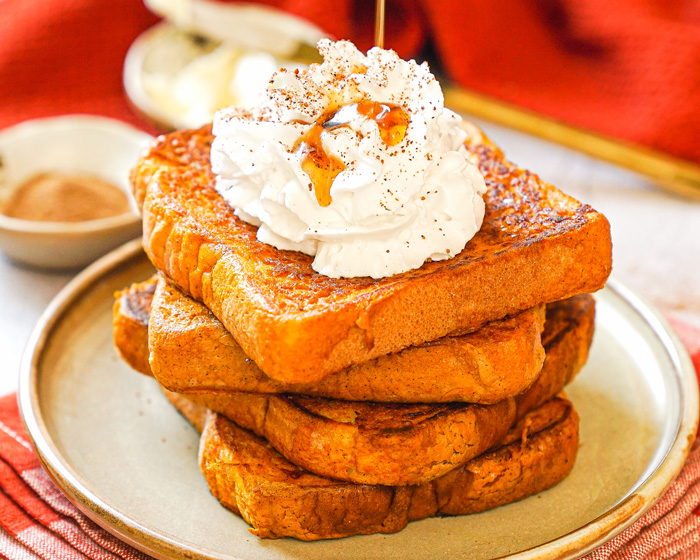 Vegan Pumpkin French Toast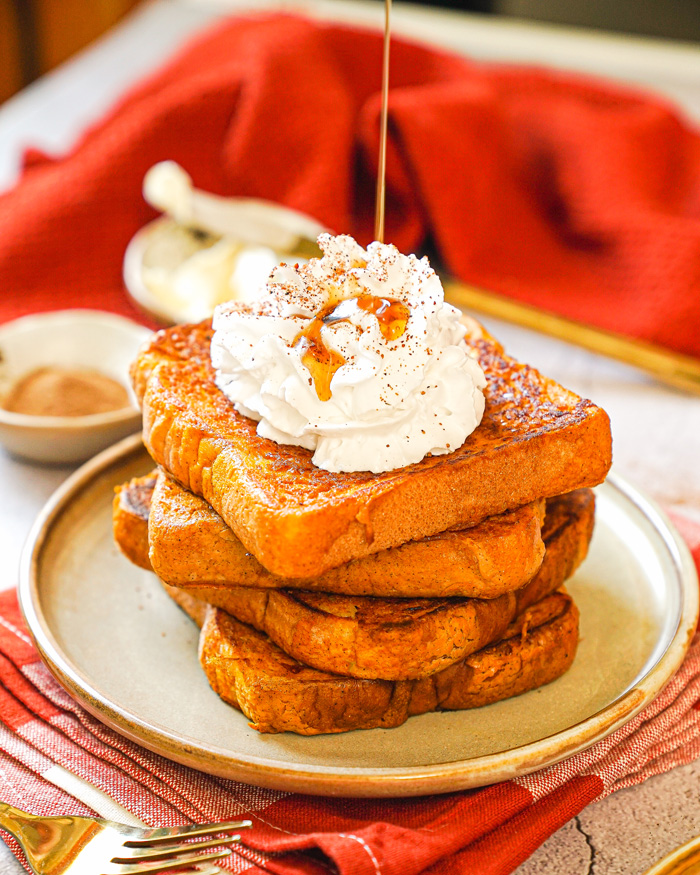 I'm going to show you how to make vegan pumpkin french toast in 8-10 mins. If you're looking for pumpkin spice french toast for the fall season, you'll love this recipe!
Pumpkin is EVERYWHERE right now and I am totally on board with it. This vegan pumpkin spice french toast is perfect for an autumn breakfast or brunch. It's warming and sweet and helps your day get started the right way.
Related Recipe: Vegan Pumpkin Spice Pancakes
Vegan Pumpkin French Toast
I've been making so many vegan french toast recipes lately and so excited to share vegan pumpkin french toast recipe. Picture this: you wake up on a cool Autumn morning with some pumpkin spice french toast, covered with non-dairy whipped cream and maple syrup. Sounds fabulous, right?
All you need to do to make this vegan french toast recipe is add all of the batter ingredients to a blender and blend until smooth, then add to a shallow bowl and dip sliced bread into it. Next, cook dipped bread in a frying pan until golden brown and serve with preferred toppings.
Related Post: Vegan French Toast Sausage Roll-Ups
INGREDIENTS FOR PUMPKIN SPICE FRENCH TOAST (VEGAN):
Optional Toppings & Garnish
KITCHEN EQUIPMENT I USED:
Full Recipe Down Below
Vegan Pumpkin French Toast
Ingredients
Optional Toppings & Garnish
Instructions
To a high-speed blender, soy milk, pumpkin puree, tofu, coconut sugar, nutritional yeast, Kala namak, vanilla, and pumpkin pie spice and blend until smooth and creamy. Transfer to a large but shallow bowl.
Heat a large frying pan over med-high heat (non-stick preferred) and melt 1 tbsp butter.
In batches, dip a slice of bread into the pumpkin/tofu mixture and coat both sides generously. Place it onto the pan and repeat to fill the pan.
Cook both sides of the bread for 3 to 4 mins each, or until golden brown.
Remove each slice from pan and serve with powdered sugar, maple syrup, fresh fruits, nuts or whipped cream.
Nutrition Information
Serving size:
2 slices
Calories:
274
Fat:
10g
Sugar:
7.5g
Fiber:
3.2g
Protein:
11.7g
---
Hey I'm Candice aka The Edgy Veg – I veganize popular food recipes for vegans, plant-based diets, eco-conscious eaters & people who are trying to eat more plants over… y'know animals or their by-products. I hope you enjoy this tasty vegan recipe!
---
Looking For More Vegan Brunch Recipes?
Made this recipe? Let me know what you think by leaving a ★★★★★ star rating & comment below. It truly helps me & I really appreciate any support! Feel free to share your food photos on social and tag me @edgyveg so I don't miss it! 
Share My Recipe on Pinterest