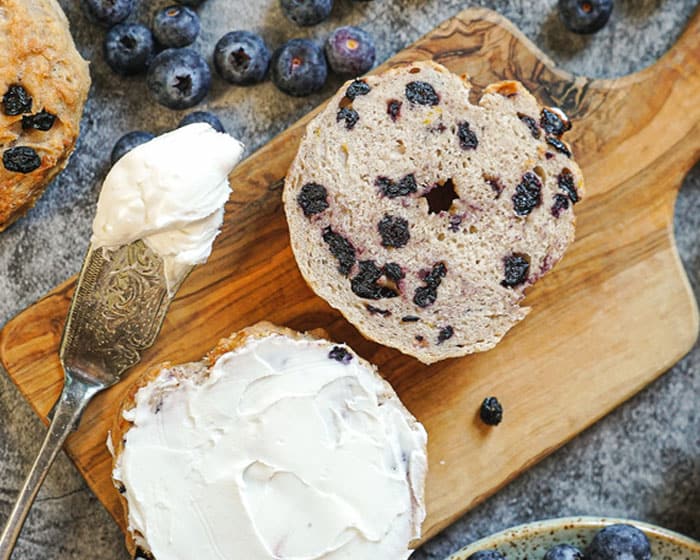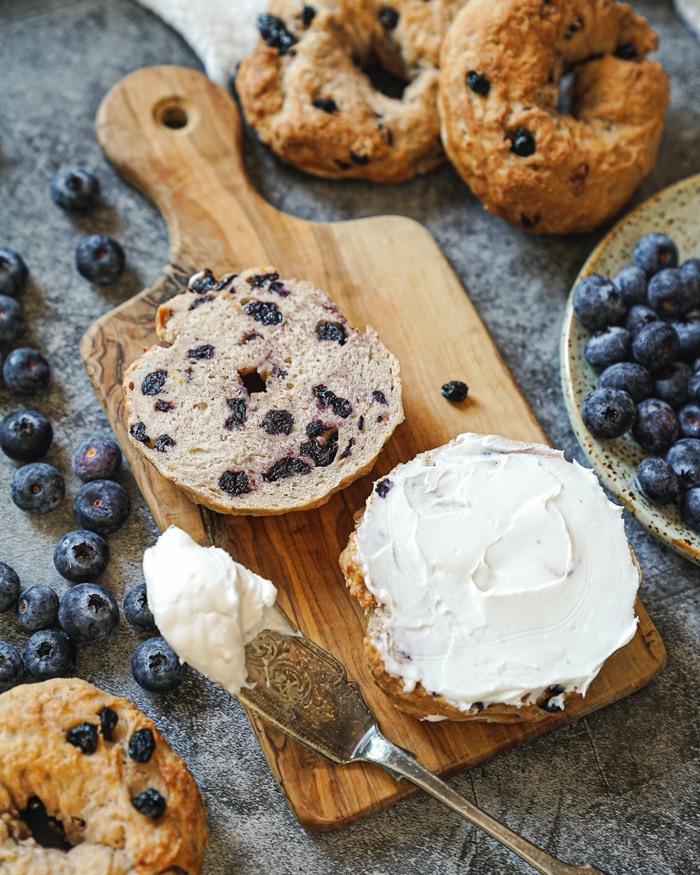 I'm going to show you how to make fluffy and fresh blueberry bagels recipe using only 8 ingredients in 30 minutes!
You can take this blueberry bagel recipe and make it your own by swapping the blueberries for other dried fruits or even chocolate chips! This is a unique breakfast to make and you can also make my homemade vegan cream cheese.
Related Recipe: Blueberry Muffins
Blueberry Bagels
I've been on such a breakfast recipe kick lately, this is one I absolutely love. Bread can be so tricky, especially for people who are new to the kitchen. This is such a simple bread that you can eat for breakfast or a snack. 
All you need to do to make this vegan recipe is combine ingredients in a mixing bowl and lightly knead to bring together, then cut into 4 pieces and roll into a bagel shape. Brush with butter and bake until golden and raised. 
Related Post: Blueberry Chocolate Energy Bites
INGREDIENTS FOR BLUEBERRY BAGELS (VEGAN):
KITCHEN EQUIPMENT I USED:
Blueberry Bagels
I'm going to show you how to make fluffy and fresh blueberry bagels recipe using only 8 ingredients in 30 minutes!
Instructions
Preheat the oven to 350F and line a baking tray with a silicone mat or parchment. Set aside.
In a large bowl, combine ½ the flour, sugar, blueberry powder, salt, lemon zest and blended silken tofu until a soft, wet dough forms.
Gently, fold in the dried blueberries, and add the remaining flour. Mix until a firmer dough forms.
Lightly sprinkle a clean surface with flour and knead the dough. Divide the dough into 4 equal-sized pieces.
One at a time, roll the dough with your hands into thin little ropes and connect the ends to create a circle. Transfer bagels to the prepared baking sheet and lightly brush the tops of each bagel with butter.
Bake the bagels for 20-22 minutes, or until golden brown.
Transfer bagels to a cooling rack to cool completely.
Serve with your favourite non-dairy cream cheese, butter, or vegan ricotta and agave.
Nutrition Information
Serving size:
1 bagel
Calories:
348
Fat:
7g
Carbohydrates:
53.2g
Sugar:
11g
Fiber:
4.2g
Protein:
13.5g
---
Hey I'm Candice aka The Edgy Veg – I veganize popular food recipes for vegans, plant-based diets, eco-conscious eaters & people who are trying to eat more plants over… y'know animals or their by-products. I hope you enjoy this tasty vegan recipe!
---
Looking For More Vegan Bread Recipes?
Made this recipe? Let me know what you think by leaving a ★★★★★ star rating & comment below. It truly helps me & I really appreciate any support! Feel free to share your food photos on social and tag me @edgyveg so I don't miss it! 
Share My Recipe on Pinterest