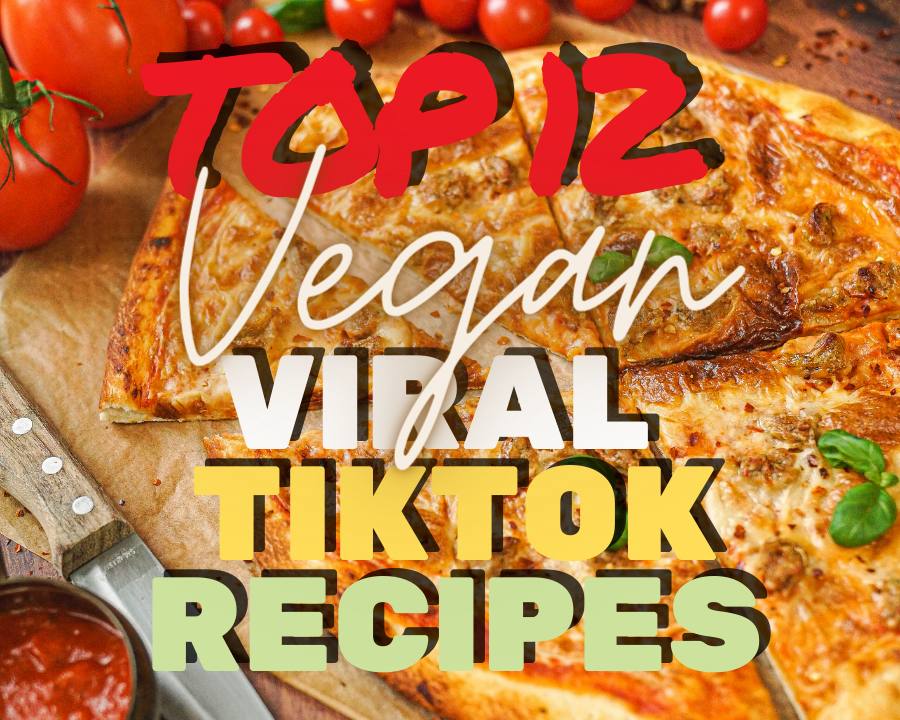 Top 12 Viral TikTok Recipes Made Vegan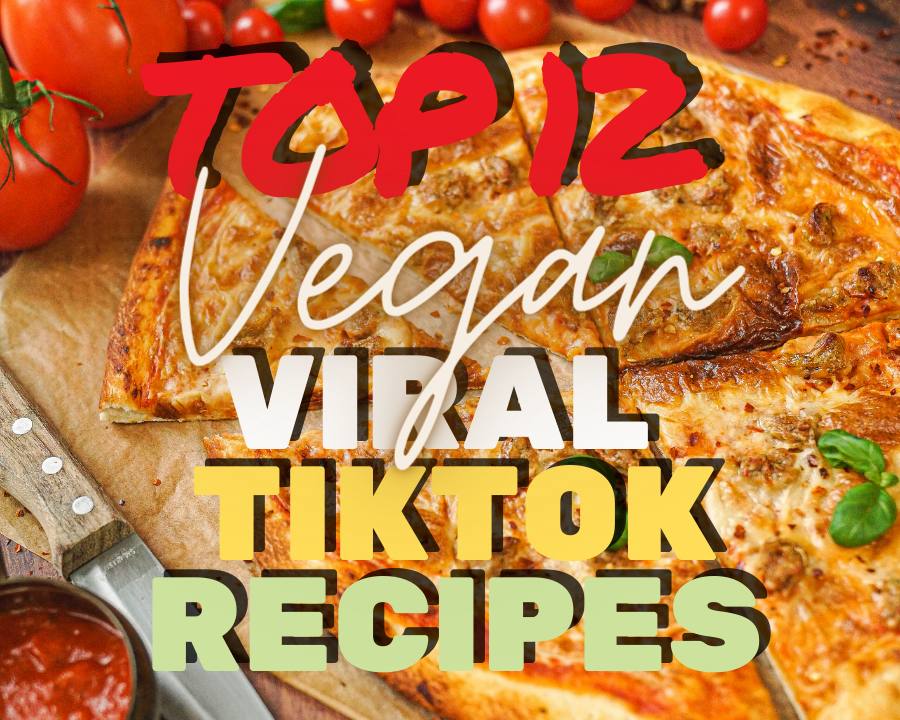 Some of the most viral Tiktok content is food content that is easy to make and delicious. If you have been on Tiktok in the past few years, you definitely know what I am talking about. You can finally try these Tiktok recipes without accidentally losing the recipes by scrolling too fast! I have made so many of these viral recipes with vegan alternatives so that you don't have to miss out on the hype ever again. If you have been dying to create some of these Tiktok recipes, you are at the right place. Here I've included over 12+ easy vegan alternatives to these Viral Tiktok recipes. Everything from Gigi Hadid's Vodka pasta recipe, to hot honey and Korean corn cheese! You can enjoy all the different recipes that can easily transform into vegan recipes right in your kitchen.
Vegan Recipes for TikTok Trends
This list of easy vegan recipe ideas is made for anyone looking for plant-based alternatives to trendy recipes and daily food hacks; whether you are already vegan or transitioning into this lifestyle, you don't have to feel excluded from all the cool Tiktok food content you see online. I challenge you to host a Tiktok-inspired potluck night with all your friends and family and dance to your favorite Tiktok songs.

When Tiktok started blowing up with some of the most sensational and delicious recipes to cook, it is this Vegan Feta Pasta. The feta pasta recipe is a casserole-styled recipe that consists of cherry tomatoes, covered in olive oil and Italian seasoning with a block of feta cheese and cooked pasta. After baking for about 30-mins, all you need to do is mix and serve. The outcome of this recipe is so creamy and rich in tomato flavors infused with olive oil. This crowd-pleaser dish has been veganized with my homemade vegan feta recipe, which has been replicated by other famous vegan chefs! If you want to get a taste,  try my recipe here!

Salmon and Rice Bowl
Emily Mariko is a content creator who blew up the internet when she reheated leftover salmon over rice with avocado, sriracha sauce, and kewpie mayo and ate it with dried seaweed sheets. What seems like a simple lunch is actually filled with very nutritious ingredients and tastes just like those "bake-sushi" casseroles without the "bake". I created my own vegan version of salmon and Kewpie mayo here. Now you don't have to be excluded from this deliciously non-vegan recipe.  Although Kewpie does make a vegan version of their product, I made a homemade vegan Kewpie Mayo here! And the recipe for vegan flaked salmon here!

This is one of the most famous breakfast recipes on Tiktok. It is so simple and easy to make. You can start by frying the bread with pesto sauce before cracking the egg in the pan to absorb all the goodness from the pesto oil. You can also add a tiny bit of chili oil to add in that kick of spice. Once the eggs are cooked sunny-side up, you can top it off with a bed of avocados and let that runny yolk drip all over the sandwich. Yes, I went there to create this simple homemade vegan egg with a runny yolk to mimic the egg explosion. You can now have a breakfast that does not have to compromise the best parts of eggs and still make it vegan-friendly! Get the recipe here!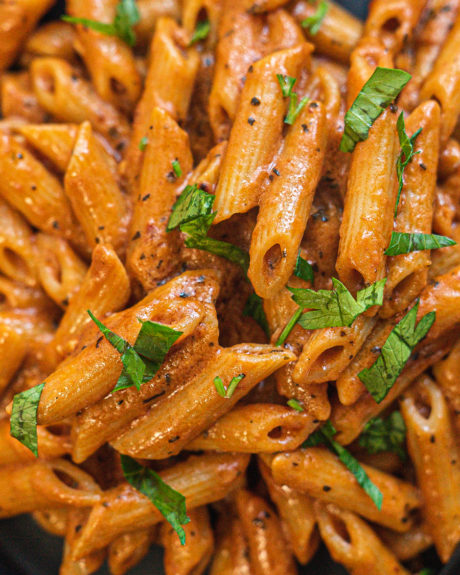 Gigi Hadid is not just a talented supermodel but an avid chef. When she shared her favorite pasta recipe over the internet, people went head over heels for this pasta recipe! I've seen thousands of people recreate this recipe to make their own versions of the penne a la vodka. The best part about this recipe is the creamy sauce base that blends perfectly with the spicy tomato and chili flavors. Luckily, I made a vegan-friendly version of it while still keeping that rich creamy goodness to this recipe! This is also a really great alternative for dairy-free pasta options. Get the recipe here!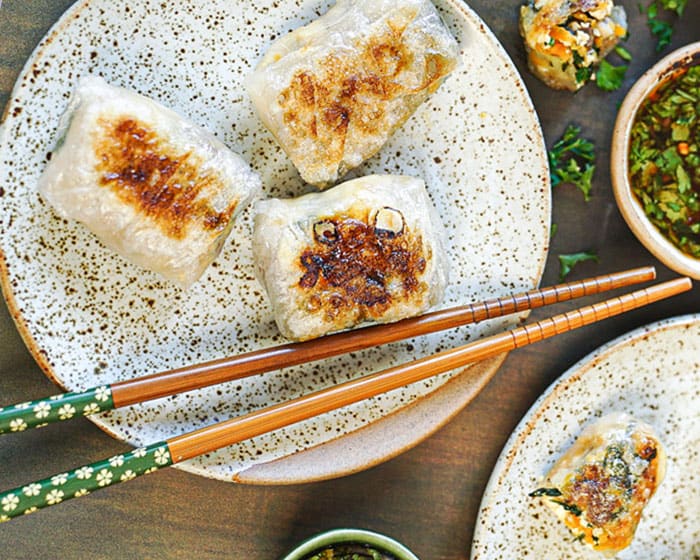 You can never go wrong with eating dumplings on a brunch date at a dim-sum restaurant. I absolutely love dumplings because of the endless variations of dumpling fillings you can wrap into small bite-sizable pieces. While the traditional recipe uses flour-based wrap, I have substituted the ingredients with a rice paper wrap which is gluten-free and cooks a lot faster for those quick work-from-home lunches. You can make any fillings using tofu and veggies. The best part is you can fast-track the dumpling fold experience and make small bite-sizable square pieces using rice papers to fry quickly in a pan. Get the recipe here!
The Vegan Pici Pasta came to fruition with the powerful algorithm of TikTok. The Pici Pasta first originated in Siena, Itay, and served as a simple and delightful dish that holds so much flavor from the thickness of the noodles. With just 2 main ingredients and a food processor, you can enjoy this delicious plate of vegan Pici Pasta. I've seen lots of people make snake shapes but I prefer them gnocchi style because they cook faster and are way less time-consuming to make. Get the recipe here!
Some of the most viral vegan videos are the ones where chefs turn fast-food recipes into vegan alternatives. The great part about this trend is that we are revolutionalizing the accessibility of vegan alternatives at fast-food restaurants and transforming the way people think about food. It does not have to come from animals! So far I have created various versions of fried chicken recipes, but I have to admit, this Oyster Mushroom Fried Chicken has got to be one of my recent favorites. It is so easy and definitely satisfies that craving for fast food.  Get the recipe here!
The best food-hacks come from the TikTok community and one of the most infamous recipes is the pasta chips. Who would have ever thought that you can make delicious and easy snacks using just an airfryer and dried pasta? All you have to do for this recipe is throw in cooked pasta with oil and spices and cook them in the air fryer until they are crunchy. I have to say, these pasta chips are delicious and has a great texture that you can enjoy as your new favorite movie snack. This recipe normally uses parmesan cheese but I created my own vegan version with this whipped feta dipping sauce, made with my vegan feta cheese. Get the recipe for Pasta Chips here!
Air-fryers are such an efficient way of cooking in the kitchen while getting the best quality possible. Tiktok seems favor the air fryer algorithm and I don't blame them. The air fryer is basically a small convection oven that blows hot air to circulate while cooking. This helps with crispy edges and soft centers in many recipes and cuts down on cook time. This custard toast is a trend where you mix eggs and milk and pour the custard into the center of a slice of bread, adding fruit and cooking until the custard is set. By making some adjustments, I easily made it vegan! See how I made it vegan! 
If you have ever been to a K-BBQ bar or watched enough K-drama scenes at a restaurant, you might have seen this Korean Corn cheese dish. This is a famous South Korean side dish made of canned sweet corn and shredded mozzarella cheese. It's a simple side dish most commonly served with alcohol, known as modern "Anju". You can make this straight on the grill insert or traditionally on a sizzling stone plate. I made mine vegan and added instant ramen noodles. Get the recipe here!
Gordon Ramsey is known for his overly critical and audacious attitude towards aspiring chefs. He rose to fame over on Tiktok through reviewing food videos and he recently attempted to recreate a few vegan dishes. Of course, I had to try it and experience the recipe of one of the best chefs' in the world. Although I made some improvements to this recipe, it still tasted delicious! This is my version of Chef Gordon Ramsey's vegan bacon.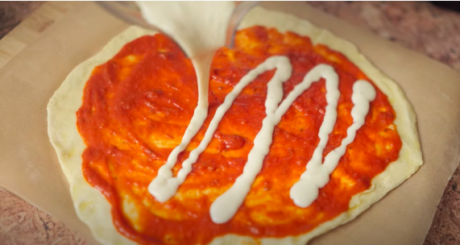 During my travels, I love experiencing new vegan foods I have never tried before. And one of my favorite vegan cheese recipes is founded by a company called, Miyokos, they created a new product made with pourable vegan mozzarella liquid that firms up when baked. Since I couldn't get my hands on this delicious cheese recipe is Canada, I decided to create my own version of it! When I posted this recipe on my TikTok channel, people loved it and I hope you love it too! Get the recipe here!
If you are looking for a balance of sweet and spicy honey that can be used to make any recipes taste good, you have to try this Hot Honey recipe. TikTok initially made hot honey super popular for use on fried chicken, but you can also use this recipe as a topping on any dishes like cheese, salad, cocktail, even just on any type of bread to spice it up! Click here to see how I made it!

Viral TikTok Recipes But Vegan
Here I've included over 20 easy vegan recipes to make vegan versions of top viewed TikTok trends; everything from feta pasta, to hot honey and Korean corn cheese!
Instructions
Plan which easy vegan recipes you want to make.
Gather all your ingredients.
Enjoy your delicious vegan meals!
---
Hi! I'm Candice aka The Edgy Veg!  I veganize popular food recipes for vegans, plant-based diets, eco-conscious eaters & people who are trying to eat more plants over… y'know animals or by-products of animals. I hope you enjoy this tasty vegan recipe!
Looking For More Vegan Recipes?
Made this recipe? Let me know what you think by leaving a ★★★★★ star rating & comment below. It truly helps me & I really appreciate any support! Feel free to share your food photos on social and tag me @edgyveg so I don't miss it!