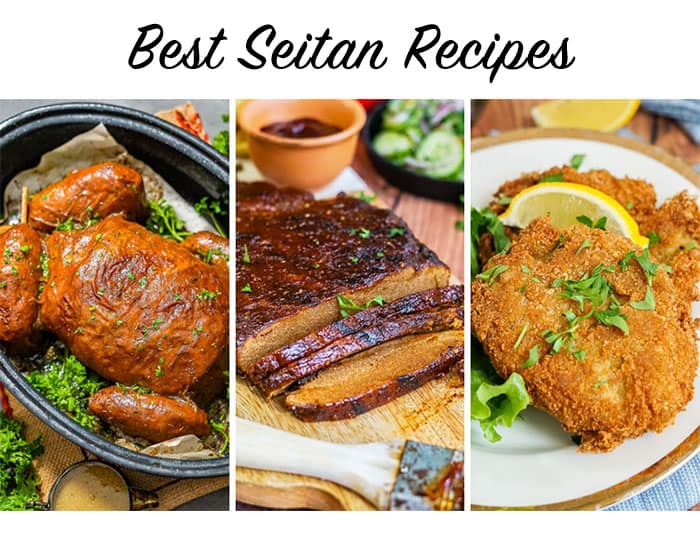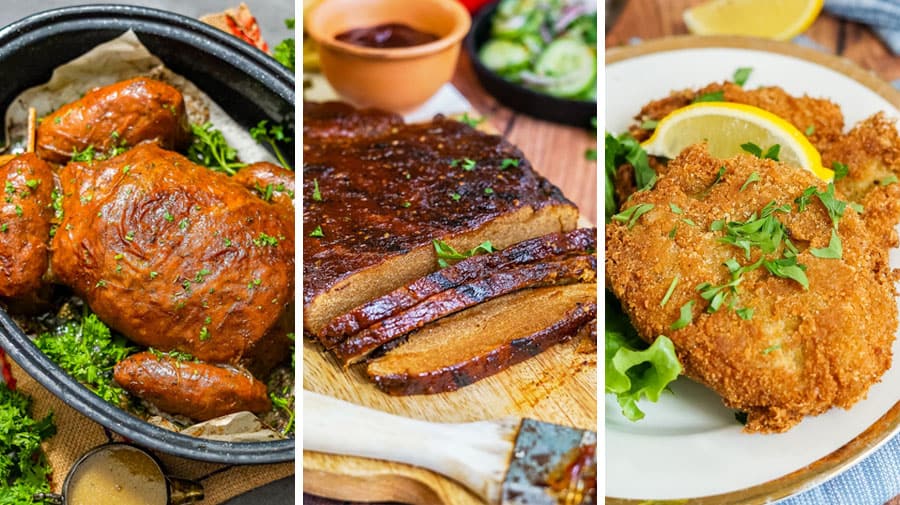 Looking for the best seitan recipes or ways to make seitan at home? Whether you're vegan or you're looking for some meat-free meals, here is a list of my favourite seitan vegan meat recipes! This list of seitan ideas will help you make vegan alternatives for classic chicken, beef or pork recipes! 
Best Seitan Recipes
Some classics that I think every plant-based cook needs to be comfortable making are simple seitan doughs! It can be tricky to learn but once you get it, you'll be a pro!
Tips For Making Seitan:
Buy vital wheat gluten (seitan flour) in bulk to reduce cost and waste.
For a more tender texture, knead less. For more fibrous texture, knead more.
You can boil, bake (in liquid or wrapped tin foil) or steam seitan to cook it.
Leave a comment letting me know which seitan recipe is your favourite!
This seitan steak recipe is super easy to make and perfect if someone in the family is looking for a steak alternative. You can slice this into steak strips for fajitas or sandwiches!  Get the recipe here! 
Vegan Brisket is made from a seasoned seitan loaf that is baked and basted in a spiced braising stock then rubbed with a BBQ spice mix and barbequed until slightly charred. This technique ensures the best texture and flavour for the final brisket. Get the recipe here! 
This vegan schnitzel recipe uses 14-ingredients and super easy to make! I'll show you how to make vegan schnitzel using seitan & breading! Get the recipe here! 
This vegan turkey roast recipe is an absolute masterpiece. I can't believe I made a vegan turkey using seitan! It is my all-time favourite seitan base recipe with classic turkey seasonings, shaped into a cooked turkey and covered in ricepaper "skin". Non-vegans will be shocked this is made from plants. Get the recipe here!
Give these delicious vegan wings a try– I promise they will taste JUST like the meat version. The seitan chicken has taken me roughly 2 years to perfect. It is moist and perfectly spiced. Get the recipe here!
This is an easy vegan recipe for a Chick-Fil-A Chicken Sandwich that you can quickly and easily make at home. It can be used in place of any chicken sandwich. This vegan spicy chicken sandwich is made with battered seitan, tangy pickles, and vegan cheese. Get the recipe here!
This vegan chicken recipe is the culmination of all of my favourite aspects of every vegan chicken alternative I've ever made. It has tofu, jackfruit, no-chicken bouillon, and vital wheat gluten. All of these things make the sum of something amazing. Get the recipe here!
There is no reason to head out for fried chicken when you can make this amazing vegan recipe at home without harming any animals!! You'll love this vegan Popeye's fried chicken recipe, I am sure of it. Get the recipe here!
My vegan version of McDonald's McChicken sandwich uses homemade, chicken flavoured seitan, breaded to perfection. This indulgent sandwich leaves you full, satisfied, and without that guilty shame that comes along with eating McDonald's. Get the recipe here!
Try this Vegan Chicken McNugget Recipe out and see for yourself how you can enjoy that salty, crunchy taste without the need to harm any animals! I've tried other vegan chicken nugget recipes and they just aren't the same. Get the recipe here!

Best Seitan Recipes
Looking for the best seitan recipes or ways to make seitan at home? Whether you're vegan or not you'll enjoy these seitan vegan meat recipes!
Instructions
Plan what seitan recipe you want to make.
Gather all your ingredients for the recipe.
Enjoy your delicious vegan seitan!
---
Hey I'm Candice aka The Edgy Veg – I veganize popular food recipes for vegans, plant-based diets, eco-conscious eaters & people who are trying to eat more plants over… y'know animals or their by-products. I hope you enjoy this tasty vegan recipe!
---
Made this recipe? Let me know what you think by leaving a ★★★★★ star rating & comment below. It truly helps me & I really appreciate any support! Feel free to share your food photos on social and tag me @edgyveg so I don't miss it!
Share My Recipe on Pinterest!