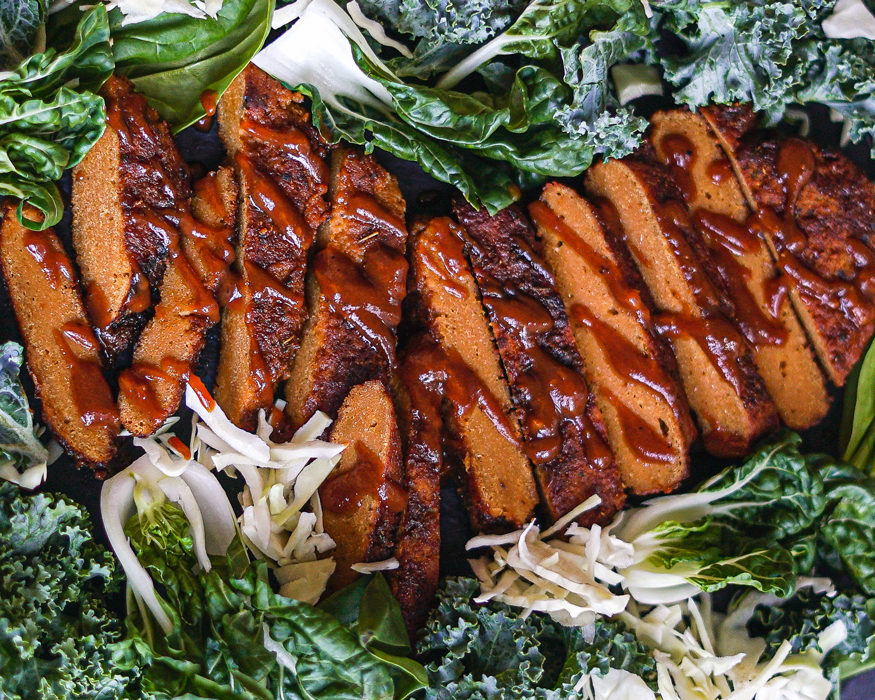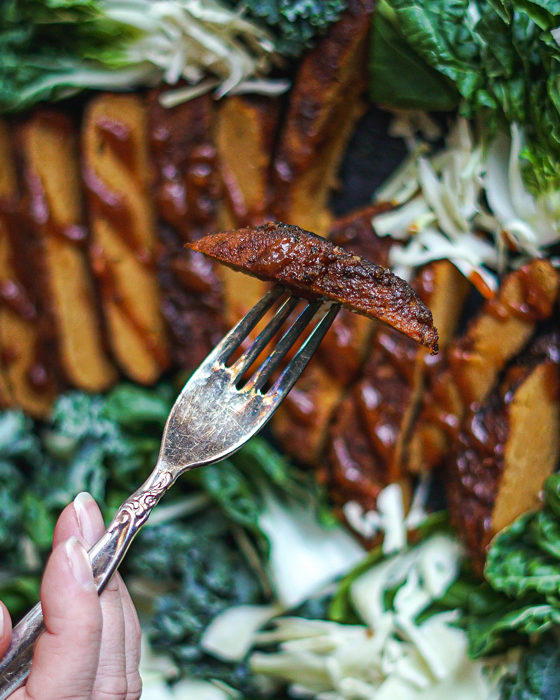 Seitan is a magical food that can be easily created into your favourite pre vegan meatlike dishes! It easily mocks the texture of chicken, beef, porc etc. And Guess what?! It's a protein powerhouse!!! Just a few recipe switch ups and a couple key, flavourful ingredients and BAM! you have vegan steak, or chickUN Kiev, or my personal favourite —Philly cheese steak sammies. Mmmmm Yeah, I went there. I have posted my basic seitan steak recipe below and have also made a general seitan video for all you visual learners as well!
Serve with vegan gravy, mashed potatoes, vegan bacon Brussels sprouts, or serve in slices on top of tacos.
Easy Seitan Steak
You're welcome!!
Recipe type:
Vegetarian Basics
Ingredients
Dry ingredients
1½ cup vital wheat gluten
¼ cup nutritional yeast
½ cup chick pea flour (or garbonzo bean powder)
1 ½ tsp garlic powder
1 ½ tsp onion powder
2 tbsp brown sugar
Wet ingredients
1 cube (1 tsp) vegetable bouillon or no-beef bouillon + ¾ cup hot water
½ tsp liquid smoke
1 tbsp soy sauce
¼ cup ketchup
¼ cup tahini
2 garlic cloves, grated
pinch of black pepper
Stock
1 ½ cubes (1 ½ tsp) vegetable bouillon or no-beef bouillon + 1 ½ cup hot water
¼ cup brown sugar
1 tbsp soy sauce
¼ cup BBQ Sauce
1 tbsp molasses
3 tbsp Dijon mustard
½ tsp chili powder
1 tbsp dried parsley
½ tsp thyme
1 bay leaf
1 tbsp olive oil (rub for seitan)
Instructions
Preheat the oven to 400F.
To make seitan, whisk together your dry ingredients In a medium-size bowl: 1½ cups vital wheat gluten, ¼ cup nutritional yeast, ½ cup chickpea flour, 2 tbsp brown sugar, 1½ tsp garlic and 1½ tsp onion powder, and set aside.
Next you want to mix your wet ingredients separately. In a large bowl or stand mixer, dissolve 1 bouillon cube in ¾ cup of hot water. Add ½ tsp liquid smoke, 1 tbsp soy sauce, ¼ cup ketchup, ¼ cup tahini. 2 grated garlic, and a pinch of black pepper to your stand mixer. Mix until well combined. Set aside.
To make your seitan, add the vital wheat gluten mixture (dry ingredients) from earlier with the wet ingredient mixture you just made.
Mix and knead. I use a stand mixer on slow speed and knead for 1-2 minutes (so it's more tender). Alternatively, you can knead this with your hands. The mixture should be dough-like and slightly wet but not overly sticky.
Cut the dough into 4 equal pieces and use a rolling pin to roll them into ½ inch to 1 inch thick steaks (they will double in size so you can choose your thickness), and let them rest for 5 to 10 minutes.
For your stock / cooking liquid, dissolve 1½ bouillon cubes in 1½ cups hot water In a large casserole dish.
Once the bouillon dissolves in water, add and whisk together in your large casserole dish: ¼ cup brown sugar, ½ tsp chili powder, ½ tsp thyme, 1 tbsp soy sauce, 1 tbsp molasses, ¼ cup bbq sauce, 3 tbsp Dijon mustard, and 1 bay leaf. Set aside.
Using your hands or pastry brush, cover each seitan steak with olive oil. Then, place seitan steaks into the casserole dish with cooking liquid, and spoon some liquid over top.
Place into the oven and bake for 10-15 mins.
Carefully flip over the steaks, and brush the top with the remaining cooking liquid. You can also add a bit of water to the remining cooking liquid. And bake for another 10-15 mins.
Remove from the oven and serve right away, or save until desired.
To reheat: cook in a pan, grill pan or BBQ until heated through, a couple minutes on each side.