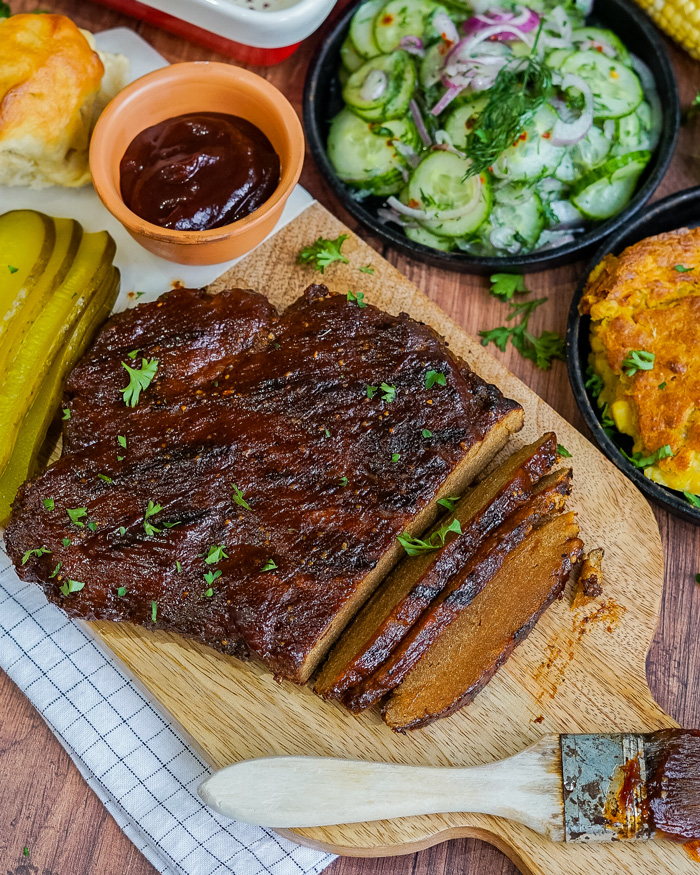 This vegan brisket BBQ-style recipe uses 15-ingredients and can be made ahead to serve with any classic vegan bbq sides, in a sandwich, or even on its own. I'll show you how to make a vegan brisket on a BBQ!
This brisket is made from seitan. If you're not sure what seitan is, it's basically wheat meat. If you take the starch out of flour, either by rinsing or buying it pre-separated, you're left with the protein. Once seasoned and moulded into a dough, the cooked seitan resembles a meaty texture that works great to replace meat in everyday recipes.
Related Recipe: Vegan Corn Pudding
Vegan BBQ Brisket
DAIRY-FREE & MEAT-FREE
This twist on a classic brisket is perfect to pair with other Southern classics like Corn Pudding and coleslaw. Packed with classic bbq seasonings, this main dish is perfect for big appetites! 
Setian, braising techniques, and classic BBQ rub, this dish is the plant-based version of a beloved American classic. 
INGREDIENTS FOR BBQ BRISKET (VEGAN):
INGREDIENTS FOR BRAISING STOCK:
INGREDIENTS FOR BBQ SPICE RUB:
KITCHEN EQUIPMENT I USED:
FULL RECIPE DOWN BELOW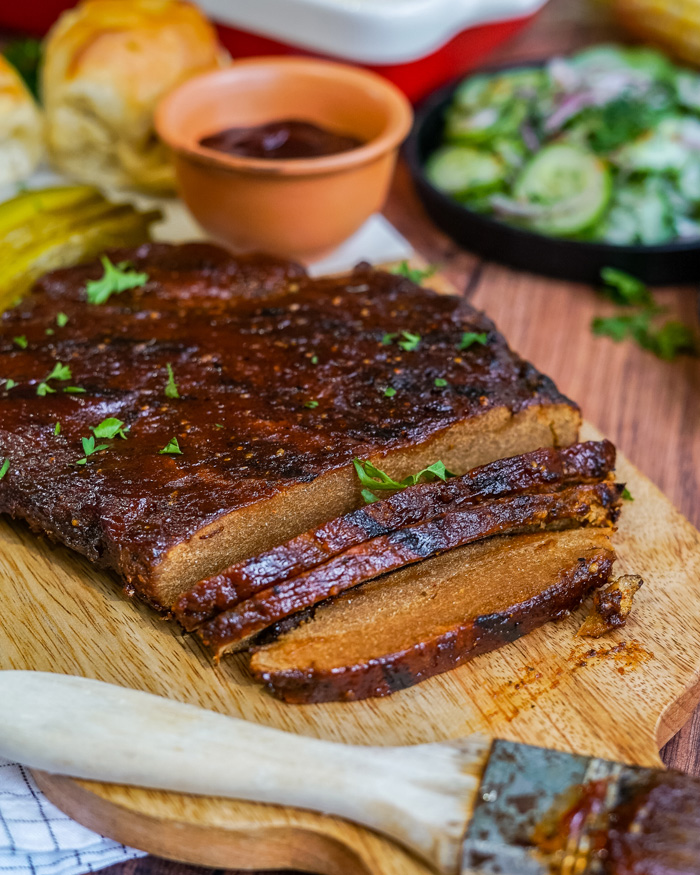 What is vegan brisket made of?
Vegan Brisket is made from a seasoned seitan loaf that is baked and basted in a spiced braising stock then rubbed with a BBQ spice mix and barbequed until slightly charred. This technique ensures the best texture and flavour for the final brisket.
Can you smoke vegan meat?
You can learn to turn your barbeque into a smoker using pellets or invest in a smoking gun and smoke vegan meat for a few minutes to infuse it with smokey flavours. This will be more powerful than the flavour that comes from the liquid smoke in the recipe.

Vegan Brisket (BBQ Style)
This vegan brisket BBQ-style recipe uses 15-ingredients and can be made ahead to serve with any classic vegan bbq sides, in a sandwich, or even on its own. I'll show you how to make a vegan brisket on a BBQ!
Ingredients
For the Seitan:
For the Braising stock:
For BBQ Spice Rub:
Instructions
Preheat oven to 350F.
In a large bowl or in the bowl of your stand mixer, whisk together vital wheat gluten, nutritional yeast, chickpea flour, paprika, cumin, garlic powder, and onion powder. Set aside.
In a blender add no-beef or vegetable stock, soy sauce, olive oil, ketchup, vegan Worcestershire sauce, brown sugar, liquid smoke, and pepper. Blend until smooth.
Add the wet ingredients to the dry and gently knead using the paddle attachment of your stand mixer, or hands for about 3-5 mins, or just until the seitan comes together.
Meanwhile, in the blender, add no-beef or vegetable stock, brown sugar, chili powder, parsley, thyme, soy sauce, molasses, mustard, and garlic. Blend until smooth. Add water as needed if it is too thick. Set aside.
Form the seitan into a brisket-like shape. Place it into a medium-sized casserole dish and cover with about 1 tbsp of olive oil, using your hands.
Pour the braising liquid from the blender over the brisket, and bake for about 20-25 mins, until the top has a crust.
After 20-25 mins, carefully flip over the brisket, and brush the top with the braising liquid. And bake for another 20-25 mins. Check on it every 5-10 mins and brush with the braising liquid as needed.
Remove the brisket from the oven and allow it to cool in the casserole dish.
Meanwhile, make your dry rub. In a small jar, add kosher salt, black pepper, paprika, garlic, and cumin, and shake to combine.
Heat up your grill to about 400 degrees F, and loosen up the brisket from the bottom of the dish, if necessary. Cover the brisket in your favourite BBQ sauce and dry rub seasoning.
Place the brisket onto the grill and grill it for 3-5 mins on each side, until bbq sauce is caramelized and charred.
Slice & serve with freshly baked rolls, corn pudding, pickles and a fresh salad.
Nutrition Information
Serving size:
1 serving
Calories:
225
Fat:
6.1g
Carbohydrates:
15g
Sugar:
5.6g
Fiber:
1.6g
Protein:
25.5g
---
Hey I'm Candice aka The Edgy Veg – I veganize popular food recipes for vegans, plant-based diets, eco-conscious eaters & people who are trying to eat more plants over… y'know animals or their by-products. I hope you enjoy this tasty vegan recipe!
---
Looking For More Realistic Vegan Meat Recipes?
Made this recipe? Let me know what you think by leaving a ★★★★★ star rating & comment below. It truly helps me & I really appreciate any support! Feel free to share your food photos on social and tag me @edgyveg so I don't miss it!
Share My Recipe on Pinterest!