Vegan Turkey Recipe (Whole Vegan Turkey Roast)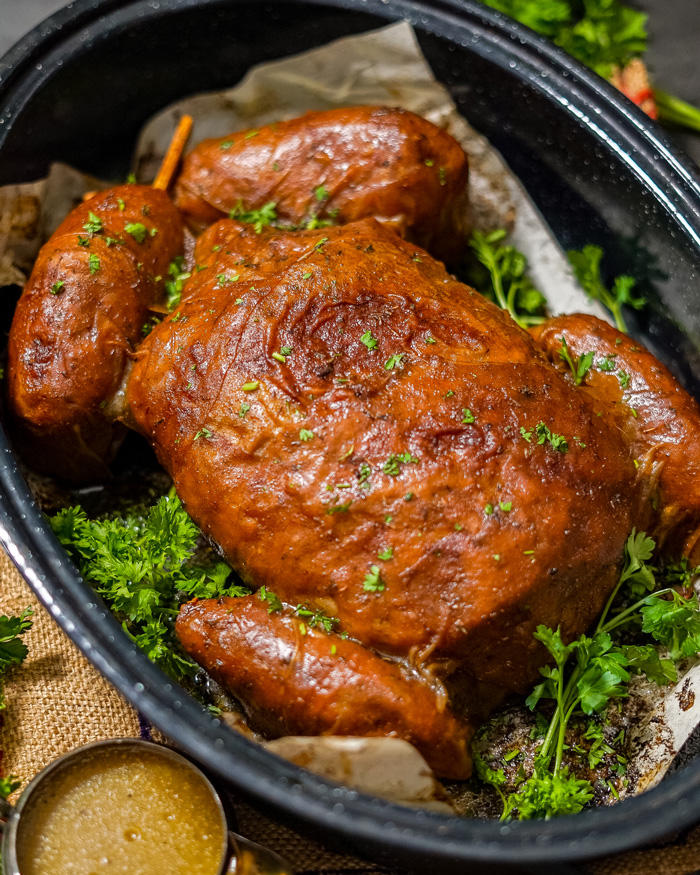 I can't believe I made a vegan turkey you guys! Many of you requested I make a vegan turkey, so I did! The turkey body is made of seitan (vital wheat gluten), tofu, jackfruit, seasoning, rice paper, bamboo sticks and some vegan magic.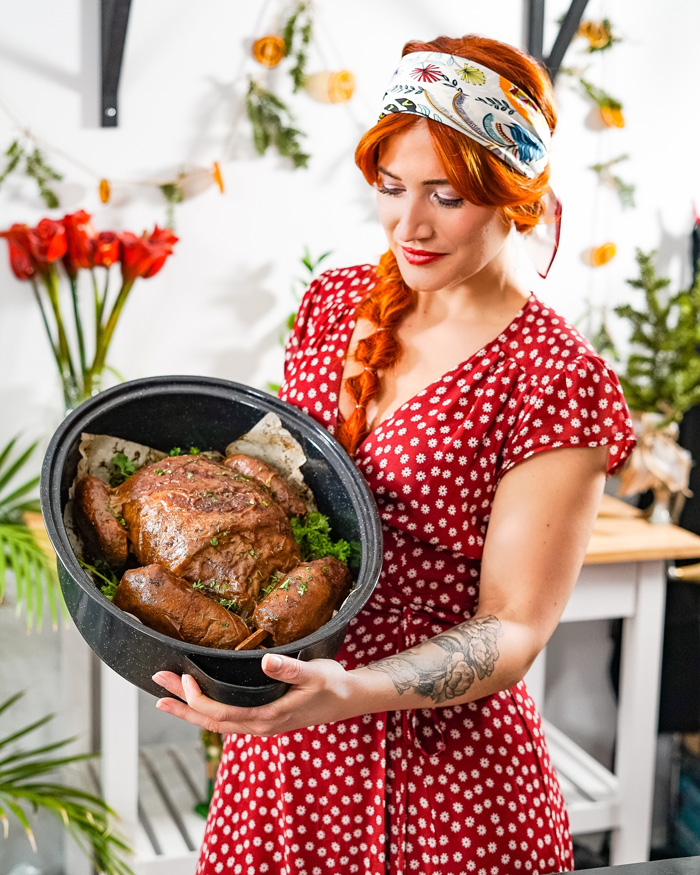 This vegan recipe is truly my greatest creation to date. Like, look at it! I'm still shocked at how much it looks, smells and mimics a turkey. A true vegan masterpiece!
A vegan turkey that looks, smells and tastes like a turkey but 100% cruelty-free.
Related Recipes: Best Vegan Thanksgiving Recipes
Vegan Turkey
This recipe is my version of a "greatest hits" album. It's a mix of all the best Edgy Veg recipes and techniques that I've learned or created over the years. 
This vegan turkey is made using my vegan "chicken" seitan recipe, using rice paper, bamboo sticks, and stuffed with my vegan stuffing recipe. Make sure you serve with my vegan mashed potatoes and vegan gravy for the ultimate vegan turkey dinner!
INGREDIENTS FOR A VEGAN TURKEY:
KITCHEN EQUIPMENT I USED:
Full Recipe Down Below
Vegan Turkey Recipe (Seitan)
This recipe is my version of a "greatest hits" album. It's the best of the best of years of recipe development to combine techniques I've learned or created and they've resulted in this masterpiece. A cruelty-free turkey with all the fix-ins.
Instructions
Prepare the seitan dough according to the recipe until the kneading step. To the stand mixer, add in the shredded jackfruit and knead for 20 mins in the stand mixer.
Meanwhile, prepare the baste and marinade. Set aside.
After kneading is complete, divide the seitan dough into 5 pieces. 1 large piece for the body, 2 medium for the drumsticks, and 2 small pieces for the wings.
Shape each wing & drumstick into its shape, and wrap tightly with foil. For the legs, I like to wrap them around small bamboo spoons to replicate "bones". This is optional.
Roll out the body dough, and place the stuffing in the middle. Then, wrap the seitan dough around the stuffing, and wrap it in foil. I like to use the foil to help me shape and hold the shape in place.
Place each piece into a pressure cooker, and pressure cook for 45 minutes then let the steam release naturally. I have two pressure cookers so I did them all at the same time.
Remove the seitan and place them onto a wire cooling rack.
You can continue onto the next steps from here, or place the seitan in the fridge overnight, or until you are ready to prepare and serve.
Preheat your oven to 400F.
In a large bowl, add warm-hot (not boiled) water. Place the bacon marinade into another bowl with about half of the basting liquid.
In a third smaller bowl, add the basting liquid.
One at a time, add a sheet of rice paper to the water until softened slightly. Allow the water to drip off and transfer to the marinade. coat the rice paper in the marinade and allow the excess to drip off.
Now wrap the legs, and wings, and set aside. You may need ½-1 full sheet per item. This really all depends on how big each item is. Now repeat with the body.
Attach the wings and legs to the turkey with toothpicks or skewers. I like to lay down a piece of parchment to do this on, so it's easier to transport to my roasting pan.
Repeat the rice paper process again, to cover the bird completely. Ensuring to hide the toothpicks or skewers holding it all together.
carefully transfer the turkey to the roasting pan. (ask for someone to grab the other side of the parchment and help you.
Now add some of the basting liquid to the roasting pan (on top of the parchment).
Take a pastry brush and brush some of the basting liquid onto the turkey "skin" again.
Cover, and place into the oven for 20 mins, checking on it every 10 mins, and basting.
Then put back into the oven and bake for 15 more min.
Take it out of the oven, and brush it with marinade again.
Serve. I like to remove the drumsticks and wings and serve those to whoever wants them, and then slice and serve the rest along with gravy, mashed potatoes and cranberry sauce.
NOTES: Store leftovers in a container for up to 5 days, or freeze for up to 3 months.
Hey I'm Candice aka The Edgy Veg – I veganize popular food recipes for vegans, plant-based diets, eco-conscious eaters & people who are trying to eat more plants over… y'know animals or their by-products. I hope you enjoy this tasty vegan recipe!
---
Looking For More Vegan Meat Recipes?
Made this recipe? Let me know what you think by leaving a ★★★★★ star rating & comment below. It truly helps me & I really appreciate any support! Feel free to share your food photos on social and tag me @edgyveg so I don't miss it!
Share My Recipe on Pinterest!