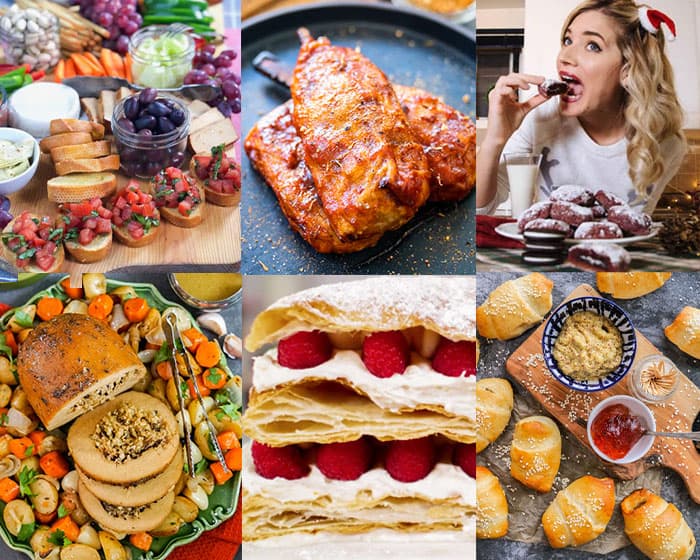 Best Vegan Christmas Recipes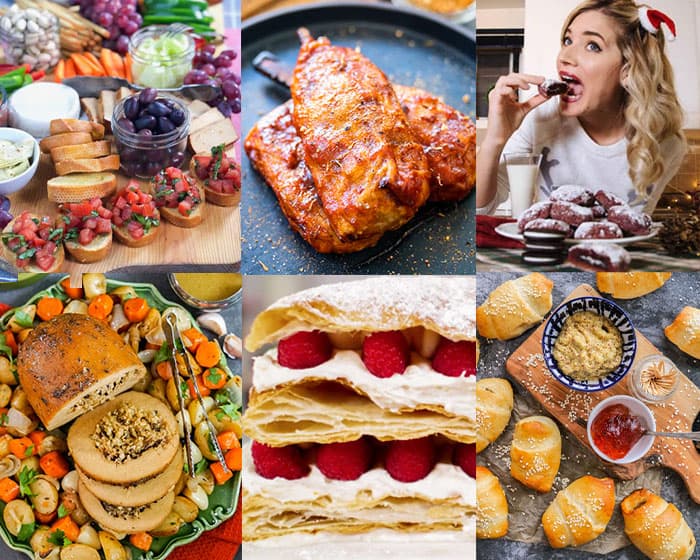 Whether you want vegan Christmas mains, appetizers or desserts, finding the best vegan Christmas recipes can be challenging for vegans… especially when celebrating the holidays around non-vegans.
My goal with making my vegan Christmas recipes is for everyone at the table to enjoy (and when a non-vegan goes for seconds or says "this is vegan?!", it's usually a sign that my vegan holiday dish was a success!)
Best Vegan Christmas Recipes
My 600,000+ followers & readers across my platforms always ask for vegan Christmas recipes, so here is a list of all my vegan Christmas mains, appetizers, and desserts to make your Christmas dinner dairy-free, egg-free, and plant-based! Enjoy!
VEGAN TURKEY & ROAST RECIPES
Looking for vegan holiday turkey replacements? Don't worry, I have you covered! If you're looking for vegan Christmas dinner main dish alternatives to turkey, scroll below for more options 🙂
Turn this realistic vegan drumstick recipe into a Vegan Turkey Drumstick by swapping out the seasonings here for classic turkey seasonings like fresh sage and rosemary. I promise while you cook these your kitchen will smell like a homey holiday feast. Without the breading stage, these are both Christmas tasting and gluten-free! Get the recipe here!
I discovered how to make an easy vegan turkey roast that's quick & tasty! I wanted to make it easy for you to make a vegan roast for the holidays, so I'm going to show you how to take a $5 store-bought vegan roast (like tofurkey) and take it to the next level by roasting it with veggies and seasoning! Get the recipe here!
This smoked whole cauliflower has a tender, flavour-infused inside and a caramelized and smoky crust. It's smothered with a delicious combination of steak seasonings, then smoked using a BBQ and some maple wood chips to give it that roast look and feel we've all become accustomed to at Holiday time. Serve it with a herbed tahini and caper sauce. Get the recipe here!
This ham is divine. It's made from pork-flavoured seitan, with pineapple, clove and smokey flavours, covered in sweet sticky glaze and roasted to perfection using a BBQ to give it that smokey flavour and browning we are all looking to fill the centre of our holiday meal with. Get the recipe here!
I've heard KFC on Christmas is a tradition for some families so I had to include my Vegan KFC Chicken for families who want to bring a plant-based version to the table this holiday season.  I've been called the queen of vegan fast food copycats, so I also wanted to share my recipe for Vegan Popcorn Chicken and my vegan KFC Nashville Hot Fried Chicken Recipe. Get the recipe here!
This masterpiece is guaranteed to be talked about for years to come, featuring the best of the best recipes and served with all the fix-ins below. Sculpt a realistic-looking vegan turkey that no-one will forget. Don't tell the meat-eaters, but this vegan turkey is less bland and dry than the real thing, and you don't have to miss out on the drumsticks or the crispy skin. Get the recipe here!
While you're unwrapping presents this Christmas, you'll want to wrap up this vegan wellington to serve as the centre of your Christmas dinner! Savoury seasoned vegan beef crumbles accompanied by mushroom duxelles and wrapped in a store-bought puff pastry. It's one of the easiest ways to impress a table of hungry holiday bellies. Get the recipe here!
This simple smokey portabello steak is made with a simple steak seasoning, marinade and grilled to perfection. If you're looking for something simple to only feed one or two people, this is a perfect main to go with your favourite holiday sides. Get the recipe here!
Although this is more of a BBQ style brisket than a traditional holiday one, the flavours in this will go perfect with any holiday sides (find holiday sides below). You can make this ahead and finish up right before serving! If you're new to seitan, this is a perfect recipe to get you started. It's also so good for leftovers! Get the recipe here!
Tip: Here are 5 Ideas for using leftovers during the holidays!
VEGAN CHRISTMAS DINNER MAINS
In terms of vegan Christmas mains, besides vegan roasts, you can make for your vegan holiday dinner, I highly recommend making Vegan Shephard's Pie, Vegan Fondue, Vegan Mac & Cheese or Vegan Chicken Pot Pie!
This is so easy to make for any occasion and impress your next guests at your dinner party. I'll show you how to make vegan tourtiere using an easy meaty filling & pie crust that will guarantee a grab for seconds. This Canadian-French recipe is a staple dish for anyone who wants to feel the warmth of Canadian culture. Get the recipe here!
This is the best vegan fondue recipe out there! This dairy-free cheese fondue is perfect for a cozy family Christmas dinner whether you're having a group of people for dinner or dinner for two. Everyone can dip whatever they want into this gooey deliciousness! Get the recipe here!
These vegan pot pies are perfect for smaller Christmas gatherings, or to make with holiday leftovers! Repurpose your vegan turkey and veggies into these individual pot pies. Add Christmas flavours like rosemary and sage to make these even more like turkey pot pies. Get the recipe here!
This easy, fall-flavour mac & cheese is the perfect pasta for Christmas. It has a traditional mac and cheese flavour with an added squash kick. It pairs perfectly with a Christmas Dinner. Swap for gluten-free pasta if needed! Get the recipe here!
This dish is perfect if you're the only vegan going to a family gathering. A meaty, hearty and easy veggie Shepherd's Pie; made with a saucy mushroom and ground round stew, filled with corn, peas and carrots, and topped with fluffy mashed potato. It's great to prepare ahead and bake when you're ready and it's gluten-free! Get the recipe here!
VEGAN CHRISTMAS STUFFING
You can't have a vegan holiday feast without stuffing! And followers have been making my vegan stuffing for Christmas year after year – it's a fan fave for a reason! 
This delicious mushroom stuffing tastes just like traditional Holiday versions that you grew up with, but completely vegan. This vegan stuffing is baked in the oven and is just as moist and fluffy as the turkey version. Stuffing is an easy vegan swap you can make at Christmas dinner! Get the recipe here!
VEGAN CHRISTMAS APPETIZERS
Whether you're looking for vegan Christmas appetizers for dinner or a vegan grazing table inspiration for appetizers before dinner, you'll enjoy delicious apps such as vegan pigs in a blanket, or my vegan grazing table idea.
A Christmas grazing table can be thrown together quickly while you can continue hosting your family or guests! So simple but always gets completely picked over before dinner is even served. This is also perfect for families with an array of dietary restrictions, I like to add decorative little signs to show which vegan cheeses I chose and which crackers are gluten-free. Get the recipe here!
A vegan pate recipe that brings elegance & an incredible flavour to your table! This 30-mins vegan mushroom pate is so tasty it'll impress anyone; vegans and meat-eaters alike! Get the recipe here!
Vegan scallops are a surefire way to increase the fanciness level of any Christmas dinner. Serve these fresh off the skillet with the garlic butter sauce to get the tastebuds tingling and ready for the main Christmas feast.   Get the recipe here!
These are super easy to make (especially if you forgot you needed to bring something to dinner). 5 simple ingredients and super yummy, these make a perfect pass-around appetizer while folks are mingling or watching the game. Get the recipe here!
These are the most delicious buffalo cauliflower wings you will ever have! These vegan cauliflower wings are a crowd-pleaser that you can feel good about. Cauliflower wings perfectly match the football game energy in the house! Get the recipe here!
This vegan creamy baked spinach dip is super easy to make and perfect as a snack, or for your dinner party. Pair with hummus for a set of vegan and gluten-free dips made in heaven. Get the recipe here!
This mushroom crostini recipe is the perfect appetizer to serve up for any holiday or event. Even the most chichi guest will dig it. Since this recipe takes around 35 minutes to put together, you can spend more time putting together your fabulous outfit than standing in the kitchen. Get the recipe here!
VEGAN CHRISTMAS SIDE DISHES
Looking for easy vegan Christmas side dishes? Try these vegan sides for your Christmas dinner. I've also included gluten-free Christmas side dishes as well! For more dishes, check out this list of 22 Vegan Potluck recipes. 
If you're looking for a vegan brussels sprouts recipe with roasted, garlic brussels sprouts and vegan bacon and sausage, you've found the best recipe! These are easily the best veggie side on your Christmas table, and they're gluten-free. Get the recipe here!
These are hands-down the best vegan mashed potatoes you'll ever have! My vegan mashed potatoes recipe uses 5 ingredients and can be made in under 20 mins. I also share my tip on how to make it extra creamy! Get the recipe here!
Vegan Gravy (10 mins + Gluten-Free)
You can't have a vegan Christmas without vegan gravy! This 10-mins easy vegan gravy recipe uses 10 simple ingredients & makes the best vegan gravy for Christmas. It uses a broth base and cornstarch mixture to replicate the flavour and thickness of classic gravy. Get the recipe here!
This recipe is sure to show your family that they can have a plant-based Christmas meal without the need for meat, eggs or dairy. Oh boy, this is decadent. Get the recipe here!
Using almond milk and cauliflower as substitutions to heavy creams also makes this casserole a healthy option. Fortunately, with this recipe, you don't have to choose between healthy or delicious because it's both. Get the recipe here!
VEGAN CHRISTMAS DESSERTS
Everyone always looks forward to dessert, so here is my list of vegan Christmas desserts you can make! For more, check out my list of 20 Vegan Christmas Baking Recipes.
Ginger molasses cookies are my all-time favourite cookie! This simple 12 ingredient recipe is sweet and chewy. These cookies can be made ahead and kept in the fridge or freezer to simply bake and serve when a guest (or sweet tooth) arrives on the scene. Plus you get to bang the tray on the counter during baking to take out any in-law related stress. Get the recipe here!
I love vegan pecan pie! What makes this recipe different from the traditional pecan pie recipe is the vegan pastry dough base, the brown rice syrup to replace corn syrup, coconut sugar to replace regular refined sugar, and flax meal to substitute for eggs. I also highly recommend a vegan whipped cream or vegan vanilla iced cream to top it off. Get the recipe here!
These larger-than-life cookies are a classic chocolate chip cookie with a wintery-spin featuring walnut pieces. Add in coconut shreds or substitute different nuts for a unique cookie that everyone will enjoy! Get the recipe here!
Christmas is primarily known as the one day of the year you can eat as much Pumpkin Pie as you want without feeling the least bit guilty about it. The original Christmas dessert, this vegan pumpkin pie is so delicious and tastes exactly like a non-vegan version. You'll get everything you're looking for in this vegan pumpkin pie! Get the recipe here!
The mighty chocolate cake never fails. I would enjoy this any day of the year but it is definitely an easy option for a Christmas dessert. Get the recipe here!
This cookie is a softer version of a snickerdoodle cookie, with a light cinnamon flavour. This is a simple cookie recipe to make that's light & sweet. All you have to do is mix together dry ingredients, cream the butter and sugar, then shape into balls and bake until soft and tender. Get the recipe here!
No matter who is at your table, everyone will love to finish off a heavy holiday meal with a light and sweet chocolate pudding. From kids to grandparents, this is a perfect sweet treat for the holidays. Especially great for anyone who is vegan or dairy-free. Get the recipe here!
If you're looking to make homemade stocking stuffers, these are PERFECT! Or if you're unsure what to bring to a holiday party with work, family or friends, these are an excellent choice. Bring a plate of these anywhere and you won't disappoint the guests! Get the recipe here!
VEGAN CHRISTMAS DRINKS
Another thing people always look forward to during the holidays is drinking, so here is my list of vegan Christmas drinks you can make! You can also make them non-alcoholic! For more Christmas drinks, check out this list of Vegan Christmas Drinks.
This warm and fragrant wine is a nice way to settle into a cozy family evening as the weather gets chilly. When the sun goes down, this warmed wine and a fuzzy blanket are the best ways to end the night. Get the recipe here!
Cranberries are so Christmas-ey. My recipe for cranberry mimosas are vegan and uses no additives! Enjoy with dinner or with dessert! Get the recipe here!
This simple vegan Irish cream replaces Bailey's Irish Cream that people add to their coffee. For those who want coffee after dinner, you can ask if they'd like some bailey's add to their drink. Get the recipe here!
It's necessary that Santa gets a tall glass of milk with his cookies. As a treat for St.Nick this year, leave him a glass of homemade plain, vanilla or cinnamon oat milk with his cookies so he can deliver presents without being bloated or gassy. Santa appreciates the vegan gesture. Get the recipe here!
Curl up on the sofa with your loved ones with warm hot cocoa (bonus points if you add vegan marshmallows and whipped cream). With only 3 ingredients, this is the easiest and best vegan holiday hot chocolate. Get the recipe here!
Impress your guests with this vegan whiskey sour recipe. The secret ingredient for the classic whiskey sour foam will surprise you! Get the recipe here!

Best Vegan Christmas Recipes
Looking for vegan Christmas recipes like mains, appetizers or desserts? I found the best vegan Christmas recipes just for you! Whether you want vegan Christmas mains, appetizers or desserts, finding the best vegan Christmas recipes can be challenging for vegans... especially when celebrating the holidays around non-vegans.
Instructions
Plan what vegan Christmas recipes you want to make.
Gather all your ingredients.
Choose recipes you can make ahead of time
On Christmas, make 3-4 recipes such as the vegan main and side dishes of choice.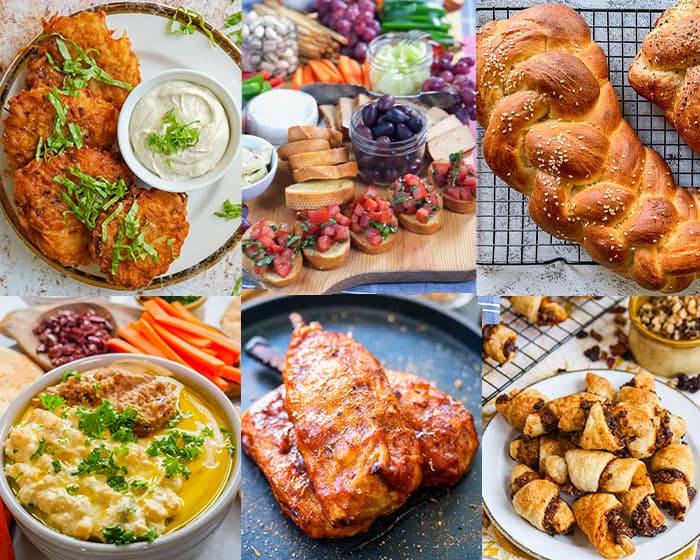 If you're looking for more vegan holiday recipes like vegan Hanukkah recipes,  check out the blog post with all my recipes!
Hope these delicious vegan holiday recipes fill up your tummy with love & deliciousness!
Hi! I'm Candice aka The Edgy Veg!  I veganize popular food recipes for vegans, plant-based diets, eco-conscious eaters & people who are trying to eat more plants over… y'know animals or by-products of animals. I hope you enjoy this tasty vegan recipe!
---
Looking For More Vegan Recipes?
Made this recipe? Let me know what you think by leaving a ★★★★★ star rating & comment below. It truly helps me & I really appreciate any support! Feel free to share your food photos on social and tag me @edgyveg so I don't miss it!
Share My Recipe on Pinterest!