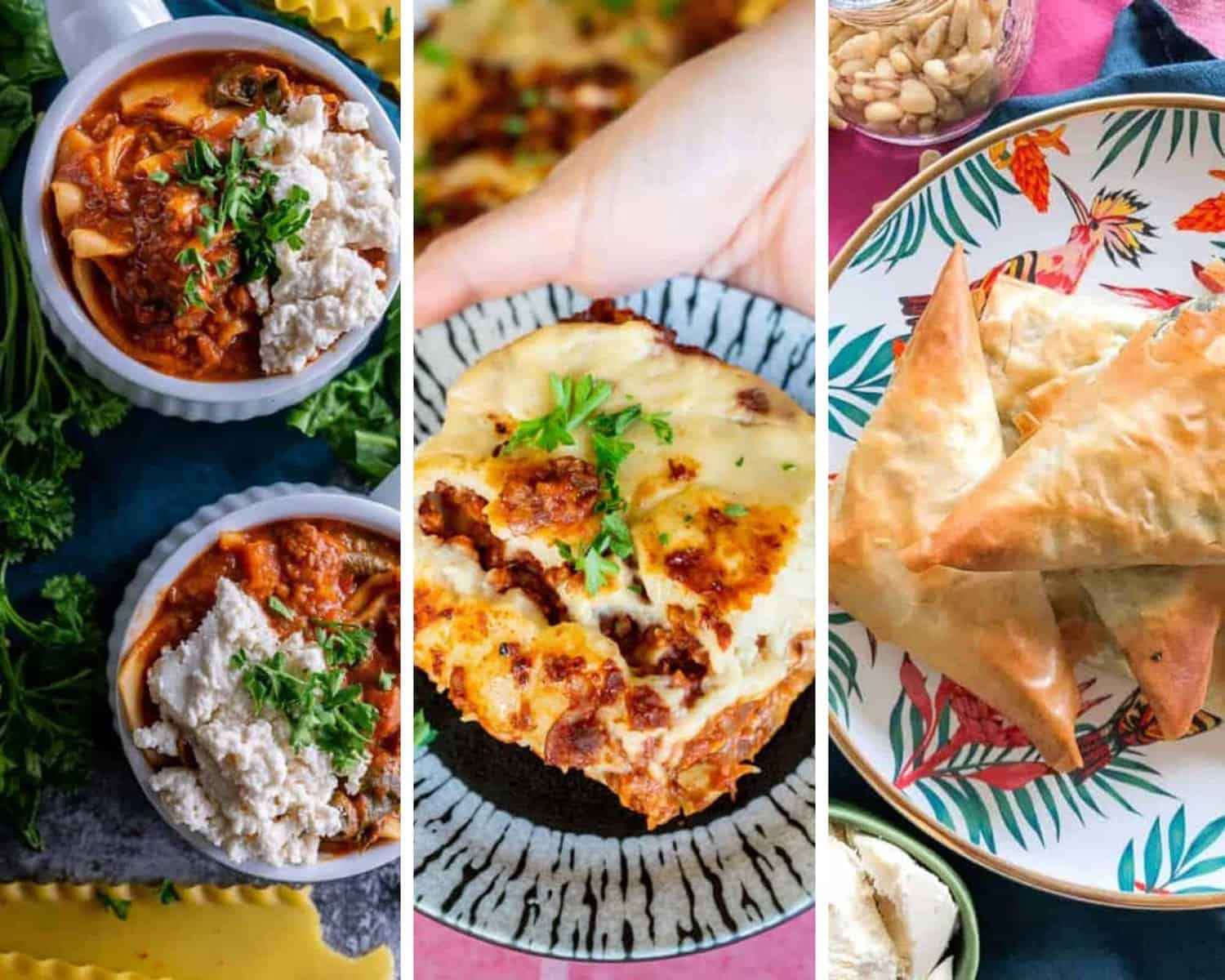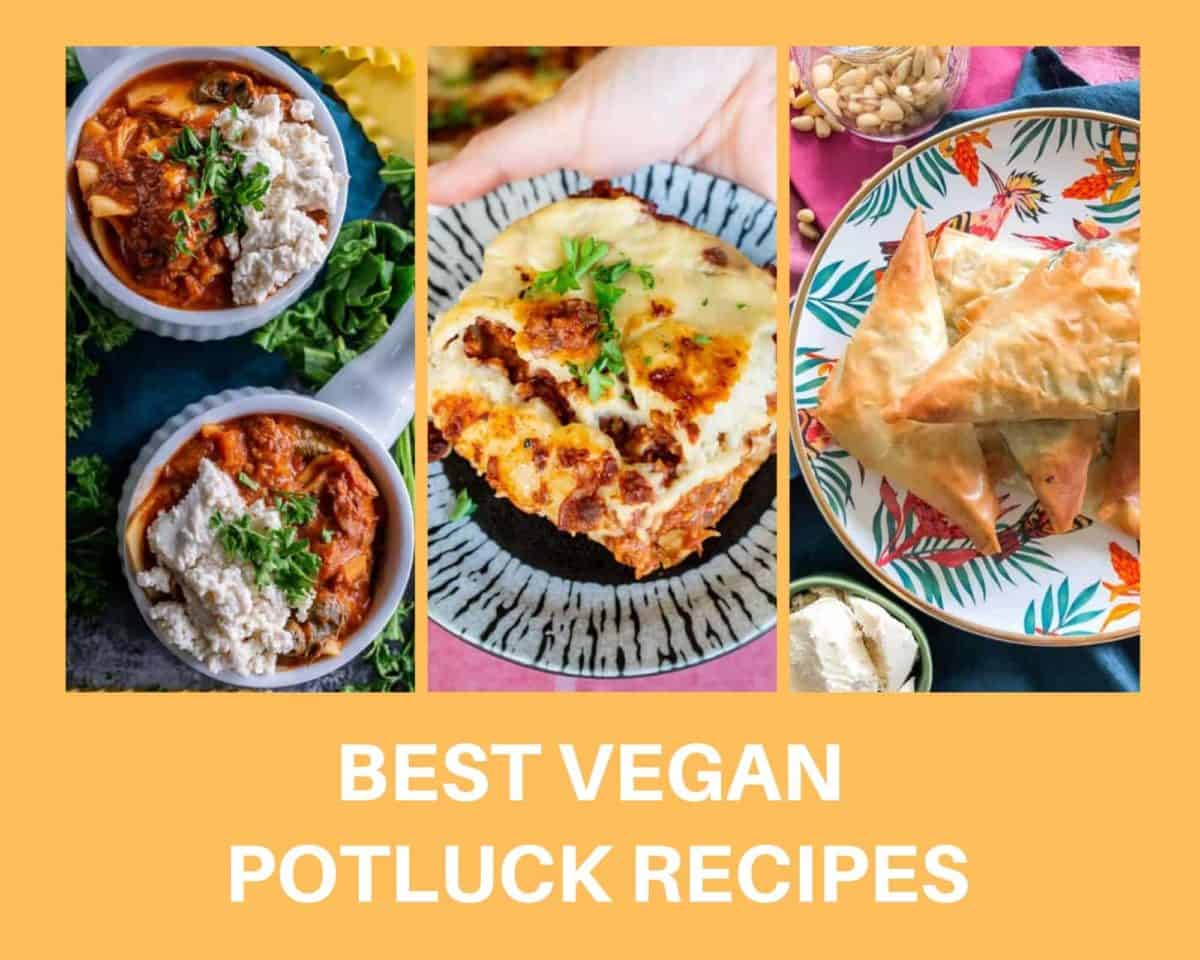 Looking for vegan potluck recipes? Say hello to potluck recipes that will be a hit at your next gathering! This list of vegan potluck recipes is perfect for those who might have allergies to animal products (milk, eggs, etc) or for those who are trying to eat a healthy plant-based diet this holiday season. Potlucks are all about sharing and having an accessible meal for everyone to enjoy is important.
These 22 vegan potluck recipes are crowd-pleasers and will become part of your go-to recipes! Enjoy this round-up of the top potluck recipes below: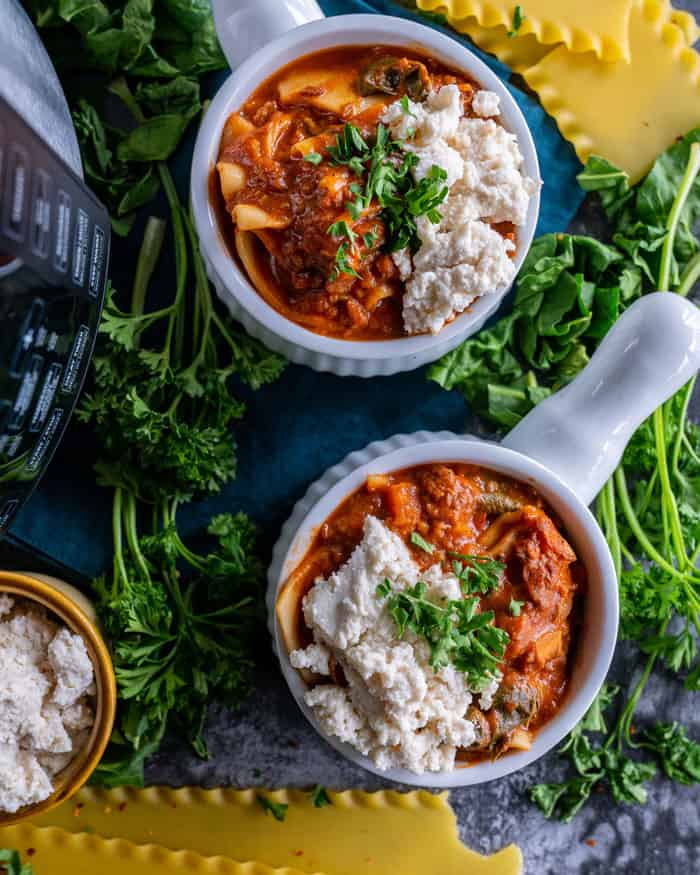 This easy crockpot lasagna soup recipe can be made in 30 minutes all in one pot, which is perfect for potlucks! This is a delicious and hearty vegan lasagna soup packed with tomatoes, carrots, spinach, and noodles. You can also switch out the noodles to make it gluten-free!
This savoury side dish can be ready in a half-hour and might even steal the show from the main course choices. Step up your veggie game by roasting Brussels sprouts with garlic and plant-based meats, this is one of my favourite winter foods, and with only 7 ingredients, its a low maintenance dish. Substitute any of your favourite plant-based meat substitutes to make it easy for you!
Mac and cheese is already a crowd favourite, adding a few key ingredients and less than 10 extra minutes can make it a showstopper. Browning some mushrooms, drizzling truffle oil, and a little fresh parsley will impress everyone with this simple yet elegant dish. Already dairy-free, soy-free and nut-free, swap the pasta for a gluten-free option for a completely allergy-free vegan potluck recipe that everyone can enjoy.
This recipe packs so many veggies into a healthy, hearty dish that is nostalgic for so many people. With so many ingredients being frozen or shelf-stable, this dish is affordable to make, without skipping out on any flavour.
This creamy potato salad recipe can be made in 30 minutes and tastes even better if made a day in advance. Potato salad with fresh onion, celery, pickles and parsley, and creamy mayo, tangy vinegar and mustard is a perfect potluck recipe for any season's gatherings.
Every aspect of this salad can be prepared in advance, letting you toss it together right before a vegan potluck, plus kale is so hearty that it won't' wilt like a traditional caesar salad. This vegan Caesar salad is a healthy twist on the original, it's much heartier than traditional recipe but still garlicky, briny, and even cheesy.
This easy lasagna recipe can be made in advance, and in big batches, which is great for potlucks! It is a delicious and hearty vegan dish packed with veggie meat sauce, silky bechamel and noodles. You can also switch out the noodles to make it gluten-free!
This easy macaroni salad is a great vegan potluck recipe that can be prepared in advance and sat in the fridge overnight, and made in big batches to share with as many people as you need to feed. Simply swap the pasta out for a gluten-free option!
Warm, melty, cheesy spinach dip made in around 35 minutes is a dream come true. Mix ingredients on the stove for about 10 minutes and let the oven do the rest. This vegan potluck recipe is vegan and gluten-free.
This light, fluffy gnocchi is full of flavour, packed with protein, greens and a tasty tomato sauce. It can be made in 20 minutes all in one pot! Swap out the store-bought gnocchi for easy Foolproof gnocchi if you have a little extra time for an ultra-authentic soul-warming dish.
This corn chowder recipe can be made in under an hour in one pot! Hearty winter vegetables and creamy wine and butter broth make for a cozy soup, perfect for sharing with friends to get out of the snow.  Swap out soy milk for another plant-based milk for a soy-free recipe.
Dips and spreads are always a hit at potlucks. This vegan version of the Ruffles French onion dip is mouthwatering and super easy to make! Dip your favourite chips and veggies, and enjoy at your next party or movie night! Vegan party food has never been easier.
This ultimate mac and cheese has a few strange ingredients that seem nontraditional but are guaranteed to impress the guests of your vegan potluck. It is the most luscious, velvety, creamy vegan mac and cheese ever made.
Toss all ingredients into a pot and let simmer for 30 minutes while you get your party dress on, then bring over a pot of sloppy joes and buttery fluffy buns to let the potluck guests dig in. Using both lentils and veggie ground round provides a meaty texture, and the traditional sloppy joe seasonings give it the same great taste. Make these gluten-free by using different buns, or soy-free by substituting the veggie ground round with more lentils.
This vegan potluck recipe is made in one pot and can be made in advance and reheated on the stove before serving. With lots of different root vegetables, seasonings, and a hearty tomato base, this recipe will keep everyone's belly warm. Switch the type of noodles for a gluten-free version.
A twist on a classic chilli with pumpkin puree makes for a perfect fall or winter dish that can be made ahead and in large batches. This nut-free, gluten-free and soy-free potluck recipe will happily serve everyone, no matter their needs.
An instant pot allows this recipe to take 10 minutes of preparation, 15 minutes of marinating, and about 20 minutes left alone in the pot. This vegan potluck recipe is packed with okra, vegetables, jackfruit and sausage. It is cooked the traditional way with a plant-based twist. I like it best served with roasted potatoes.
This whole foods plant-based recipe is made in 30 minutes in an instant pot. Cooking Indian food at home has never been easier. Make a large batch to serve all of your guests.
This recipe feels so fancy and decadent but is done in 30 minutes. Everyone loves pasta with a creamy sauce, so bring this to a vegan potluck to feed everyone this easy creamy mushroom pasta dish. Use gluten-free pasta for a gluten-free option.
This recipe only takes 5 minutes to make! Enjoy this fresh, creamy corn salad with your friends for any occasion. I love it served with tortilla chips or as a side salad.
Made in under 40 minutes, this cheesy cornbread will pair well with any other dish at a potluck. Make a few of these because we all know that all that will be left are a few cheesy crumbs. Use any of your favourite vegan cheeses for this potluck recipe.
This vegan potluck recipe is one you can prepare tons of in advance and freeze batches to take out and bake before any holiday party or occasion. Most store-bought phyllo pastry is already vegan, making this recipe so easy and perfect for sharing with friends and family.
___________
If you make my vegan potluck recipes, let me know what you think by leaving a 
 star rating & comment below. It truly helps me & I really appreciate any support! Feel free to share your food creation on social and tag me @edgyveg on your photo so I don't miss it!
Share My Recipes on Pinterest!