This easy vegan Hungarian goulash recipe is full of flavour and the perfect comfort food for fall and winter. It is a simple one-pot dinner with veggies, protein chunks and noodles in a rich and hearty tomato base.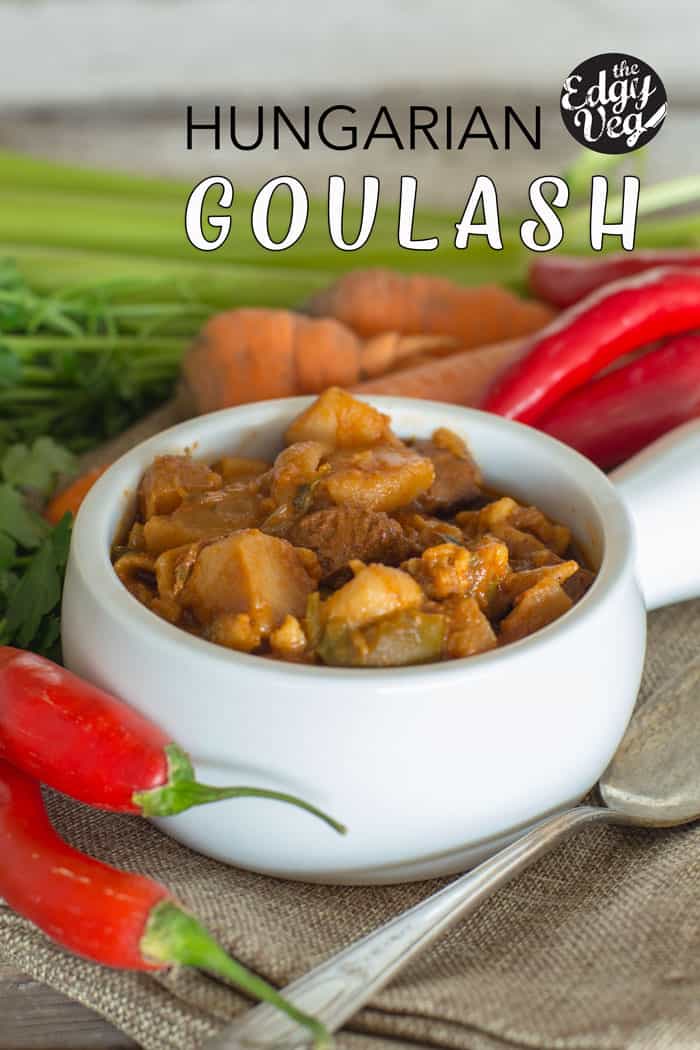 Ahhh, Goulash. This is by far James' favourite Eastern European food. We can't go to a Hungarian, German, Austrian or Czech restaurant without him going on and on and on about Goulash. I mean, I get it, there's something cozy and comforting about a rich, hearty, meaty stew, especially with yummy dumplings, on a cold, wet, fall day. According to James, Goulash should be cooked all day in a gigantic witches' cauldron with all sorts of vegetables and DEFINITELY with ONLY Hungarian paprika. My first question here is what his extra-curricular activities were like before I met him. In any case, I don't have a witches' cauldron on hand right NOW, and I don't really feel like waiting all day, but we do happen to have some Hungarian paprika on hand (thanks to James' of course), so we're going to go with that.
Traditional Hungarian Goulash obviously relies on stewing beef to get a lot of the rich, meat-y flavour, but since that ain't happening, we can use non-beef stock as our base, which should pretty much do the trick. The rest of the flavour really comes from the carrots, celery and paprika. James likes all of his foods ridiculously spicy, so I tend to dial up the heat with chili pepper (that's not mentioned in the recipe though, so if you like things hot like he does, go ahead and add it to taste). If you're a normal human, like me, you can ignore the chili pepper.
The other important key to a great goulash is really really good dumplings (sometimes called noodles). I have a great recipe for vegan spaetzle which is basically the german name for Hungarian dumplings. Both James and I love these type of dumplings, and if you don't want to make them yourself you *might* be able to find vegan dumplings in the store, but they can sometimes be tough to find. Most spaetzle out there has egg in it, so make sure to read the package carefully.
I strongly recommend serving goulash in your fanciest bowl, with a gigantic spoon for effect and of course some yummy country style bread and vegan butter. Then invite over your closest Hungarian friend and impress them. Pairs perfectly with a European beer or Hungarian Palinka (aka moonshine – but don't blame me if you go blind).  
Old Fashioned Goulash Recipe VEGAN
This easy vegan Hungarian goulash recipe is full of flavor and the perfect comfort food for fall and winter. It is a simple one-pot dinner with veggies, protein chunks and noodles in a rich and hearty tomato base.
Ingredients
Soup
2 onions, diced
¼ tsp ground caraway
1 clove garlic, minced
2 cherry peppers, finely chopped
3 Tbsp vegan Worcestershire
1 tsp sea salt
¼ cup Hungarian paprika
3 cups vegetable broth (or 3 cups water and 2 bouillon cubes)
1 stalk celery, chopped
2 carrots, sliced and quartered
1 turnip, cut into bite size chunks
handful fresh parsley, finely chopped
1 tomato, diced
1 green pepper, chopped
2 potatoes, cut into chunks
3 tbsp tomato paste
¼ cup dry red wine
vegan Hungarian noodles or spaetzle
Instructions
Prepare the TVP chunks
In a small bowl, combine the TVP chunks, boiling water, worcestershire and tamari. Allow to marinate for 30 mins minimum.
Prepare the soup
In a large pot over medium heat, heat oil.
Sauté onion and garlic until translucent, about 3-5 mins.
Add caraway and sauté until mixture becomes fragrant, about 2 minutes.
Drain TVP chunks and reserve the liquid.
Add TVP, cherry peppers, Worcestershire, salt, and paprika to the pot and combine.
Add vegetable broth(or water & bouillon), celery, carrots, turnip parsley, tomato, green pepper, potato, and tomato paste. Mix and bring to a boil.
Reduce heat to low.
Add red wine and allow to simmer for 1.5 - 2 hours stirring every 20 mins.
In the last 10 minutes add egg-free noodles or spaetzle and mix to combine.
Divide between bowls and serve as is for sprinkle with your favourite vegan cheese and serve with bread.
Notes
If you can't find vegan Hungarian noodles, you can use any pasta you love.