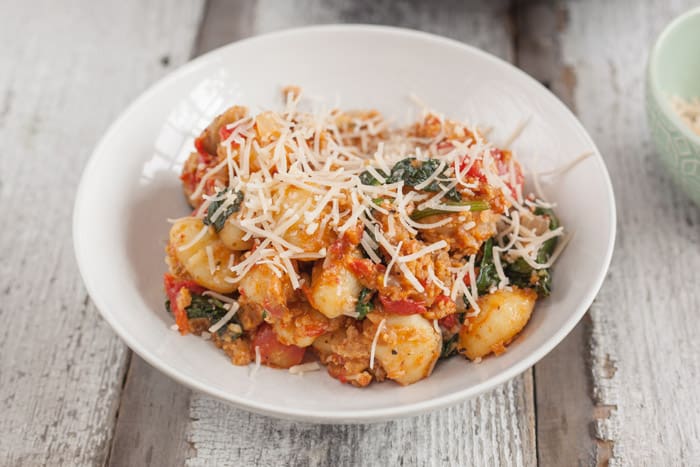 One Pot Pasta Sausage Gnocchi VEGAN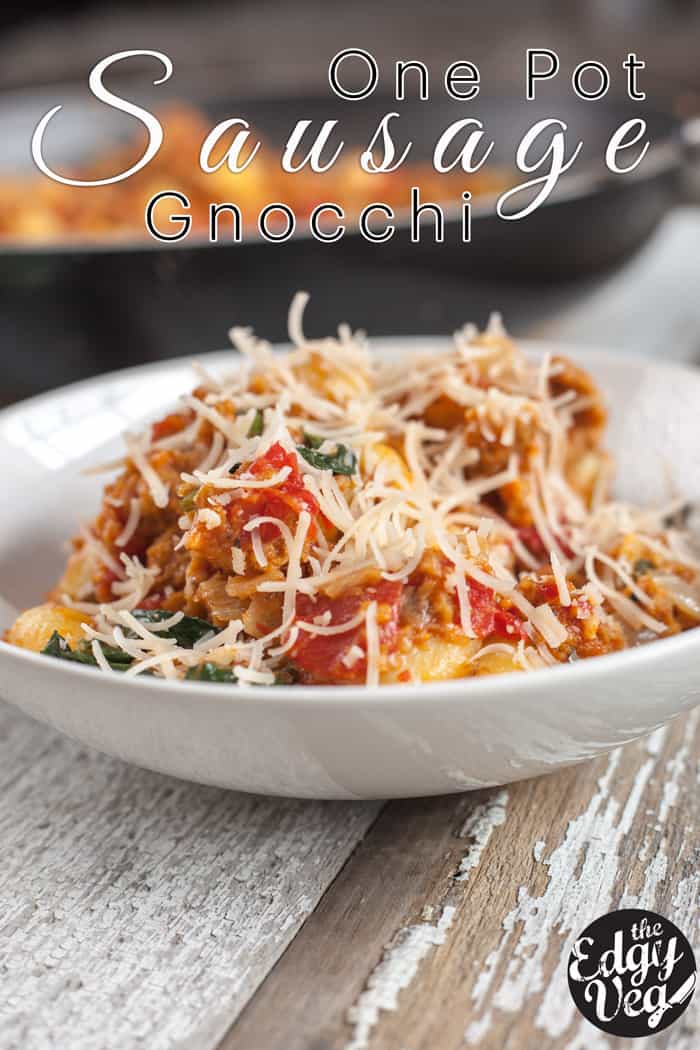 I am all about that #CarbLife . Pasta should be it's own food group and it should be the biggest one, so I can eat even more of it! If I could I would eat pasta 3 meals a day without regrets. Since I am getting married in less than 3 months – this is not an option for me – at this time. So right now I am forced to enjoy pasta only once a week… darn you wedding dress! If you're on any sort of #detox #lowcarb #someotherdietthatshoudntmatter and you're looking for a cheat day, or a quick easy and healthy dinner- this is your new go to!
Seriously, this dinner takes 20 mins or less! Don't believe me? Check out the video above where I show you JUST how easy it can be! Plus it's all done in one pot, so you've got less dishes to do later. To make this easy and delicious Spinach and Sausage Gnocchi heat up some oil in a large skillet, add in garlic and onions and then sauté them. Now crumble up some vegan sausage and mix it in along with 1/4 cup of vegetable broth and 1 can of diced tomatoes Mix that all together and then add in a package of store bought Gnocchi. Cover you pan and let your ingredients cook for about 5 minutes. After 5 minutes sprinkle spinach over the top along with a little pepper, mix your ingredients together again, cover your pan and cook the whole thing for about 5 more minutes. After 5 minutes add in your vegan parmesan, give the ingredients another stir and you are done. Now that wasn't so hard was it? This paragraph only took me 3 mins to write, and this pasta will be just as easy 🙂
One Pot Pasta Sausage Gnocchi VEGAN
This is the quickest and easiest pasta ever! This one pot vegan gnocchi is light, fluffy, and full of flavour packed with protein, greens and a tasty tomato sauce.
Instructions
In a large skillet, heat olive oil over medium high heat.
Add onion and garlic and sauté until fragrant, about 1 min.
Add crumbled sausage and cook for 1 minute.
Add tomatoes, vegetable broth, and uncooked gnocchi, cover and cook on medium heat for 5 min.
Remove from heat, add spinach and black pepper and stir until spinach is wilted.
Taste and season with salt to taste.
Sprinkle with vegan cheese of choice, if using, and cover for 3-5 mins to melt cheese.
Serve with sliced Italian crusty bread to scoop up leftover sauce.