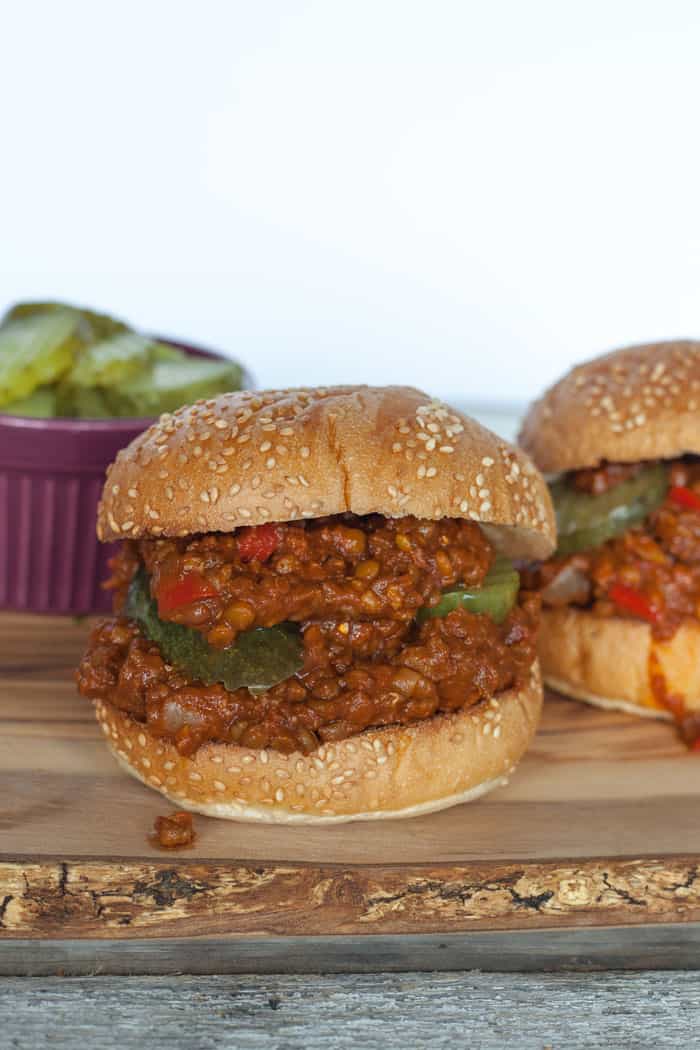 Vegan sloppy joes made with lentils and red peppers on a toasted and buttered fluffy bun.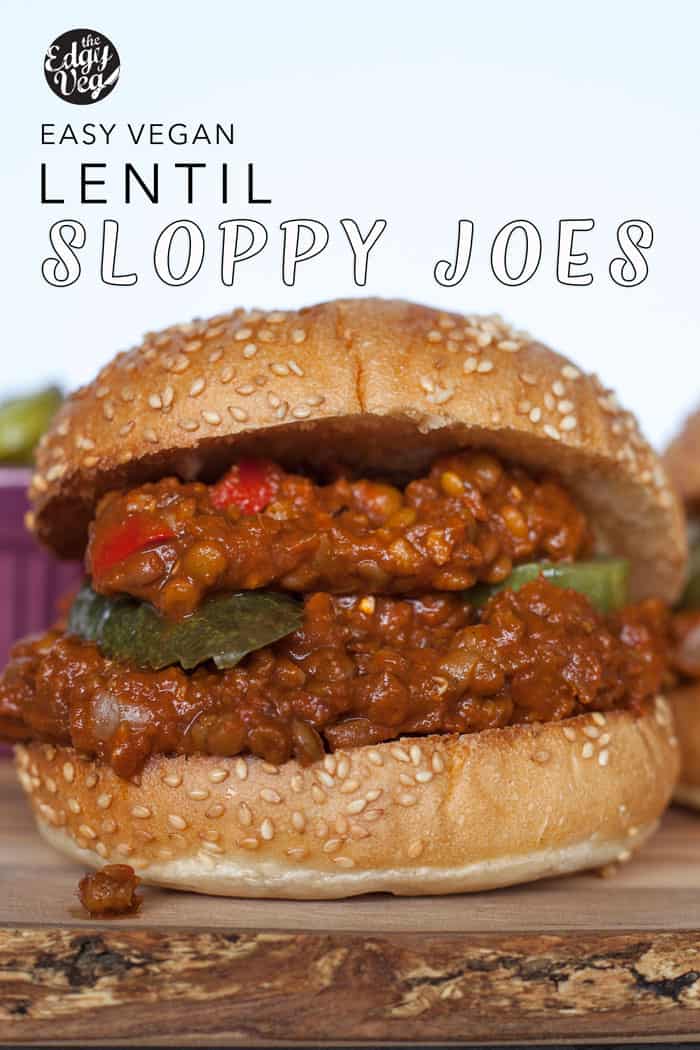 My goal this month is getting back to a routine and to inspire myself– and all of you- to get creative with your meals. I've been feeling a "back to basics" type of way the last few weeks after a grueling year of cookbook writing, getting married and a handful of other intense projects and personal life slip ups. I find sometimes the easiest place for me to start to find order is with my food. I have such a deep connection with food, that it has the ability to calm me when I'm feeling uneasy or unsure of myself or my current situation. This month, I want to keep it simple, sweetheart and for you- that means super easy recipes- Yahoo!
Did your parents ever make you sloppy joes growing up? Mine did. I would visit my dad on the weekend and he would make us sloppy joes and then give us and the neighborhood kids a "who can be the messiest eater" challenge. I don't know why he thought that was a good idea, I can only imagine what a mess that must have been! I have so many fond memories of sloppy joes, from the aforementioned to watching the lunch lady serve them in Billy Madison "Have some more sloppppppy joes! I made 'em nice and slopppppy for ya!" to when Mary-Kate (or was it Ashley? Hmm) discovered them in It Takes Two and calls it a "Big gooey messy burger". I haven't had them since my mom made them for me back in elementary school, so it was time for this dish to resurface.
In this recipe I used a mix of lentils and veggie ground round- two things I always have in my pantry or fridge. The lentils and ground round ground are cooked with onion, red pepper, garlic cumin, chili powder, BBQ sauce and tomato. And is then scooped high onto a toasted and buttered bun. Try garnishing it with fun toppings like pickles, pickled jalapenos or coleslaw.

Vegan Lentil Sloppy Joes
Vegan sloppy joes made with lentils and red peppers on a toasted and buttered fluffy bun. Perfect for a quick week day dinner (with leftovers for lunch, obviously).
Ingredients
Optional Toppings:
Pickles
Hot sauce
Jalapeños
coleslaw
Mustard and BBQ sauce
Instructions
In a large saucepan, heat oil over medium-high heat.
Add onion, red pepper, and garlic; season with salt and pepper. Cook, stirring frequently for 5 mins.
Add lentils, water, cumin, chili powder and tomato paste and bring to a boil, over medium-high heat.
Reduce heat to medium-low and cook, stirring occasionally for 30 minutes, covering after 15 mins, until lentils are tender. Add more water if the liquid level drops too much.
Stir in veggie ground round, tomato sauce, bbq sauce and Worcestershire sauce and simmer until heated through and thickened, stirring occasionally, about 5-10 minutes, covered.
Season to taste with salt and pepper and scoop lentils onto toasted and buttered buns bottoms and garnish with any optional toppings you desire and the top of the bun.