Vegan Lentil Sloppy Joes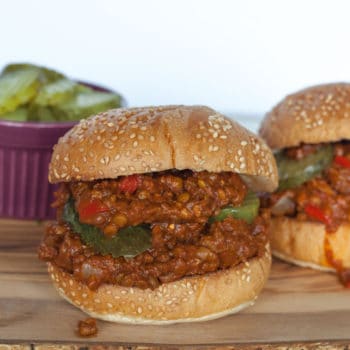 Pickles
Hot sauce
Jalapeños
coleslaw
Mustard and BBQ sauce
In a large saucepan, heat oil over medium-high heat.
Add onion, red pepper, and garlic; season with salt and pepper. Cook, stirring frequently for 5 mins.
Add lentils, water, cumin, chili powder and tomato paste and bring to a boil, over medium-high heat.
Reduce heat to medium-low and cook, stirring occasionally for 30 minutes, covering after 15 mins, until lentils are tender. Add more water if the liquid level drops too much.
Stir in veggie ground round, tomato sauce, bbq sauce and Worcestershire sauce and simmer until heated through and thickened, stirring occasionally, about 5-10 minutes, covered.
Season to taste with salt and pepper and scoop lentils onto toasted and buttered buns bottoms and garnish with any optional toppings you desire and the top of the bun.