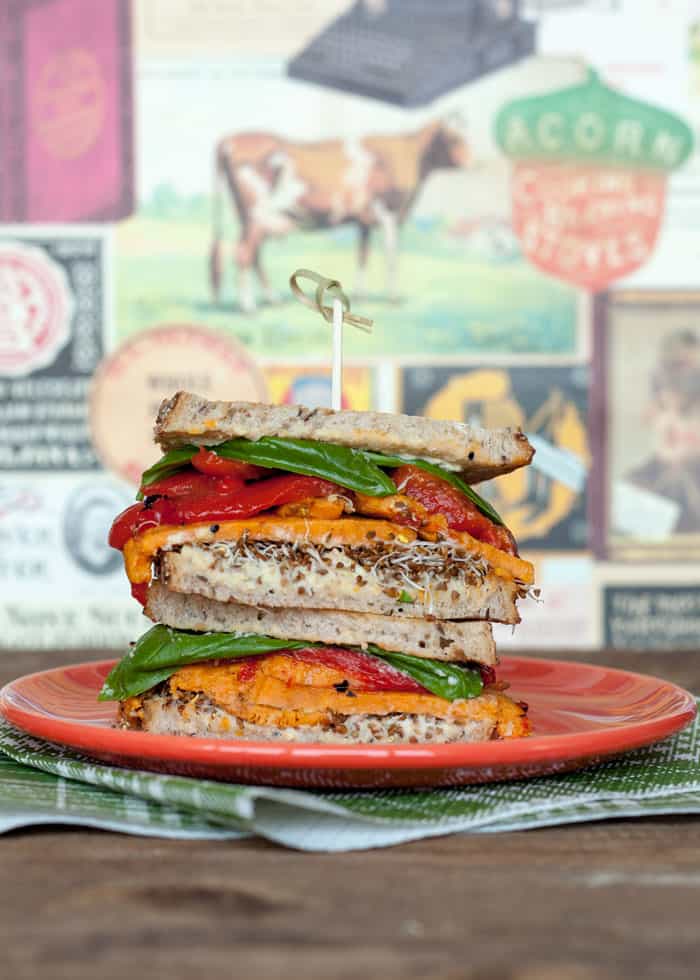 Mediterranean Veggie Sandwich
Roasted Sweet Potato Sandwich with hummus, fire-roasted red peppers, alfalfa sprouts and fresh basil on toasted whole rain bread.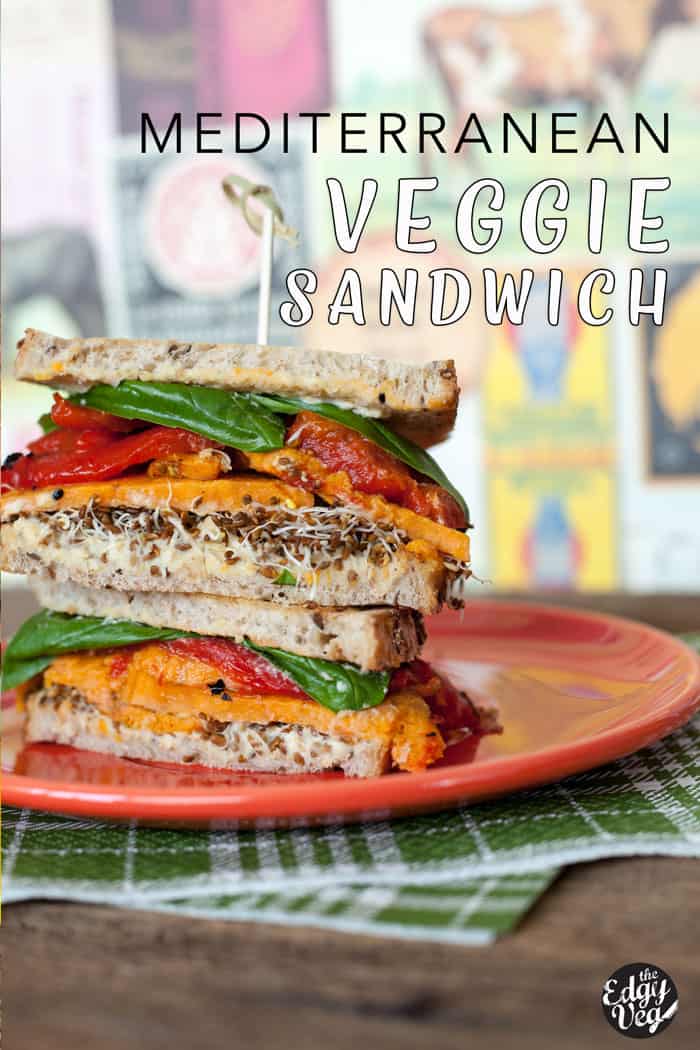 This super easy vegan sandwich is my take on the traditional Mediterranean Veggie sandwiches you can find that usually contain goats cheese. Instead of goat cheese I added hummus; a high protein, garlicky, yummy spread that really compliments the sweetness of the sweet potato. Now that summer is slowly coming to an end and school is about to start. You're going to have to start thinking about fresh meals to whip up for your kids lunches every day. Or, if you're childless like me, but need a healthy and flavourful lunch to take to work or school you're going to needs so inspo. Enter this health, flavourful and filling sandwich filled with… yes you guessed it- Fresh vegetables! Stop making sad PB & J brown bag lunches and get creative!
Since back to school is just around the corner I figured I would share my tips for creating fun and interesting sandwiches to pack for your kids, or take to work or school yourself. So these are my 5 Tips to Build a Better Veggie Sandwich.
5 Tips to Build a Better Sandwich
Start with Good-Quality Bread
Start with a good quality loaf of bread. Skip over the white Wonder Bread and get yourself a sturdy loaf with some substance! Some of my my personal favourite breads include: whole grain rye, pumpernickel, sourdough, baguettes, and whole grain panini buns or bagels.
Add Lots of Fresh Ingredients
Traditional fresh toppings like tomato, lettuce, and onion are great, but try adding something crisp like micro greens, sprouts, or cucumber slices. Adding avocado adds a creamy texture that I absolutely love, and if you like it sweet or spicy try adding jalapeno, or sliced apples.
Think Outside The Box
Add some less traditional and unexpected ingredients like roast veggies, marinated artichoke hearts, olives, dairy-free cream cheese or coconut bacon. These can add huge flavour to your typical veggie sandwich. There are also tons of awesome vegan cheese and meats out there to try!
Always add Sauce
I am 100% addicted and obsessed with sauces. Your sandwich, like all dishes, NEEDS a sauce to tie all the ingredients together. Whether it's the traditional vegan mayo and mustard, or the creative like pesto, hummus, hot sauce or guacamole lead that sucker up to make it the best sammich ever!
Bye-Bye Sogginess
The best way to combat soggy sammies is to toast the bread. Spread vegan mayo, hummus or dairy-free cream cheese all the way to the edge of each piece of bread to create a seal against fresh and wet sandwich fillings. This will help protect your bread against the wetter ingredients like tomatoes, cucumbers or anything marinated. Alternatively, you can try pack those high moisture ingredients, like pickles, tomatoes, etc separately, and then just add them before you eat.

Mediterranean Veggie Sandwich
This healthy roasted sweet potato sandwich recipe features roasted red peppers, sprouts, fresh basil and hummus! This sandwich is a new and fun flavour profile for a quick and easy lunch.
Ingredients
Roasted Sweet Potato:
Sandwich:
8 slices of your favourite sandwich bread, toasted
½ cup hummus
8 slices of jarred, roasted red peppers
Alfalfa sprouts
Fresh basil
Hot sauce (optional)
Instructions
Heat oven to 400F.
In a large bowl whisk together oil, cumin, salt, and pepper.
Add sliced sweet potatoes to the bowl, and toss until they are coated in oil.
Place sweet potatoes in a single layer onto a baking sheet and roast, flipping once, until cooked and browned, about 20-25 minutes.
Build your sandwiches by layering hummus onto 4 slices of toasted bread. Top with roasted sweet potatoes, alfalfa sprouts, roasted red peppers, alfalfa sprouts, fresh basil and hot sauce if using.
Add the tops of your sandwiches and voila!