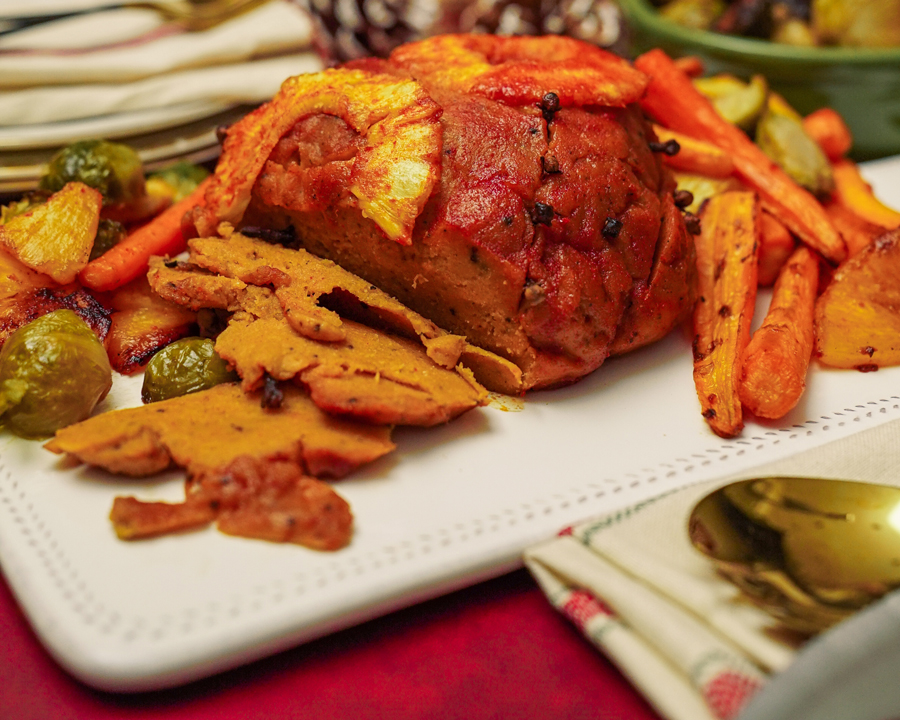 Best Vegan Ham Recipe (Seitan)

There are accessible plant-based alternatives for almost anything, but you know what's really lacking? A sweet, smokey, clove-pinned, pineapple-glazed ham. Luckily that's where I come in. This ham is divine. It's made from pork-flavoured seitan, covered in sweet sticky glaze and roasted to perfection using my Napoleon BBQ to give it that smokey flavour and browning we are all looking to fill the centre of our holiday meal with.
What are the best sides to pair with it? Surround it with your favourite holiday sides like Brussels sprouts, roasted veggies, and mashed potatoes with gravy!
This is a great recipe for a dinner party, Sunday roast or plant-based Christmas festivities. You can easily prepare this a day or two early and add the finishing touches on the BBQ while the family gathers together. This vegan ham is so good, Santa will ask for a slice to go with his milk and cookies.
Related Recipe: Smoked Cauliflower Recipe
Vegan Glazed Ham Roast
You will never make your vegan ham the same ever again after introducing a grill to the cooking process! Last year I started using my Napoleon Rogue 425 XT for holiday cooking, and I am obsessed. Not only do I get to enjoy the snow and use my backyard, but it frees up oven space to cook other dishes, and allows me to enjoy a glass of wine or two on my own (we all need a holiday breather every few hours, right?). My Christmas dinner would truly not be complete without a smoky-sweet vegan holiday ham to grace the table. In the past I've made a vegan turkey, store-bought roasts and drumsticks and schnitzel, but this Christmas, the Merry Veg is bringing you a vegan holiday ham because… well. You asked for one. And what kind of plant-based elf would I be if I didn't get you exactly what you wished for, right? With cloves, pineapple and that beautiful glaze, you can have your Christmas with the Kranks glazed ham. Totally underrated movie- if
you ask me…
If you're hosting a fully vegan meal or you're the lone vegan at your table, this vegan ham can be cooked up with some super simple sides and it makes for amazing leftovers (if there are any). This recipe matches the non-vegan, traditional ham we're used to, it's sweet, smokey, pink and glazed. It pairs perfectly with other dishes like mashed potatoes and brussels sprouts. And if you don't have access to a barbecue, you can also make this in the oven. It just won't have the smokiness.
If you haven't started your fall and winter grilling- this is your sign to start! Is there anything cozier?! I think not. My Napoleon Rogue XT 425 stainless steel natural gas grill has an infrared side burner, along with its three burners, cast iron grids, and a high-top lid, making this grill perfect for cooking almost your entire feast in one go! It lights easily, every time, with a battery-free ignition, making it easy for even newbies to grill with confidence. Use the integrated sizzle zone side burner to make sauces and sides while grilling, and searing on the main area. I love how Napoleon supports plant-based grillers like me and helps me to show the world that grilling isn't just for meat-eaters!! Enjoy!
INGREDIENTS FOR GLAZED HAM (VEGAN):
Dry Ingredients
Wet Ingredients
Glaze
KITCHEN EQUIPMENT:
Vegan Glazed Ham Roast Recipe
You will never make your vegan ham the same ever again after introducing a grill to the cooking process!
Ingredients
Dry ingredients
Wet ingredients
Glaze
Instructions
In a medium bowl or the bowl of your stand mixer, whisk together vital wheat gluten, nutritional yeast, garlic powder, paprika, onion powder, and beet powder if using. Set aside.
In a blender, blend together; vegetable bouillon or no-beef bouillon, pineapple juice, firm tofu, liquid smoke, MSG, ketchup, maple syrup, tahini, garlic cloves, ground cloves, and black pepper, until smooth. Pour the mixture into the bowl with the vital wheat gluten.
Mix and knead the mixture together. I use a stand mixer on slow speed and knead for 3-5 minutes. Alternatively, you can knead this with your hands. The mixture should be dough-like and slightly wet but not overly sticky.
Shape the dough into a ball and let it rest for 5 to 10 minutes.
Using aluminum foil or a cheesecloth; wrap the dough ball up tightly.
In an Instant Pot fitted with the trivet or a pot on the stove with a steamer basket; add enough water until it sits just below the top of the trivet or steamer basket.
Add the wrapped dough ball to the Instant Pot and set it to high pressure for 60 mins, or steam it in a pot on medium-high for one hour, checking the water level frequently.
The seitan will be ready when it is firm to the touch. Place the wrapped seitan onto a cooling rack to cool completely, then transfer it to the fridge to rest overnight.
When ready to eat: Make glaze by whisking all the glaze ingredients together in a small bowl and preheat your grill to 350F on indirect heat.
Unwrap the seitan and score the top with a sharp knife into a diamond pattern or crisscross, and transfer it to a cast iron pan or casserole dish. Place a whole clove into each 'x', and place pineapple rings around the roast.
Brush the entire roast with glaze, and grill on the bbq bake for 15-25 minutes pour over the maple glaze.
Brush the entire ham with more glaze, slice and serve with your favourite holiday sides like; roasted or mashed potatoes and gravy, stuffing, and roasted Brussels sprouts.
Nutrition Information
Serving size:
1 serving
Calories:
374
Fat:
12.6g
Carbohydrates:
35.8g
Sugar:
24g
Fiber:
2.5g
Protein:
28.1g
Hey I'm Candice aka The Edgy Veg
– I veganize popular food recipes for vegans, plant-based diets, eco-conscious eaters & people who are trying to eat more plants over… y'know animals or their by-products. I hope you enjoy this tasty vegan recipe!
---
Looking For More Vegan Barbecue Recipes?
Made this recipe? Let me know what you think by leaving a ★★★★★ star rating & comment below. It truly helps me & I really appreciate any support! Feel free to share your food photos on social and tag me @edgyveg so I don't miss it!