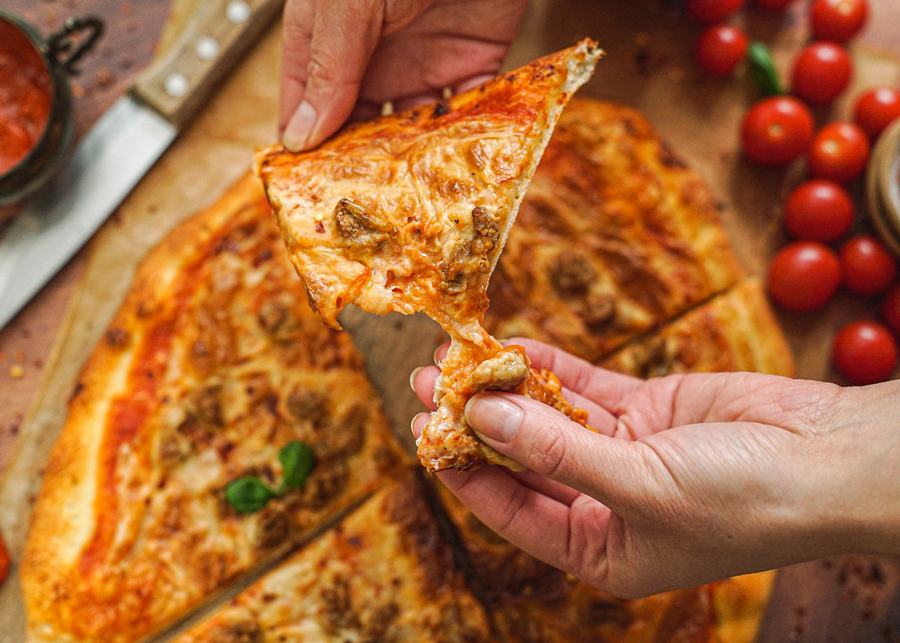 Easy Vegan Mozzarella (Liquid Cheese)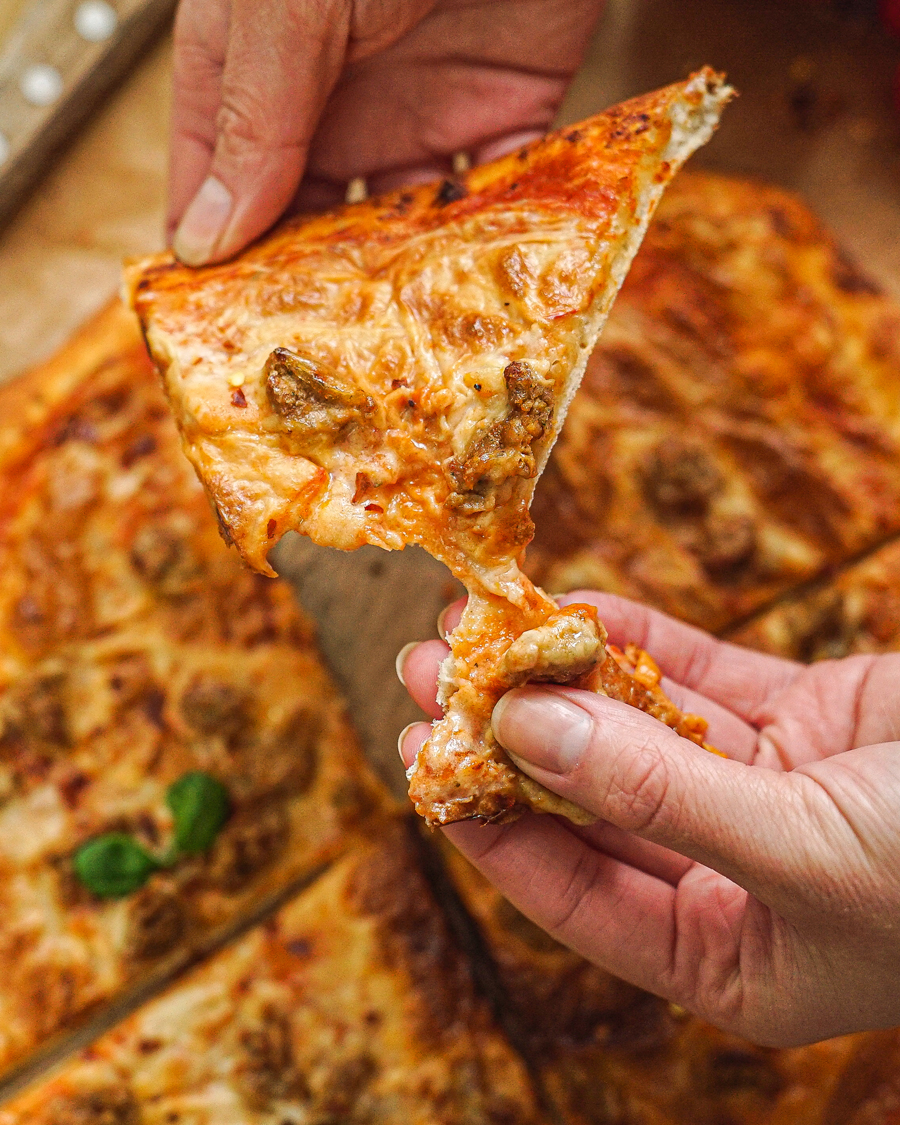 This liquid vegan pizza mozzarella is the perfect vegan cheese option to make any pizza taste like they were in Italy! Pour this liquid vegan mozzarella over any tomato sauce for that authentic Italian experience. Vegan cheese has never tasted this creamy!
But Why Make A Liquid Vegan Cheese?
I have made it my mission to recreate iconic vegan products on the market to make at home. The new products that come from vegan brands keep impressing me more and more, and while I love trying out new vegan products, I know that some store-bought options aren't accessible to everyone. Some may not be sold in your area, or are too expensive, and some people would prefer to make vegan cheeses and meats etc at home. That's where I come in.
Recently, I saw a new product from Myoko's that is a pourable pizza mozzarella. It is a liquid that is poured over a pizza, and baked until set and slightly browned on the top. It comes in a white plastic milk jug-looking bottle. It's made from cultured cashews and claims to "melt, bubble and brown". The product is $8.99 USD for a 16 oz bottle. When I saw this product online, it reminded me of my vegan cheese fondue recipe and I knew I could adapt what I already have to make a dupe for this pourable pizza mozzarella!
What are the best ways to use it? I use it on pizza, lasagna, poured over veggies or in any other way you want gooey liquid vegan cheese!
This is a simple recipe for homemade vegan cheese that can completely change the way you make vegan pizza!
Related Recipe: Vegan Tofu Mozzarella Cheese

Liquid Vegan Pizza Mozzarella
You will never make your vegan pizza the same ever again after using pourable liquid cheese! It sets on a pizza into a browned, gooey and hot melted cheese consistency. You only need to use about 1 cup per medium-sized pizza and store the rest in the fridge or freezer for easy use anytime. If you're looking for a pizza cheese pull, and recipe that's ready only using the blender, this is for you!
Whether you're hosting a major dairy-free pizza party or making pizza for just yourself, this is an impressive and simple way to change up your pizzas from the store-bought shreds and use something homemade that's creamy, melty and so good! Anyone who's vegan or dairy-free will love this as an alternative to cheese on their pizza!
This recipe is so easy to make, just cook down the onions and garlic, then add potato, cashews and rice and boil, then simmer until potatoes are cooked. Once soft, add all ingredients to a blender and blend until nice and smooth. Then just pour over your pizza and cook as normal! You'll love the meltable and gooey texture and subtle cheesy flavour!

Can I freeze it?
Yes! You can freeze the liquid cheese in individual-use-sized, air-tight containers to thaw and use anytime the pizza craving hits!
Is this gluten-free?
Yes! As always, if you have any allergies or intolerances, please check your own ingredients, but this recipe is gluten-free.
Can I make it ahead of time?
Yes! Make this liquid cheese up to 2 days before you plan to make your pizza, then use or freeze leftovers.
Related Recipe: Easy Vegan Cheese Ball

INGREDIENTS FOR POURABLE PIZZA MOZZARELLA (VEGAN + GLUTEN-FREE):
KITCHEN EQUIPMENT:
Pourable Vegan Mozzarella
This is a simple recipe for homemade vegan cheese that can completely change the way you make vegan pizza!
Instructions
In a small saucepan, heat olive oil over medium-high heat. Add onion and garlic and cook until translucent, about 3 minutes.
Add bouillon, water, potato, rice, and cashews and bring to a boil.
Reduce heat to a simmer, and cover. Cook until rice and potatoes are soft, about 25-30 mins, stirring occasionally.
Transfer everything to a blender and blend with the feeding hole open until very smooth.
Add soy milk, sauerkraut water, nutritional yeast, vinegar, tapioca starch, agar, miso, salt and mustard powder to blender and blend until smooth.
Now you can pour the cheese mixture over a prepared pizza and cook as usual.
Nutrition Information
Serving size:
approx ½ cup
Calories:
122
Fat:
4.6g
Carbohydrates:
15.8g
Sugar:
1.1g
Fiber:
4.2g
Protein:
3.7g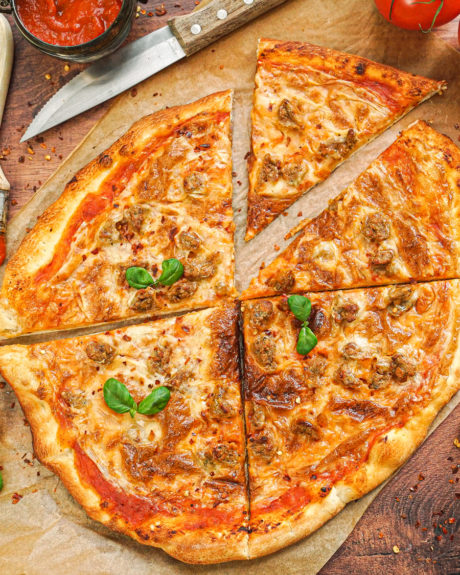 Hey I'm Candice aka The Edgy Veg – I veganize popular food recipes for vegans, plant-based diets, eco-conscious eaters & people who are trying to eat more plants over… y'know animals or their by-products. I hope you enjoy this tasty vegan recipe!
---
Looking For More Vegan Cheese Recipes?
Made this recipe? Let me know what you think by leaving a ★★★★★ star rating & comment below. It truly helps me & I really appreciate any support! Feel free to share your food photos on social and tag me @edgyveg so I don't miss it!