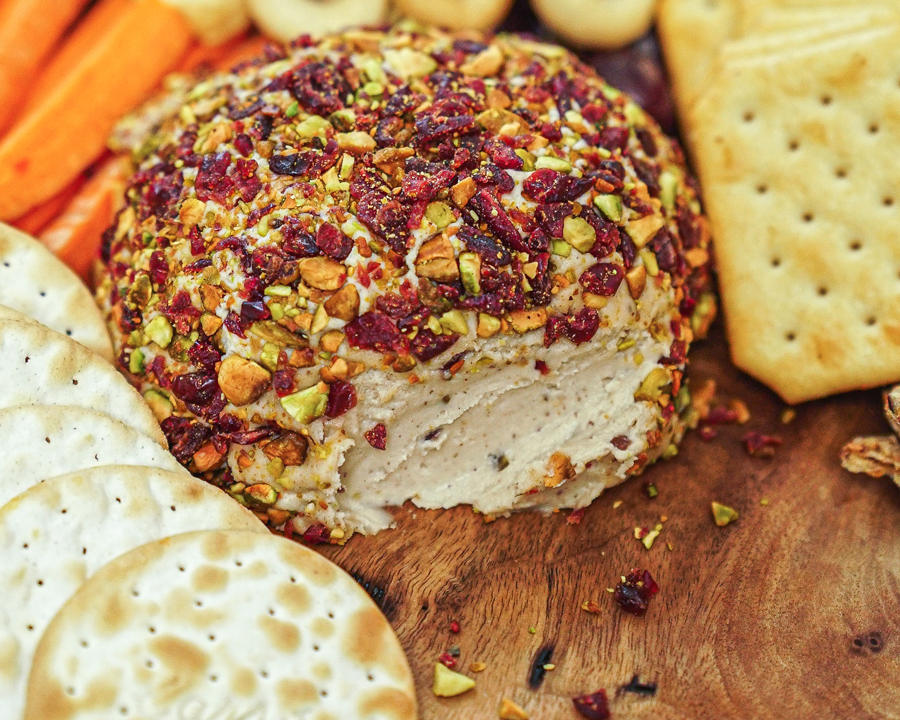 This easy vegan cheeseball is DELICIOUS! Is there anything more perfect than a holiday charcuterie board, especially when it's vegan, delicious and ultimately easy to cook? Today's recipe is going to show you how to make the perfect homemade vegan cheese ball that will impress all of your guests. It is a vegan cashew-based cheese ball with cranberries and nuts, and a sweet crust with a soft silky cheese inside.
HOW IS IT MADE?
It uses the leftover pulp from making plant-based milk or cream in a nut-milk machine because it adds that additional creaminess to the cheese and is a low-waste option when making milk at home! As well, you can also use the pulp from making homemade plant-based milk in a blender from almonds, cashews, or other nuts of choice! If you don't make nut milk at home, you can double up on the cashews in this recipe. 
This is a great recipe for any dinner party or holiday snack board because of how easy it is to share and spread all over crackers and bread. You can easily prepare this a day or two early and serve when you're ready. If you really want to impress veg-forward guests, pair it with homemade vegan pate and mushroom crostinis, along with sliced baguette, crackers, pickles, fruit and jams.
Related Recipe: Best Vegan Pate

Vegan Festive Cheese Ball
My favourite thing about the holiday season is the food! My Christmas dinner would truly not be complete without a few hours of mingling and enjoying a Christmas cocktail and a huge grazing table, I will absolutely be adding this cheese ball to every festive charcuterie board from now on.
How Many People Does This Serve?
If you're hosting a fully vegan meal or you're the lone vegan at your event, this vegan cheese can be prepared in advance and brought over, so if no one else has dairy-free cheese options, you can enjoy and share this one. If anyone turns up their nose to vegan cheese, you let that go and enjoy even more for yourself. It has a subtle sweet and nutty flavour and is quite mild, I like it best smeared on a baguette toast or water cracker and an olive on the side.
CAN YOU REMOVE THE FRUITS? ABSOLUTELY! If you're not big on a fruit and cheese combination, you can absolutely leave out the cranberries or swap for extra pistachios for the crust.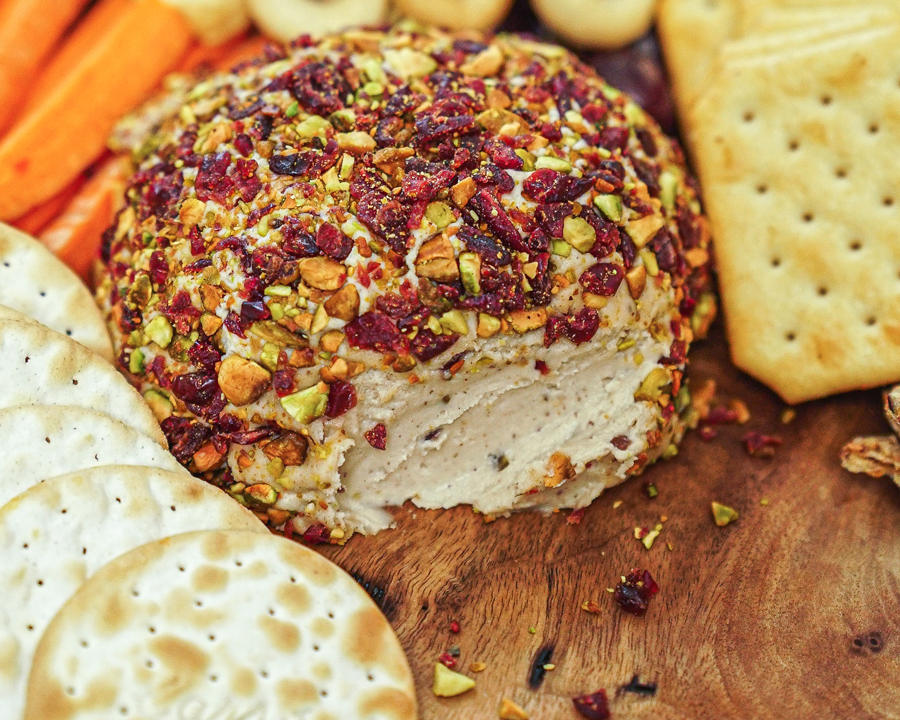 Related Post: Best Vegan Christmas Recipes
INGREDIENTS FOR CHEESE BALL (VEGAN):
KITCHEN EQUIPMENT:
Full recipe down below!
Check out the full video on YouTube by clicking here!
Festive Vegan Cheeseball
Instructions
Line a small round bowl with plastic wrap or parchment, and set it aside.
In a second small bowl mix together 2 tbsp chopped cranberries and 2 tbsp chopped pistachios or walnuts. Set aside.
Add cashew pulp, cashews, nutritional yeast, miso, apple cider vinegar, lemon, water, salt, cinnamon, 2 tbsp cranberries, and tapioca starch to a blender or food processor, and blend until completely smooth.
In a small saucepan over medium heat, stir the mixture until it begins to thicken, about 5-10 minutes. Stir in 4 tbsp chopped dried cranberries, and 4 tbsp dried walnuts or pistachios.
Transfer the mixture into the lined dish, and smooth out the top.
Let cool, cover, and refrigerate for 24 hours, or until it's set.
Gently remove the cheese from the bowl and roll in or tap the cranberry and nut mixture you set aside all over it.
Enjoy with crackers, fruits, or whatever else you'd like!
Notes
You can also use the pulp from making homemade plant-based milk in a blender from almonds, cashews, or other nuts of choice! If you don't make nut milk at home, you can double up on the cashews in this recipe.
Nutrition Information
Serving size:
1 serving
Calories:
181.5
Fat:
10g
Carbohydrates:
17.8g
Sugar:
8.8g
Fiber:
2.4g
Protein:
5.7g
Hey I'm Candice aka The Edgy Veg – I veganize popular food recipes for vegans, plant-based diets, eco-conscious eaters & people who are trying to eat more plants over… y'know animals or their by-products. I hope you enjoy this tasty vegan recipe!
---
Looking For More Vegan Holiday Recipes?
Made this recipe? Let me know what you think by leaving a ★★★★★ star rating & comment below. It truly helps me & I really appreciate any support! Feel free to share your food photos on social and tag me @edgyveg so I don't miss it! 
Share My Recipe on Pinterest