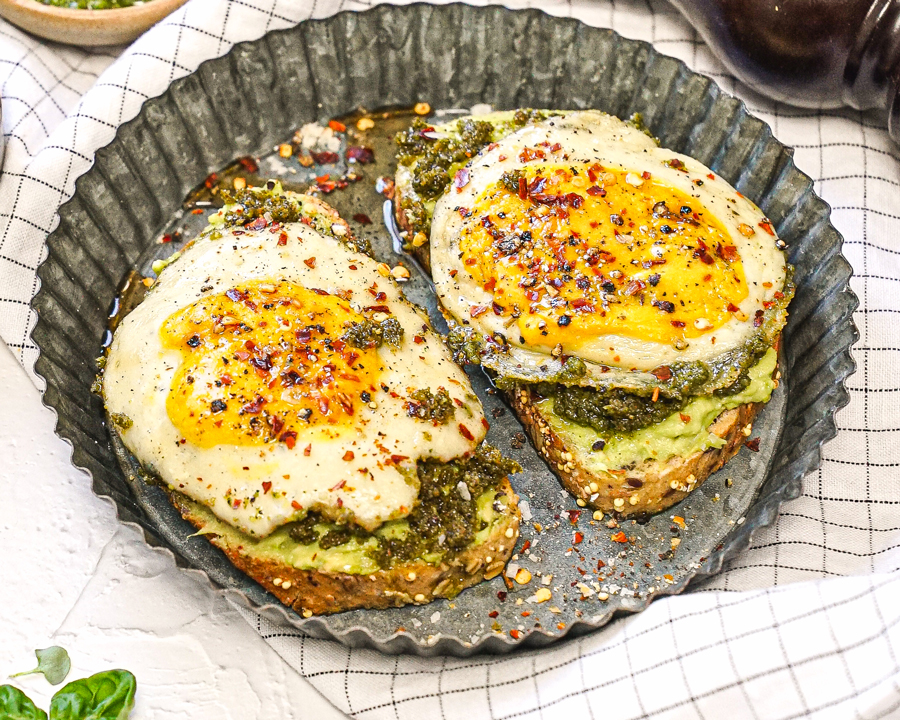 I'm going to show you how to make vegan fried eggs in just 20 minutes! This vegan breakfast is great for new vegans or people who have egg allergies or have a hard time giving up eggs! Using a delicious combination of vegan ingredients, you can have a fried egg white dripping with yolk.
If you're looking for a vegan breakfast recipe that's vegan and recreates eggs, you're going to love this one! People won't believe it's vegan!
Related Recipe: Israeli Tahini Toast
Vegan Fried Eggs
This recipe is perfect to fulfill the craving for soft and drippy yolks from fried eggs! I love the way the tofu-based egg white and Vegg Yolk combination really capture the flavours and textures of chicken's eggs. Paired with vegan pesto and toast toppings, this is such a perfect savoury breakfast.
I got the idea for this recipe from a TikTok trend where people would cook a fried egg in pesto or chili oil in the pan. While I don't eat eggs, I still wanted to try this out! I whipped up a quick vegan egg white, egg yolk, pesto and my favourite toast toppings! To save time in the morning, you can make the pesto, yolk mixture and egg white mixture ahead of time, then in the morning, cook and assemble!
Related Post: Vegan Ricotta Toast with Broccoli

INGREDIENTS FOR FRIED EGGS (VEGAN):
Egg White:

Egg Yolk:

Use Store-bought pesto or make my vegan pesto:
KITCHEN EQUIPMENT:
Watch me make this on YouTube!
Vegan Fried Eggs
I'm going to show you how to make vegan fried eggs in just 20 minutes! Using simple vegan ingredients, you can have a fried egg white dripping with yolk.
Ingredients
Quick Vegan Eggs
Egg white:
Egg Yolk:
Vegan Pesto:
Assembly:
Instructions
Quick Vegan Eggs:
Vegan Egg white:
Blend tofu, potato starch, and black salt until smooth
Vegan Egg Yolk:
Blend Vegg Yolk powder with ¼ cup of water until smooth.
Use store-bought vegan pesto or make my vegan Pesto recipe:
In a food processor blend basil, garlic, nuts of choice, nutritional yeast and vegan parmesan, if using. While the processor is blending, stream in olive oil ¼ cup at a time until the pesto is combined. Taste and season with salt.
Pesto Eggs Toast:
Over medium heat, heat a medium pan. Add pesto and give it a spread, so it coats the bottom of the pan.
Gently pour the vegan egg white into the pan.
Cook the vegan egg white for 2 minutes, then pour about 1 tbsp of vegan egg yolk onto each vegan egg white. Sprinkle with salt, pepper, and red pepper flakes, and cook for about 2-3 minutes or until the whites are set.
Meanwhile, prepare your toast, and spread avocado or vegan chevre on top.
Gently, place the vegan fried egg onto the toast.
Drizzle with vegan honey or agave and enjoy.
Hey I'm Candice aka The Edgy Veg
– I veganize popular food recipes for vegans, plant-based diets, eco-conscious eaters & people who are trying to eat more plants over… y'know animals or their by-products. I hope you enjoy this tasty vegan recipe!
---
Looking For More Vegan Breakfast Recipes?
Made this recipe? Let me know what you think by leaving a ★★★★★ star rating & comment below. It truly helps me & I really appreciate any support! Feel free to share your food photos on social and tag me @edgyveg so I don't miss it! 
Share My Recipe on Pinterest