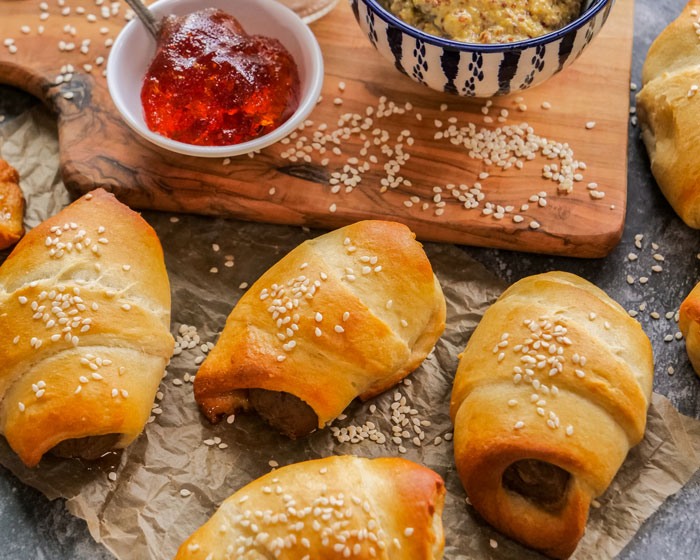 Vegan Pigs In Blanket Recipe
This recipe makes 16 vegan pigs in blankets in 25 minutes using 5 ingredients you can find at your local grocery store! Using 3 main ingredients for the "pigs in a blanket", this vegan recipe is quick, kid-friendly, and a crowd-pleaser for all types of eaters.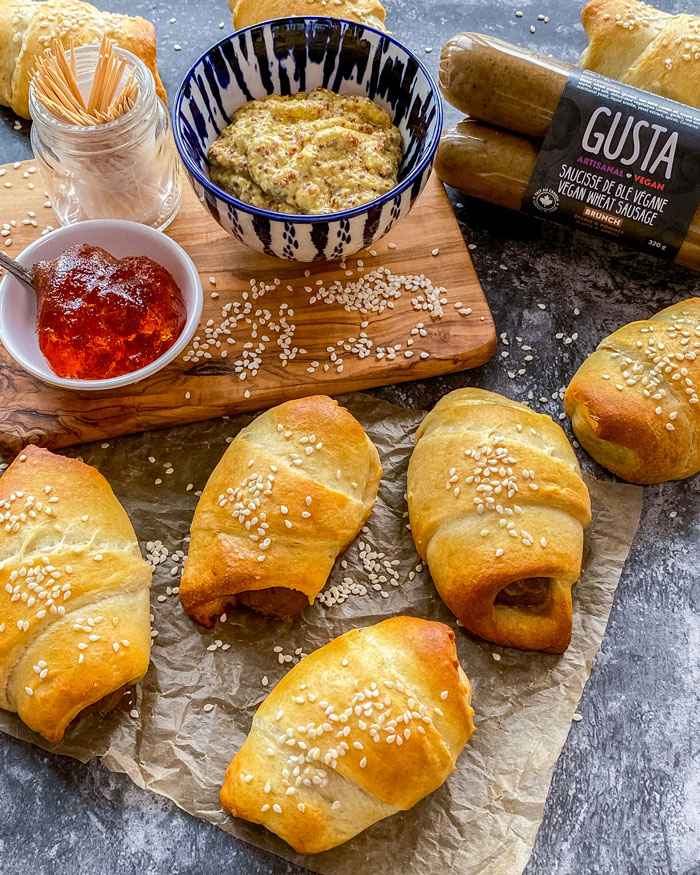 Enjoy these nostalgic treats with friends and family or freeze and bake in small batches when you want an easy hors d'oeuvre. Make them your own by adding jelly to the pastry or dipping them in ketchup or spicy vegan honey mustard.
These are an easy way to serve a little piece of happiness and they're just so darn cute. These will definitely be eaten up in a matter of minutes.
Related Recipe: Vegan Savoury Scones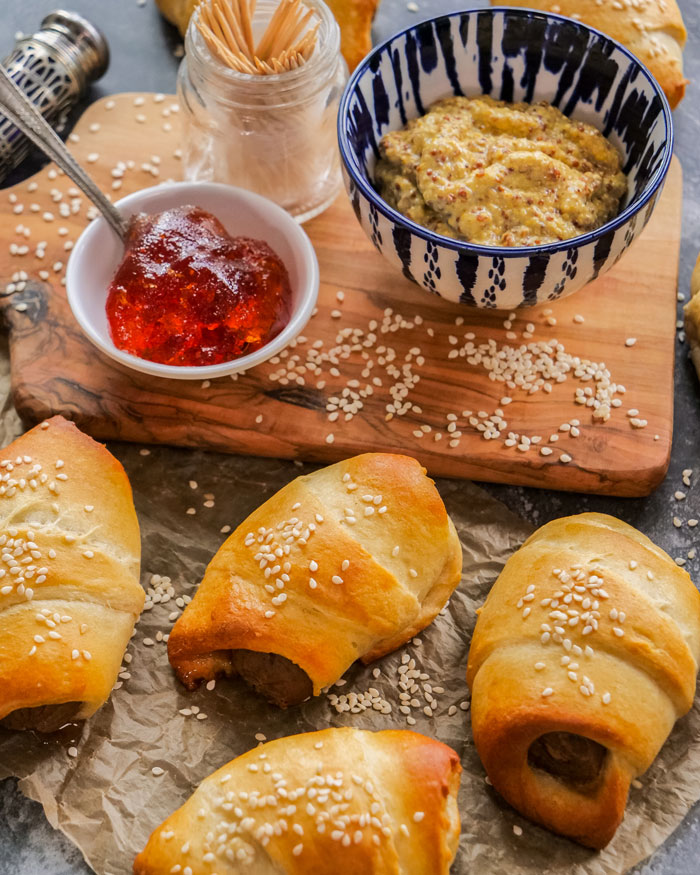 VEGAN PIGS IN BLANKET
DAIRY-FREE | MEAT-FREE | VEGAN
This recipe yields 16 pigs in a blanket that you can serve at any social gathering, from a cocktail party to a slumber party.
To make this recipe extra quick and easy, we're using store-bought crescent rolls to wrap around Gusta Brunch Sausages to make this recipe go from idea to clean up in under 30 mins. Using store-bought crescent rolls makes this meatless pigs in blankets recipe extra easy and I'm so pleased that this tasty snack hack is accidentally vegan.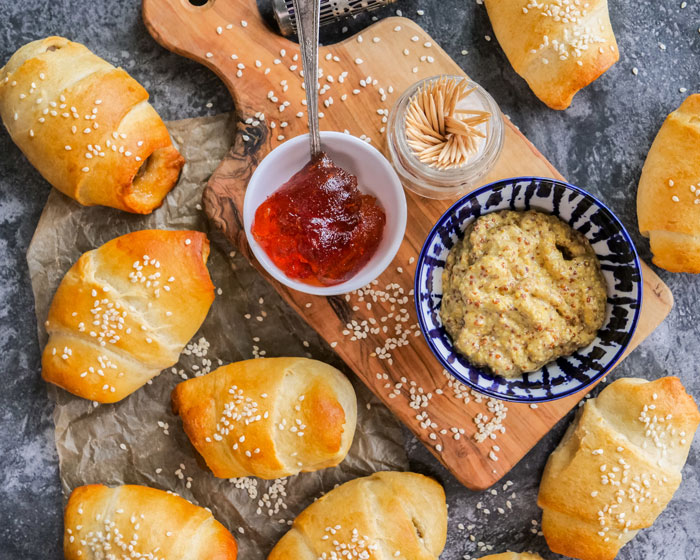 VEGAN PIGS IN BLANKET INGREDIENTS
This recipe will include the following ingredients:
KITCHEN EQUIPMENT I USED:
Silicone Baking Mats
Baking Pan
Brush
Wire Cooling Rack
Vegan Pigs In Blanket Recipe
This recipe makes 16 vegan pigs in a blanket in 25 minutes using ingredients you can find at your local grocery store that you probably didn't even think were vegan! Using 3 major ingredients, this quick, easy, kid-friendly recipe is a crowd-favourite.
Instructions
Heat oven to 375°F, and line a baking sheet with a silicone baking mat or parchment paper.
If you are using crescent rolls, separate the dough into triangles. If you are using puff pastry, cut the dough into triangles.
Spread jelly of choice along the flat, long side of the triangle, if using.
Place the half sausage on top, parallel to the flat, long end of the triangle, and roll to wrap the dough around each sausage half.
Place on a lined baking sheet, seam side down and repeat with each roll.
Brush each roll with some aquafaba and sprinkle with a few sesame seeds.
Bake 12 to 15 minutes or until golden brown.
Serve with your favourite dip, I like to dip in my spicy honey mustard.
Nutrition Information
Serving size:
1 roll
Calories:
196
Fat:
8.9g
Saturated fat:
2.3g
Trans fat:
0g
Carbohydrates:
18g
Sugar:
5.8g
Sodium:
506mg
Fiber:
.6g
Protein:
11.6g
Cholesterol:
0mg
Hey, I'm Candice & welcome to The Edgy Veg! I veganize popular food recipes for vegans, plant-based diets, eco-conscious eaters & people who are trying to eat more plants over… y'know animals or by-products of animals. I hope you enjoy this tasty vegan recipe!
LOOKING FOR MORE VEGAN APPETIZER RECIPES?
___________
If you make these vegan pigs in a blanket, let me know what you think by leaving a 
 star rating & comment below. It truly helps me & I really appreciate any support! Feel free to share your food creation on social and tag me @edgyveg on your photo so I don't miss it!
Share My Recipe on Pinterest!