5 Vegan Thanksgiving Leftovers Recipes & Ideas
What's better than vegan Thanksgiving recipes? Vegan Thanksgiving leftovers recipes & ideas!
If you're tired of the same thing, here are 5 ideas & ways to use your vegan Thanksgiving leftovers!
Related Recipe: Best Vegan Thanksgiving Recipes
Vegan Thanksgiving Leftovers Recipes & Ideas
Thanksgiving is one of the biggest food holidays of the year! This year, with fewer mouths to feed around your table, you may find yourself with extra thanksgiving leftovers.
These recipes & tips can turn days-old leftovers into a new and flavourful meal, and not the same plate of food microwaved again and again. I've even included a roasted vegetable skewers recipe that uses leftover ingredients and can be made in under 15 minutes.
HOW TO STORE VEGAN THANKSGIVING LEFTOVERS:
In the Fridge: Pack up cooled leftovers into containers, and store them in the fridge for up to four days. Using small containers will save you tons of fridge space.
In the Freezer: Pack up cooled leftovers into airtight containers, label and date them, and freeze them for up to three months. Soup, gravy and other liquids will expand as they freeze, so leave a little space at the top of the container.

5 WAYS TO USE THANKSGIVING LEFTOVERS 
Here are ways to use Thanksgiving leftovers and turn them into new & tasty meals:
Make a Vegan Thanksgiving Leftovers Sandwich using leftover slices, mashed potatoes, gravy and cranberry sauce! (Photo above – click here for my recipe)
Fry up your leftover mashed potatoes and turn them into potato hashbrowns. Just mix leftover mashed potatoes, 1 cup flour, ¾ tsp baking powder, ¼ tsp garlic powder, ¼ tsp-1/2 tsp sea salt and form it into a dough. Then fry it up!


Make a pot pie using leftover veggies! Check out my recipe for pot pie! You can put all your thanksgiving leftovers into pastries to make cute pot pies!
Use leftover slices of your vegan roast or whatever protein you enjoyed and use it to make other dishes like enchiladas, stir-frys etc.
Take your leftover veggies & slices and put them onto a skewer! You can cook them on the grill, BBQ or oven! Cover the skewers in my cranberry glaze (recipe below) using leftover cranberry sauce! It's SO good!
Cranberry Glazed Skewers Recipe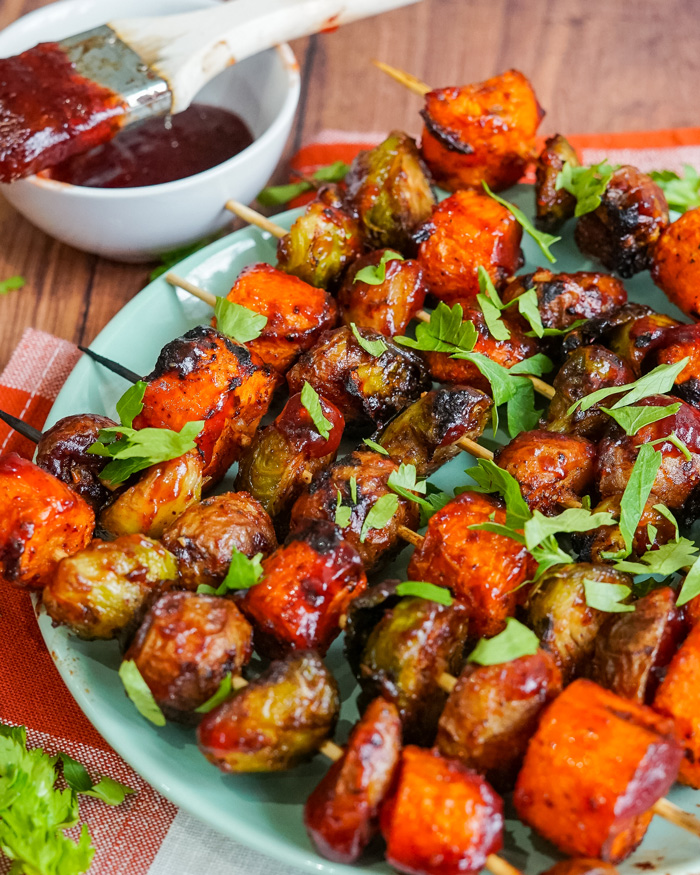 Vegan Thanksgiving Leftovers Skewers
Use this as a guideline for whatever amounts and ingredients you have leftover from your Thanksgiving feast.
Instructions
If using wood, soak your skewers in a dish or pan of water.
Place all of your leftover thanksgiving veggies in a large bowl. Set aside.
To a blender add cranberry sauce, vinegar, brown sugar, mustard, chili powder, garlic powder, paprika and salt. Blend until smooth.
Pour the mixture into a medium saucepan bring it to just below a boil, stirring constantly. Cook until it thickens slightly and remove from the heat.
Drizzle the sauce over the veggies, and gently toss to coat.
careful start threading the skewer through the veggies, 3-4 per skewer.
Heat your grill to medium and grease it to prevent sticking.
Cook the skewers on the grill for roughly 3-4 minutes on each side. remove from heat, and brush with extra cranberry glaze.
Serve on a plate or platter topped with fresh herbs of choice, next to a thanksgiving leftovers burger.
---
Hey I'm Candice aka The Edgy Veg – I veganize popular food recipes for vegans, plant-based diets, eco-conscious eaters & people who are trying to eat more plants over… y'know animals or their by-products. I hope you enjoy this tasty vegan recipe!
---
Looking For More Vegan Holiday Recipes?
Let me know what you think by leaving a ★★★★★ star rating & comment below. It truly helps me & I really appreciate any support! Feel free to share your food photos on social and tag me @edgyveg so I don't miss it!