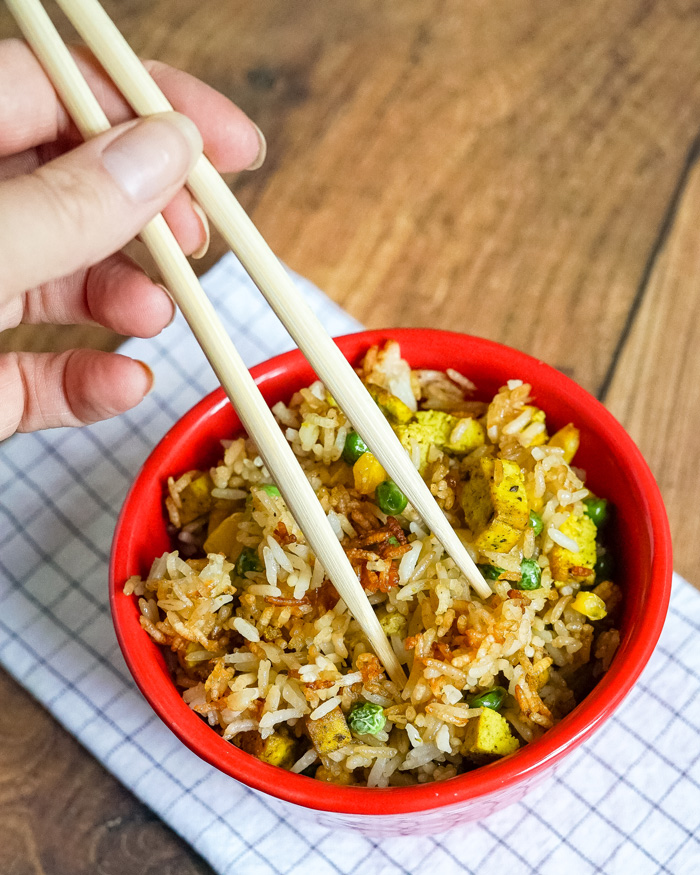 Air Fryer fried rice can be made in 15 minutes by frying up frozen veggies with rice in an air fryer. It's that easy to make vegan fried rice!
This is one of my easy "lazy recipes" to whip up with cooked rice, veggies, soy sauce and even tofu for protein. Making fried rice in an air fryer is perfect for students, families and people looking to make a quick meal. 
I sometimes just have a bowl of this air fryer fried rice for dinner by itself because I love it so much!
Whether you have a small kitchen, a college dorm room, or just love kitchen gadgets that make your life easier, an air fryer is a game-changer.
With the functionality of a small convection oven, an air fryer circulates air to make crispy, easy meals with very minimal use of oil. In our house, the air fryer has completely replaced our need for a microwave!
Related Recipe: Fried Cauliflower Bites
Air Fryer Fried Rice
VEGAN | EGG-FREE | DAIRY-FREE
This air fryer fried rice recipe uses 6 ingredients and made in under 20 mins using only one dish. Believe me when I tell you this recipe will be in your life forever.
I wish I had an air fryer and fried rice in my small college dorm room because I would be making air fryer fried rice every week!
INGREDIENTS FOR AIR FRYER FRIED RICE:
KITCHEN EQUIPMENT I USED:
Air Fryer Fried Rice
Air Fryer fried rice can be made in 15 minutes by frying up frozen veggies with rice in an air fryer. It's that easy!
Instructions
In a large bowl mix together; rice, frozen corn, frozen peas, and tofu cubes.
Add soy sauce and sesame oil, and mix to coat the rice and veggies.
Transfer the rice mixture to an oven-safe bowl and place it into the air fryer.
Cook the rice for 15 mins at 350F, stirring every 5 mins or so.
Serve and enjoy!
Nutrition Information
Serving size:
1 serving
Calories:
315
Fat:
7g
Carbohydrates:
50g
Sugar:
1.8g
Sodium:
677mg
Fiber:
2.4g
Protein:
10.4g
Hey I'm Candice aka The Edgy Veg– I veganize popular food recipes for vegans, plant-based diets, eco-conscious eaters & people who are trying to eat more plants over… y'know animals or their by-products. I hope you enjoy this tasty vegan recipe!
---
Looking For More Easy Vegan Recipes?
Made this recipe? Let me know what you think by leaving a ★★★★★ star rating & comment below. It truly helps me & I really appreciate any support! Feel free to share your food photos on social and tag me @edgyveg so I don't miss it!
Share My Recipe on Pinterest!