Best Vegan Enchiladas with Sauce (Casserole Recipe)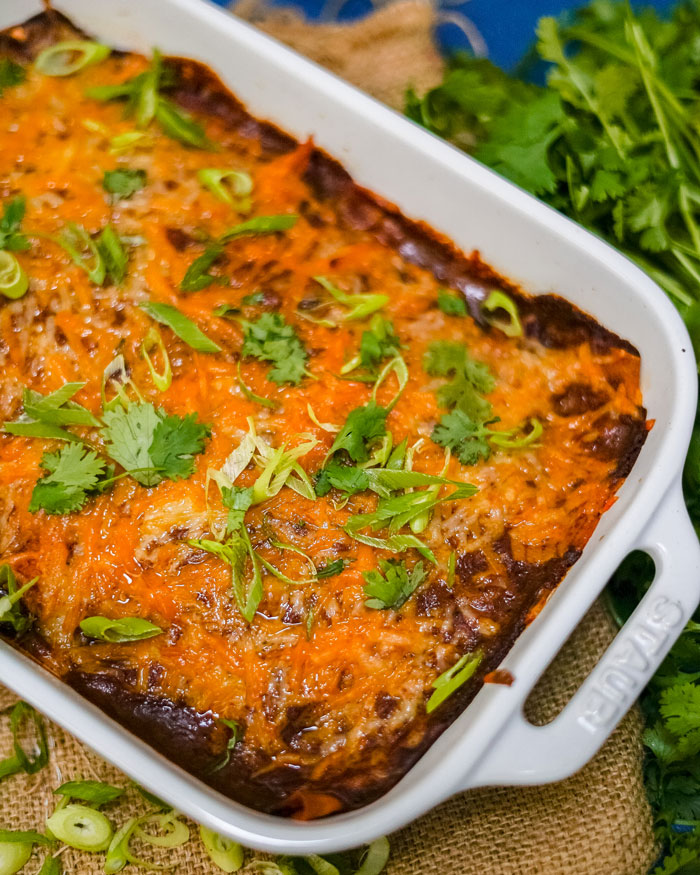 This truly is the best vegan enchiladas casserole you'll ever try! The vegan enchilada sauce is super easy to make and a household favourite. The entire vegan jackfruit enchiladas recipe is incredibly tasty for anyone to enjoy (even non-vegans!).
This recipe is made with dairy-free cheese, jackfruit, black beans and other simple ingredients you probably have at home.
Related Recipe: Vegan Pulled Pork Tacos
Best Vegan Enchiladas With Sauce
VEGAN | DAIRY-FREE | MEAT-FREE
I love Mexican and Tex-Mex recipes. Vegan enchiladas like these are full of spices and easy to sneak in extra veggies. By chopping everything small, you can add greens, peppers, and any other vegetables that may need to be used up from your fridge.
This recipe has quite a few ingredients but don't let that deter you from trying this easy and flavourful dish that family and friends will all love. You will have most of these spices in your home and if not you can totally improvise!
INGREDIENTS FOR VEGAN ENCHILADAS:
Enchilada Sauce:
Enchiladas:
KITCHEN EQUIPMENT I USED:
For an easy meal at the beginning of the week that serves as amazing leftovers, this vegan enchiladas recipe is perfect for weekdays after work and school.
This recipe can also be prepared in advance and frozen before the baking step, leaving the sauce separate to add on before cooking for an easy freezer staple.

Best Vegan Enchiladas With Sauce (Casserole Recipe)
The best vegan enchiladas casserole you'll ever try! My vegan enchilada sauce is super quick and the entire jackfruit enchiladas recipe is so incredibly tasty! Anyone will enjoy it (especially non-vegans!). This recipe is made with dairy-free shredded cheese, vegan "chicken" aka jackfruit, veggies and other simple ingredients you will have in the kitchen.
Ingredients
Enchilada Sauce
Enchiladas
Instructions
For the Enchilada sauce; Over low-medium heat, heat your 1 tbsp oil in a medium saucepan or pot.
Whisk in 3 tbsp flour.
Then whisk in 2 tbsp chili powder, 1 tbsp paprika, and ½ tsp cumin. Keep whisking as it heats up.
When it starts to clump and your oil has been absorbed, slowly whisk in 1 cup of water. It should bubble up. Continue to whisk.
Next add 3 tbsp tomato paste, ½ tsp garlic powder, ½ tsp onion powder, ¼ tsp oregano, ¼ tsp cayenne (optional if you don't like too spicy), and 1 vegetable bouillon cube crumbled. Add the other 1 cup of water and whisk until well combined.
Allow it to simmer, stirring as it thickens.
Remove from heat and set aside.
For the enchiladas: Heat 1 tbsp oil in a large pan over medium-high heat. Add 1 diced onion and 3 cloves of minced garlic and cook for 3-5 mins, until translucent. Add up to 3 cups of shredded jackfruit and mix. Season with salt and pepper.
Cook, stirring constantly until jackfruit is browned or charred.
Add your choice of vegetables to the pan. I used diced bell peppers, black beans, and spinach.
Next, add in ¾-1 cup enchilada sauce.
Now lower heat to simmer jackfruit mixture on low-medium for 5 mins, or until spinach has wilted.
Preheat oven to 350F.
Add 1 cup of vegan shredded cheese: I used ½ cup pepper jack shreds and ½ cup cheddar shreds.
Taste and season with salt and pepper.
Next, add a small layer of enchilada sauce to the bottom of your 13 x19 in baking/casserole dish to prevent tortillas from sticking (like you do with lasagna). Conserve most of your sauce as you'll be placing sauce on top of tortillas in casserole shortly.
Now to prepare tortillas: scoop equal amounts of the jackfruit mixture to the center of each tortilla. Roll it up and place seam side down in the dish. Repeat with as many tortillas as it takes to fill the baking/casserole dish. It depends on the size of your tortillas. If you use large tortillas with folded ends, some can fit 5-6 tortillas while with smaller tortillas, you should be able to fit 7-10. Whatever number of tortillas you have, just divide the mixture evenly and place them in a casserole dish.
Pour the rest of the enchilada sauce on top and smooth it out across the top to cover tortillas. If you leave tortilla ends without sauce, they will crisp up if you prefer crispy ends. I prefer to cover all the tortillas with enchilada sauce.
Sprinkle the remaining 1 cup of vegan cheese on top (or more).
Bake for 20-25 mins, until cheese, is melted and bubbling.
Garnish with cilantro or green onions and serve.
Nutrition Information
Serving size:
1 serving
Calories:
659
Fat:
27g
Carbohydrates:
75g
Sugar:
2.6g
Sodium:
1263mg
Fiber:
16.5g
Protein:
13.6g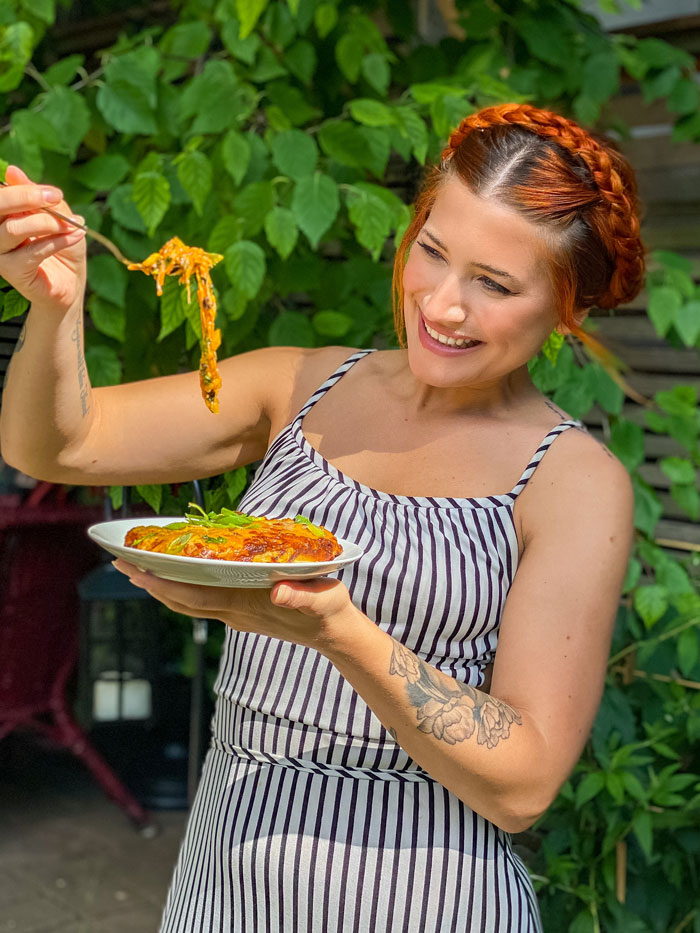 Hi! I'm Candice aka The Edgy Veg
! I veganize popular food recipes for vegans, plant-based diets, eco-conscious eaters & people who are trying to eat more plants over… y'know animals or by-products of animals. I hope you enjoy this tasty vegan recipe!
---
Looking For More Vegan Dinner Recipes?
Made this recipe? Let me know what you think by leaving a 
 star rating & comment below. It truly helps me & I really appreciate any support! Feel free to share your food photos on social and tag me @edgyveg so I don't miss it!
Share My Recipe on Pinterest!