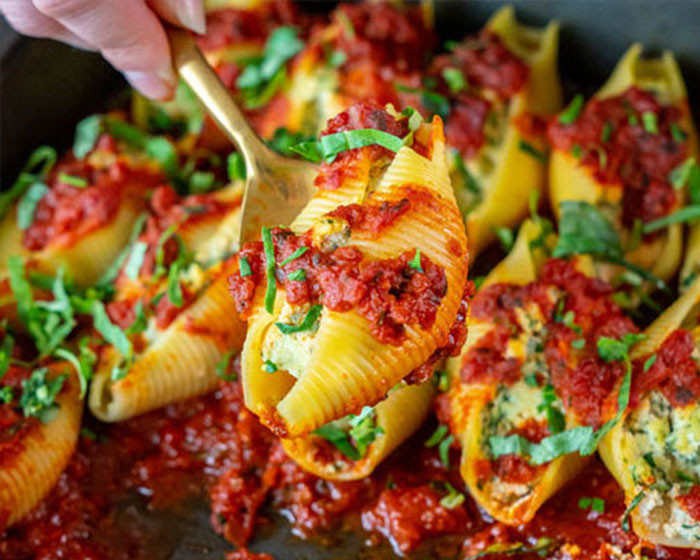 Vegan Stuffed Shells With Tofu Ricotta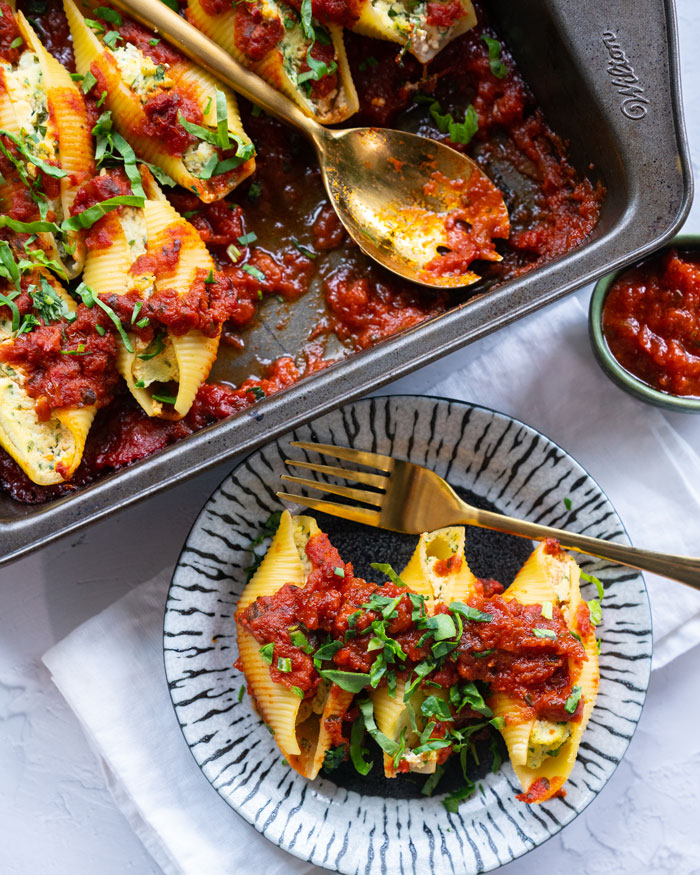 Stuffed with my vegan tofu ricotta, my Vegan Stuffed Shells recipe is an easy pasta dinner made with 5 simple ingredients and serves 4-6 people. Family-styled dinner that you can batch make and have all week as leftovers!
There are only a few things in this world more comforting than a carb-tastic pasta dinner like stuffed shells with vegan ricotta and pasta sauce.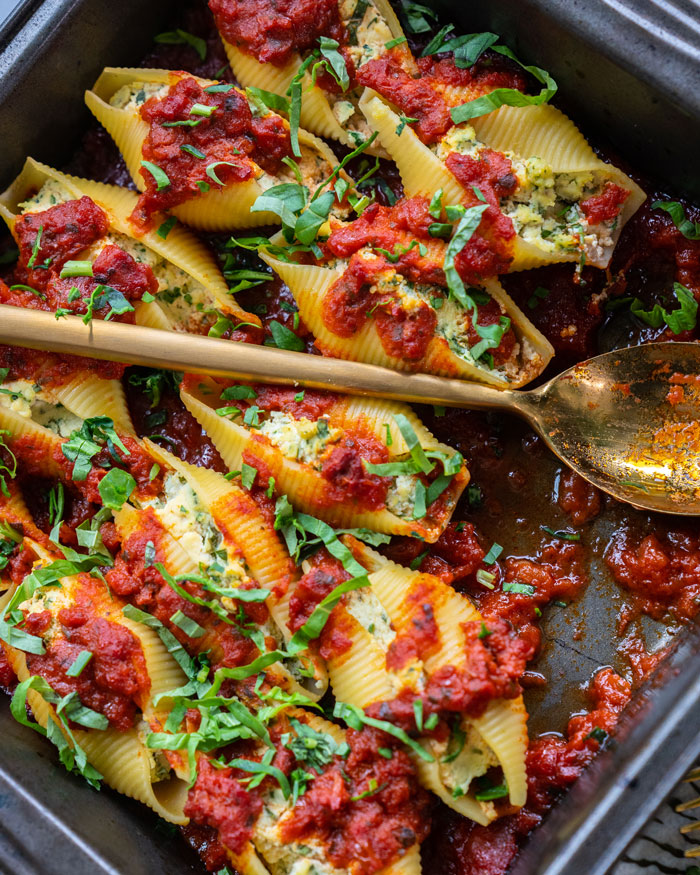 I live and breathe pasta! Anything with a saucy and cheesy aspect in a dish and I'll make over and over again. This recipe will definitely be a staple in your house.
Here is an easy way to make a cheesy, saucy vegan stuffed shells recipe using all shelf-stable ingredients and fridge staples.
First Recipe To Make: 5-Ingredient Vegan Ricotta Cheese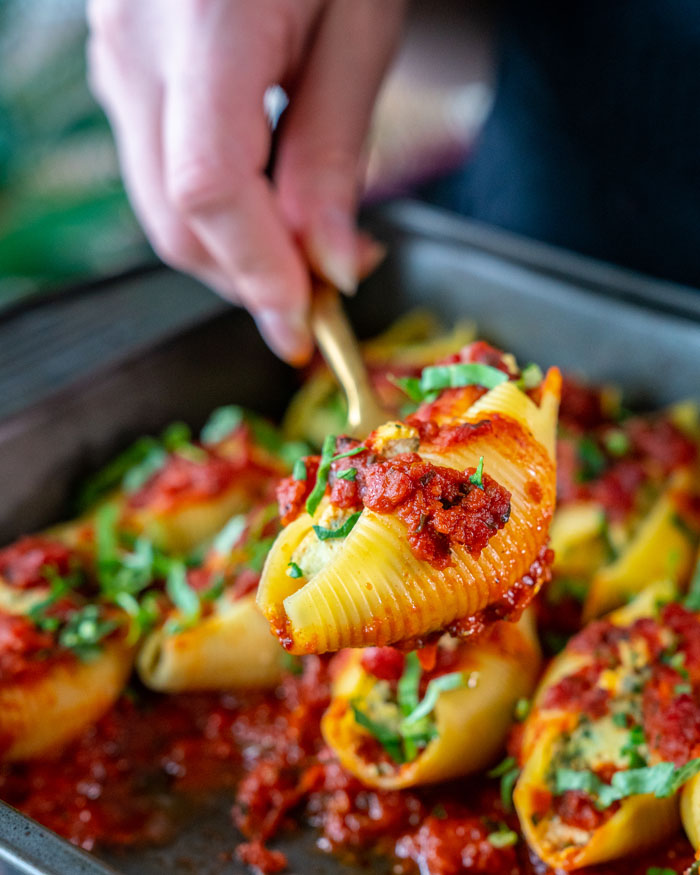 VEGAN STUFFED SHELLS
DAIRY-FREE | NUT-FREE | GLUTEN-FREE OPTION
This easy pasta recipe is a simple way to feed a hungry family on a budget using less than 10 ingredients. It's great right out of the oven and also makes easy, delicious left-overs to enjoy all week.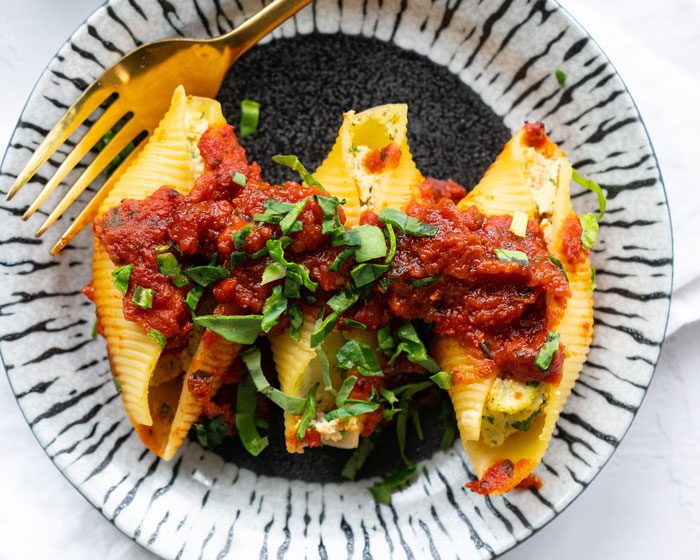 How To Make: Vegan Stuffed Shells With Tofu Ricotta
INGREDIENTS FOR VEGAN STUFFED SHELLS:
KITCHEN EQUIPMENT I USED:
Related Recipe: Vegan Creamy Tomato Pasta Sauce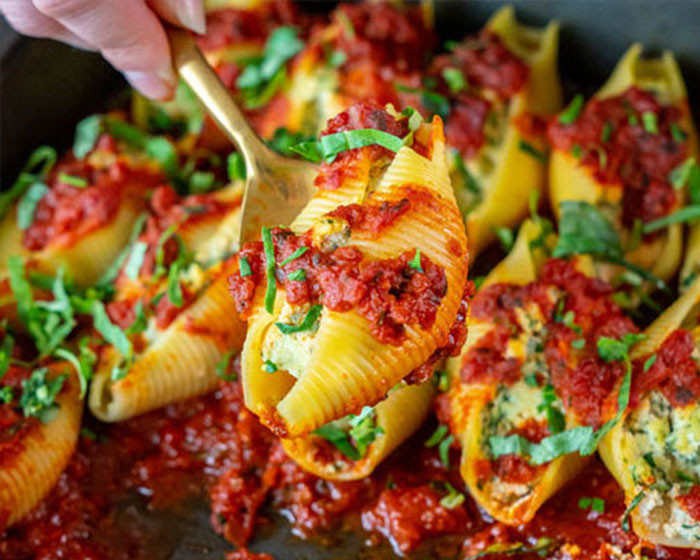 Vegan Stuffed Shells With Ricotta
Stuffed with my vegan tofu ricotta, Vegan Stuffed Shells is an easy pasta dinner made with 5 simple ingredients and serves 4-6 people.
Instructions
Cook pasta according to package instructions in salted boiling water, until al dente.
Drain pasta, and run under cold water.
Preheat oven to 350F.
If you have vegan ricotta at home, skip this step. To make a vegan ricotta, follow my 7-mins easy recipe here!
Place 1 cup of the tomato sauce into a 9x13 inch casserole or baking dish.
One at a time, using a small spoon evenly divide the vegan ricotta & spinach mixture between shells and place into the dish with the tomato sauce.
Cover the shells with the remaining tomato sauce, and bake for 30 mins or until the sauce is bubbling.
Remove from the oven and garnish with chopped basil.
Nutrition Information
Serving size:
4 shells
Calories:
309
Fat:
5.9g
Carbohydrates:
51.2g
Sugar:
7g
Sodium:
1065mg
Fiber:
4.5g
Protein:
13.8g
Cholesterol:
0mg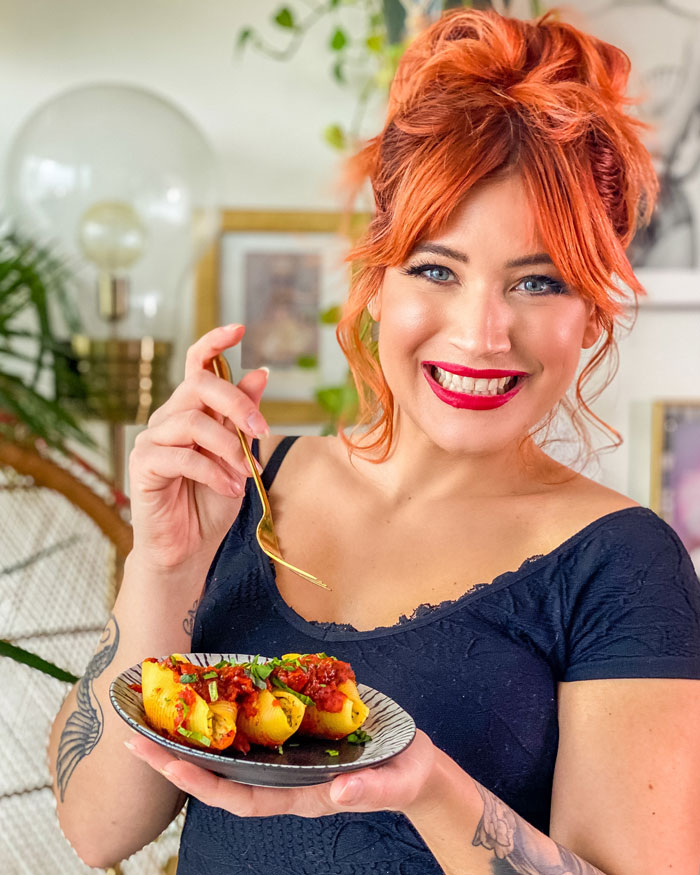 Hey, I'm Candice & welcome to The Edgy Veg!
 I veganize popular food recipes for vegans, plant-based diets, eco-conscious eaters & people who are trying to eat more plants over… y'know animals or by-products of animals. I hope you enjoy this tasty vegan recipe!
___________
Looking For More Vegan Pasta Recipes?
If you make this recipe, let me know what you think by leaving a
star rating & comment below. It truly helps me & I really appreciate any support! Feel free to share your food photos on social and tag me @edgyveg so I don't miss it!
Share My Recipe on Pinterest!