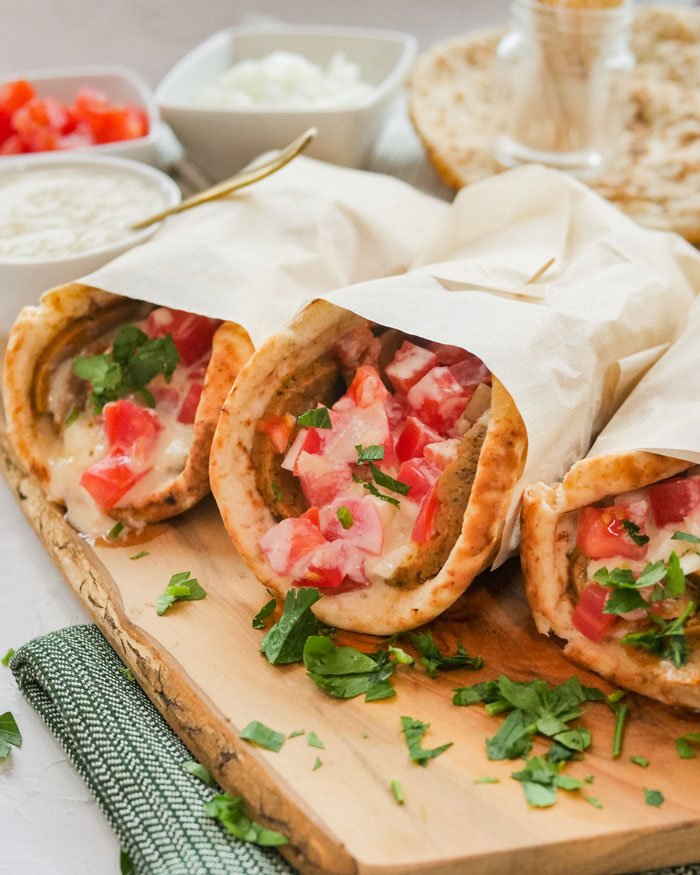 The donair is a popular late-night street food in Canada and I wanted to make a Vegan donair for everyone to enjoy including vegetarians and anyone transitioning to a plant-based diet. You can now buy vegan donair meat / shawarma meat in stores (shared below) or you can make a vegan donair with vegan donair sauce at home.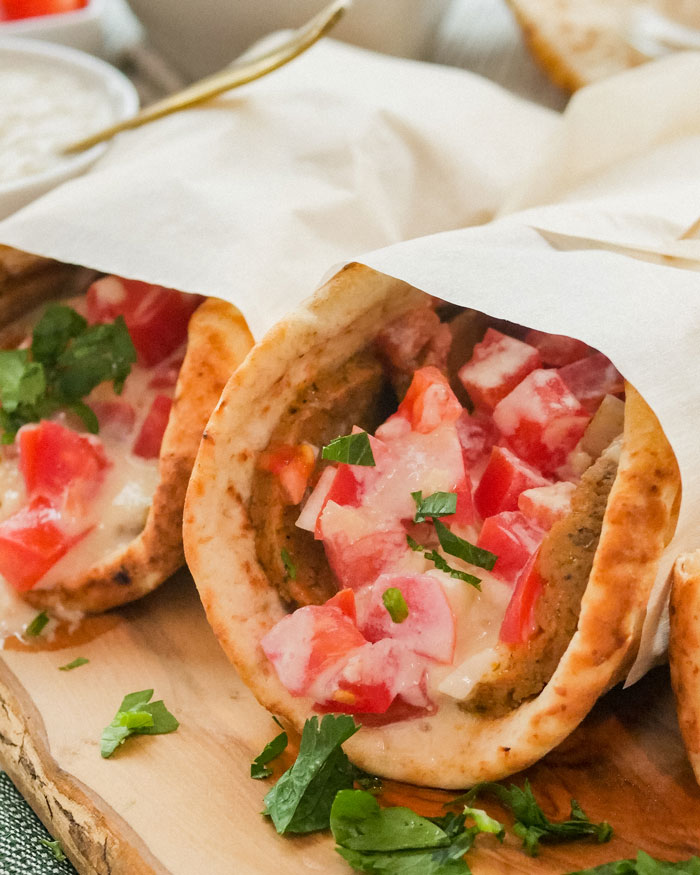 VEGAN DONAIR
VEGAN | NUT-FREE | DAIRY-FREE
There are few late-night classics like a messy donair that brings together all things decadent. Strong garlic and onion flavours, seasoned and sliced seitan and sweet, creamy sauce, all wrapped in a soft pita. Using store-bought seitan helps keep this recipe super simple, but feel free to make seitan at home using the recipe from my cookbook or my seitan recipe on my website!
If you're from Canada, you'll know that Halifax Donairs are quintessential and I wanted to re-create this east-coast classic comfort food! So get ready to make this delicious and savoury meal! It's time to FILL YER BOOTS like a true Canadian East Coaster.
VEGAN DONAIR INGREDIENTS
This recipe has the following basic ingredients:
KITCHEN EQUIPMENT I USED:
Related Recipe: Easy Seitan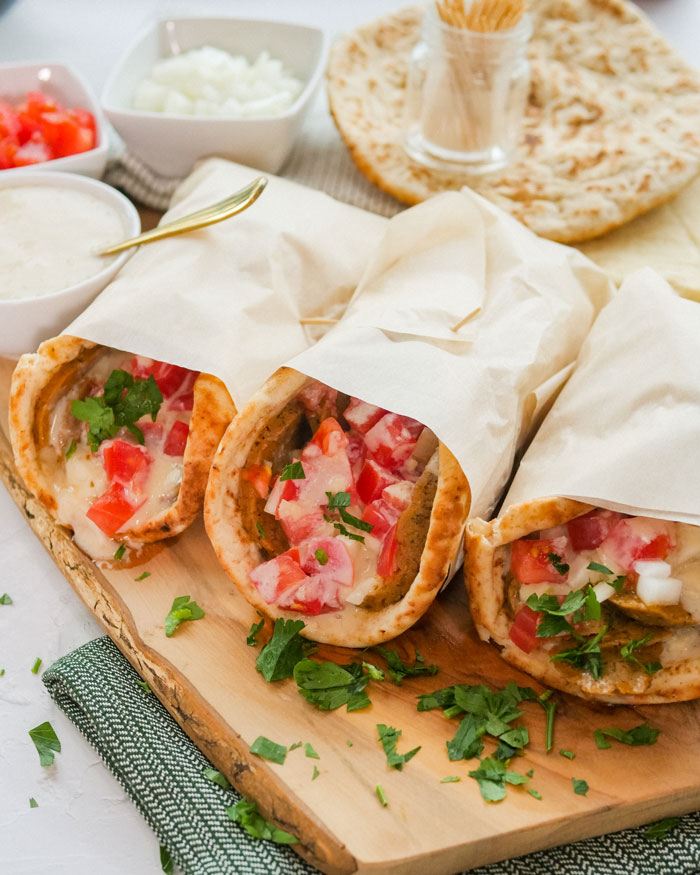 VEGAN DONAIR SAUCE
Finding or making vegan donair meat is the easy part, but finding a good vegan donair sauce is the most important part. After trying a few donair sauces, I've figured out the easiest and most accessible way to make a quick and easy donair sauce vegan.
Mix evaporated plant milk, sugar garlic powder and garlic.
Whisk while adding vinegar, do not overmix.
Refrigerate for at least 30 minutes.
Donair sauce usually contains evaporated milk, so what you want to do is make evaporated plant-milk, like evaporated soy milk. How you can do this is by putting 4.5 cups of soy milk in a pot and heating it up, whisking it occasionally and taking off the soy milk skin on the top. You want your soy milk to be thick. My 4.5 cups of soy milk reduced down to 1 cup of evaporated soy milk. This will make your vegan donair sauce extra creamy.
You'll then mix the soy milk, sugar, garlic powder and raw garlic (depending on how garlic-y you want your donair sauce to be. I love my donair sauce strong with garlic. Whisk and drizzle some vinegar in slowly, this will help thicken the donair sauce. Now store in the fridge for 30 mins.
Related Recipe: Vegan Copy-Cat KFC Popcorn Chicken
HOW TO MAKE VEGAN DONAIR MEAT
If you want an easy way to have vegan donair meat, you can buy a loaf of Gusta Shawarma in Canada! All you have to do is thinly slice it, add it to warm broth, and cook for a few minutes!
If you want to learn how to make vegan donair meat from scratch, make my seitan steak, add some middle eastern spices of your choice and slice it into vegan donair meat.
Vegan Donair & Sauce
To make a vegan donair, you just need to buy or make vegan donair meat and a strong garlic donair sauce. This vegan donair recipe will show you how to take seasoned seitan and sweet, creamy sauce, all wrapped in a pita.
Instructions
In a medium-sized bowl, mix together the evaporated soy milk, sugar, garlic and garlic powder.
While whisking, very slowly pour in vinegar while mixing. No not over-mix.
Refrigerate for a minimum of 30 minutes.
Meanwhile, heat vegetable broth over medium-high until warmed. Add sliced Gusta shawarma-style seitan, and cook until heated through, about 2 minutes.
Once heated, remove seitan from the broth and, allowing excess broth to drip back into the pan.
One at a time, steam your pita. I did this by placing a wire cooling rack over a pot of boiling water and placing the pita on top until soft and fluffy.
On each pita, lay the seitan down first, sprinkle with onion and tomato then drizzle with donair sauce. Roll up and enjoy. Repeat with the remaining ingredients.
Nutrition Information
Serving size:
1 wrap
Calories:
455
Fat:
12.1g
Saturated fat:
1g
Trans fat:
0g
Carbohydrates:
64.3g
Sugar:
25g
Sodium:
816mg
Fiber:
3.7g
Protein:
23.1g
Cholesterol:
0mg
Hey, I'm Candice & welcome to The Edgy Veg!
 I veganize popular food recipes for vegans, plant-based diets, eco-conscious eaters & people who are trying to eat more plants over… y'know animals or by-products of animals. I hope you enjoy this tasty vegan recipe!
___________
Looking For More Vegan Comfort Food Recipes?
If you make this recipe, let me know what you think by leaving a
star rating & comment below. It truly helps me & I really appreciate any support! Feel free to share your food photos on social and tag me @edgyveg so I don't miss it!
Share My Recipe on Pinterest!