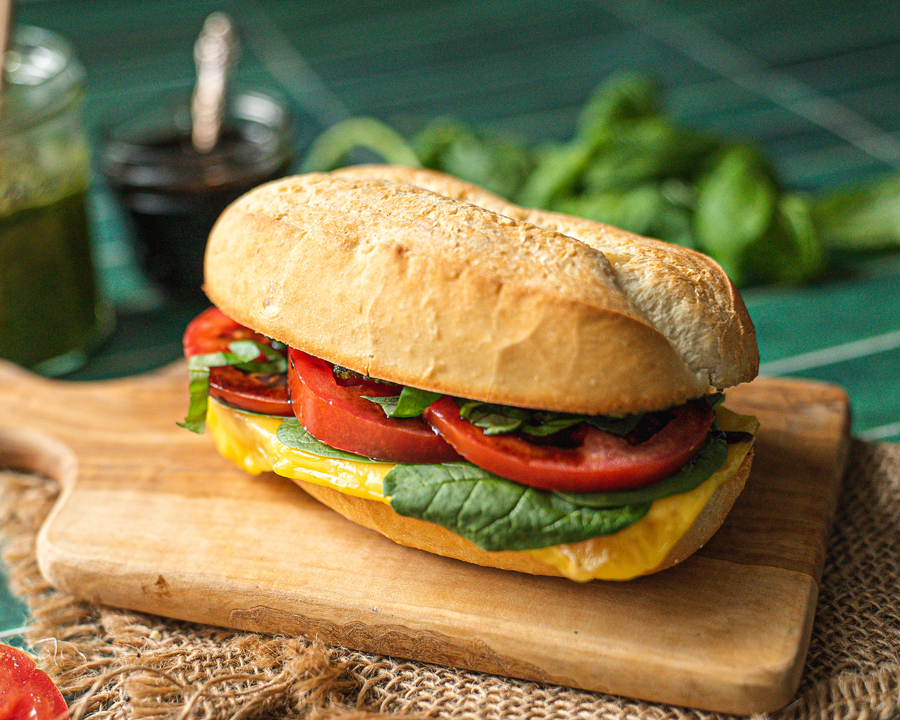 How to Make Vegan Caprese Sandwich

Vegan Caprese Sandwich
I don't know about you, but some of my favorite go-to sandwiches are the classic ones like the Vegan Cubano Sandwich, Buffalo Chicken Wing Sandwich (vegan), and Club Sandwich! I absolutely love turning these classic sandwiches 100% vegan because all you need to do is replace the meats and dairy. With some alterations to the spices, you can enjoy any sandwiches that taste even better than the original version.
Introducing you to my Vegan Caprese Sandwich recipe! This is probably one of the most simple recipes that only require 7 ingredients. All you need to do is just swap out the pesto and mozzarella cheese with my favorite vegan alternatives to enjoy for your next lunch break.
Alternative ways to make this recipe:
This is a classic combination for a reason – you can replace any ingredients, but I don't recommend compromising the balsamic and pesto as they are the classic flavors of a Caprese Sandwich. Caprese should be simple, herby, and juicy filled with garden flavors.

Vegan Caprese
When I think of Caprese sandwich, I think of the earthy, refreshing and simple sandwich that can be found in almost any cafes. I love the way the cheese just melts with the toasted bread and blends so perfectly with the herbs and juicy tomatoes. This Italian sandwich was first introduced post WW1, when King Farouk from Egypt requested a light and portal meal at the Hotel Quisisana. The colors of the Caprese Sandwich, red, green and white incorporated a tribute to the Italian flag consisting of these tri-colors. Now almost a century later, we can enjoy a vegan version of this infamous recipe. The best outcome of this sandwich is mixed with the freshest ingredients you can find at the grocery store or your local farmer's market.
How many servings does this make?
This recipe makes 1 sandwich but you can double or triple your ingredients depending on the occasion.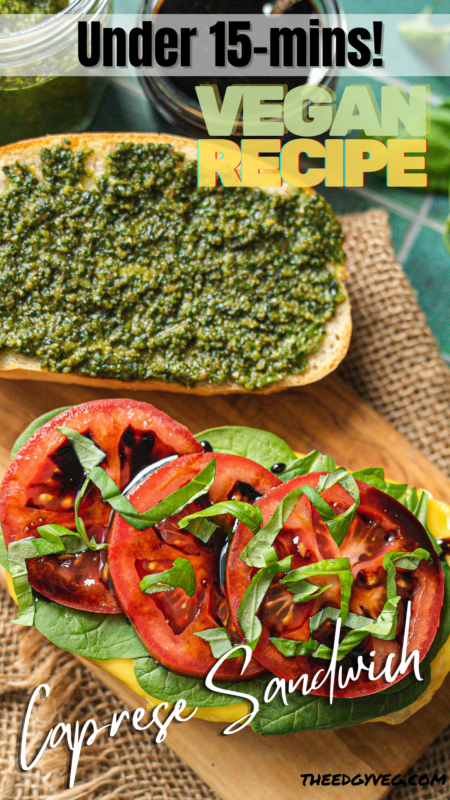 INGREDIENTS FOR CAPRESE SANDWICH (VEGAN):
KITCHEN EQUIPMENT:
Vegan Caprese Sandwich
Instructions
Toast the bread face up in an air fryer or toaster oven at 400F for about 5 minutes or until the edges are lightly golden and warmed through.
Spread pesto on both faces of bread.
Place greens of choice, basil, and tomatoes. Sprinkle a bit of salt and pepper.
Top with vegan-friendly mozzarella and a drizzle of balsamic glaze. Top with top of the bun or bread.
Optional: Butter the outside top and bottom of the bun and grill the sandwich on a panini/sandwich press until golden.
Nutrition Information
Serving size:
1 serving
Calories:
394
Fat:
26.5g
Carbohydrates:
29.6g
Sugar:
9.2g
Fiber:
3g
Protein:
8.5g
Hey welcome to The Edgy Veg
– we veganize popular food recipes for vegans, plant-based diets, eco-conscious eaters & people who are trying to eat more plants over… y'know animals or their by-products. We hope you enjoy this tasty vegan recipe!
---
Looking For More Vegan Sandwich Recipes?
Made this recipe? Let me know what you think by leaving a ★★★★★ star rating & comment below. It truly helps me & I really appreciate any support! Feel free to share your food photos on social and tag me @edgyveg so I don't miss it!