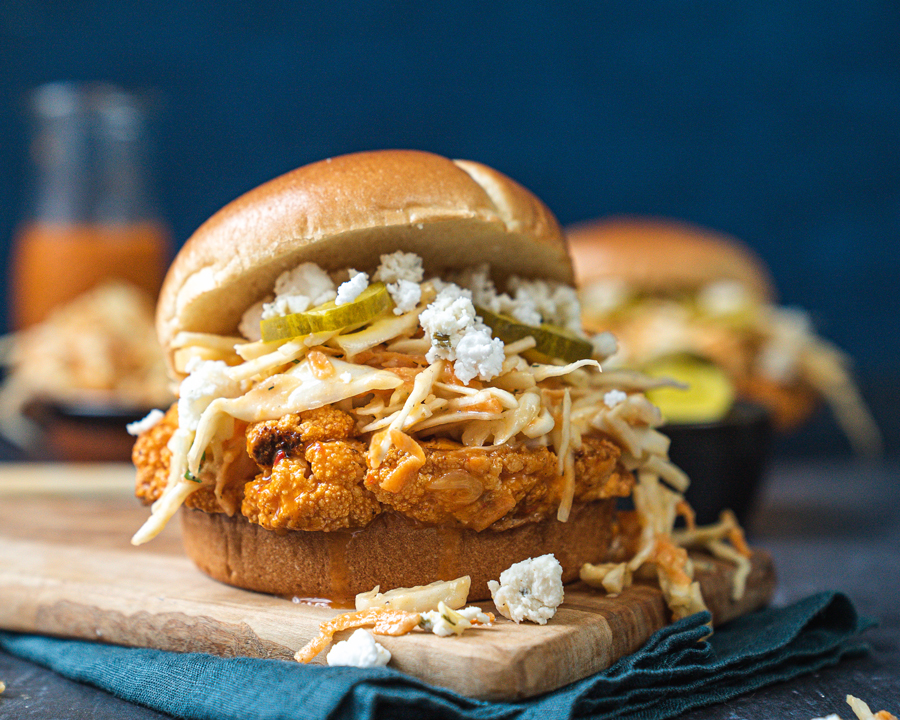 How to make Vegan Grilled Buffalo Chicken Sandwich

The classic sandwiches are the ones you never forget. One of my all-time favorite sandwiches is the Grilled Buffalo Chicken Sandwich. The blend between the spicy meat with a side of creamy coleslaw, fused with tangy pickles covered between two soft buns is a full course experience. Did you salivate just reading this blog? I sure did. Luckily, I made a vegan version just for you. Modernize your Classic Buffalo Chicken Sandwich by substituting chicken with cauliflower covered in Buffalo sauce, smoked in a BBQ grill, layered with vegan blue cheese and cabbage coleslaw with a few pickle medallions. Finally, top it off with a soft layered bun.

What are the best sides to pair this with?
You can add your favorite grilled veggies or fries with some vegan dips!
This is a great recipe for your family and friends during BBQ seasons to get outside and utilize your grill. In just under 30 minutes you can enjoy a restaurant-quality meal without ordering in. You can also use an oven to cook, however, I recommend using a BBQ grill to get that natural smokey flavor.
Related Recipe: Smoked Cauliflower Recipe
 Vegan Grilled Buffalo Cauliflower Sandwich
You will never make your buffalo chicken sandwich the same way again after using a grill! My favorite grill is my Napoleon Rogue 425 XT! I am obsessed with how easy it is to use and it saves so much time on cooking. This is a solid tool to have for your ultimate cooking essentials. Not only do I get to enjoy a change of scenery and use my backyard during the Canadian winter seasons, but it frees up my kitchen space from the messes of cooking and cleaning (I am a bit of a kitchen tornado). I've BBQ'd so many things to put on a sandwich, from Thanksgiving leftovers to mushroom steak, but now I get to share with you my newest recipe, the Grilled Vegan Buffalo Cauliflower sandwich.
Most recipes will commonly use toppings like lettuce, tomato, blue-cheese with coleslaw, and pickles on their sandwich. But with the EdgyVeg family, we have no rules when it comes to combining your favorite toppings. The cauliflower in this recipe makes a perfect chicken substitute, it is a great plant-based alternative to meat. You can even bread it, inspired by my KFC chicken recipe, before tossing it in the sauce and grilling it. This sandwich pairs perfectly with the creamy and crunchy blue cheese cabbage slaw.
If you haven't had a chance to start on your fall/winter grilling- this is your sign to start! Grills are used all year round, whether you live in Canada or not. My Napoleon Rogue XT 425 helps me to cook any meal, at any time with confidence. This stainless steel natural gas grill has an infrared side burner, along with its three burners, cast iron grids, and a high-top lid, making this grill perfect for cooking your entire feast all at once! This battery-free ignition allows the grill to light up very easily, so you don't have to worry about using a match or a lighter to burn your hands ever again! Use the integrated sizzle zone side burner to make sauces and sides while grilling, and searing on the main area. I love how Napoleon supports plant-based chefs like me to show the world that grilling isn't just for meat-eaters!! Cheers to smoking more veggies!

INGREDIENTS:
Slaw:
Cauliflower
KITCHEN EQUIPMENT: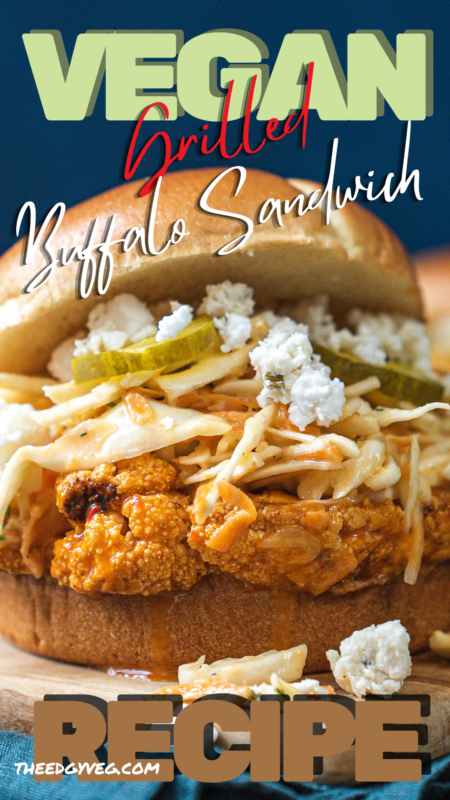 Grilled Buffalo Cauliflower Sandwich
Modernize your Classic Buffalo Chicken Sandwich by substituting chicken with cauliflower covered in Buffalo sauce, smoked in a BBQ grill, layered with vegan blue cheese and cabbage coleslaw with a few pickle medallions. Finally, top it off with a layered soft bun.
Ingredients
Slaw (see note)
Cauliflower
Instructions
SLAW:
In a small bowl, whisk yogurt, nutritional yeast, apple cider vinegar, dijon mustard, onion powder, garlic powder, dried dill, parsley and MSG. Add cabbage and carrots to a large bowl, and pour the dressing on it. Toss it all together until combined. Season with additional MSG or salt, and pepper to taste. Set aside.
SANDWICH:
Brush buffalo sauce on both sides of each cauliflower slice.
Preheat your grill to medium-high, and brush it with oil.
Grill your cauliflower steaks brushing with additional buffalo sauce as needed for 5 minutes. Then flip them and grill for another 5 minutes or until fork-tender and charred. Remove from the grill & brush with additional sauce.
Add the cauliflower to the bottom of the bun, and top with roughly 3 tbsp of slaw, and 3-4 pickle medallions.
Notes
How to cut the cauliflower: Remove the bottom leaves making sure you don't remove the stem. Then, place the cauliflower stem-side up and cut off the loose florets vertically on either side of the stem. Now, slice the cauliflower vertically through the stem into even 1-inch "steaks"
Blue cheese slaw dressing: feel free to skip the dressing and just use a vegan blue cheese dressing or ranch that you love.
Nutrition Information
Serving size:
1 sandwich
Calories:
223
Fat:
7g
Carbohydrates:
27g
Sugar:
8.7g
Fiber:
5.7g
Protein:
8.7g
Hey I'm Candice aka The Edgy Veg
– I veganize popular food recipes for vegans, plant-based diets, eco-conscious eaters & people who are trying to eat more plants over… y'know animals or their by-products. I hope you enjoy this tasty vegan recipe!
---
Looking For More Vegan Barbecue Recipes?
Made this recipe? Let me know what you think by leaving a ★★★★★ star rating & comment below. It truly helps me & I really appreciate any support! Feel free to share your food photos on social and tag me @edgyveg so I don't miss it!