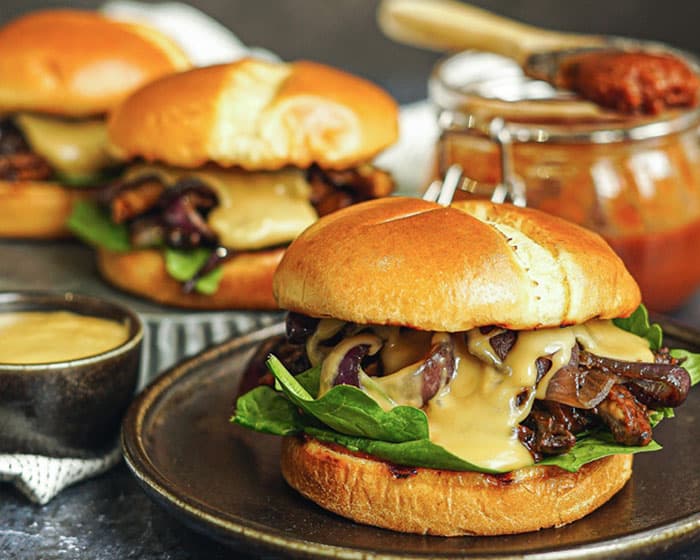 Grilled Portobello Mushroom Sandwich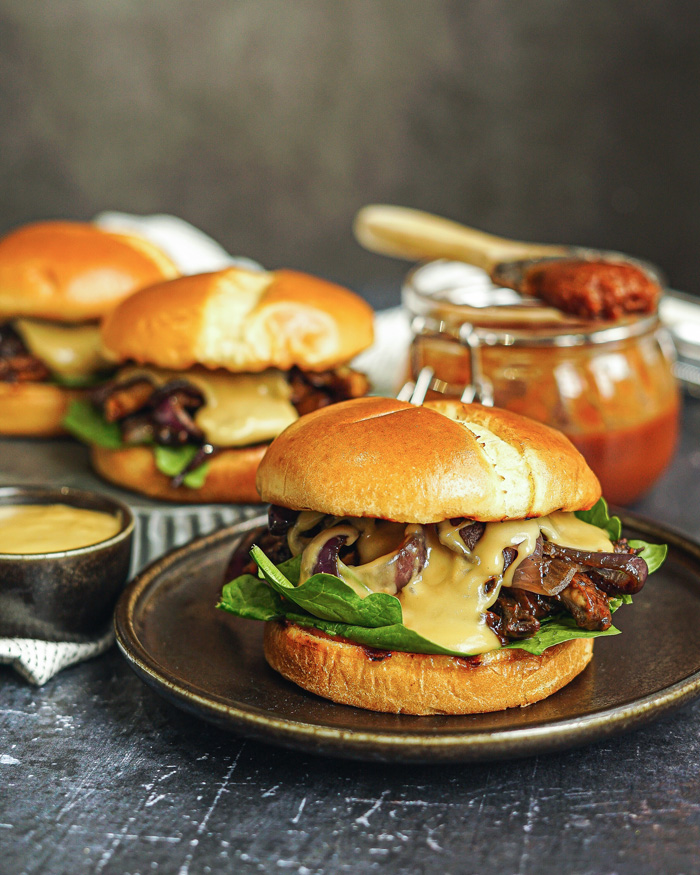 I'm going to show you how to make a delicious grilled portobello mushroom sandwich with a homemade BBQ sauce & cheese sauce (vegan-friendly)! You can cook your portobello mushrooms on the barbeque grill or grill them on the stove.
If you're craving a mouth-watering grilled portobello sandwich or burger, you're going to love this recipe! I highly recommend you also make my quick Guinness BBQ sauce for this sandwich but you can use any BBQ sauce you have at home!
Related Recipe: Guinness BBQ Sauce
Grilled Portobello Mushroom Sandwich
VEGAN & DAIRY-FREE
I'm going to show you how to marinate and cook your portobello mushroom for your sandwich! I was inspired to make a vegan "mushroom steak" to put on the sandwich using a marinade that makes the mushrooms super flavourful.
If you want to take your sandwich to the next level, I've also included instructions on how to make a beer cheese sauce, caramelized onions, and recommendations on what to add to your portobello sandwich. 
INGREDIENTS FOR GRILLED PORTOBELLO SANDWICH:
OPTIONAL INGREDIENTS FOR A BEER CHEESE SAUCE:
KITCHEN EQUIPMENT I USED:
Full recipe down below!
Grilled Portobello Mushroom Sandwich
If you're craving a mouth-watering grilled portobello sandwich or burger, you're going to love this recipe! I highly recommend you also make my quick Guinness BBQ sauce for this sandwich but you can use any BBQ sauce you have at home!
Ingredients
Portobello Mushroom Patty
Sandwich:
Cheese sauce (optional)
Instructions
Make your marinade in a large Tupperware or shallow bowl, by adding olive oil, steak spice seasoning, bbq sauce or vegan Worcestershire, balsamic vinegar, and liquid smoke. Whisk everything in the bowl until combined.
Place the mushroom caps into the bowl and brush the marinade all over the mushrooms (top & bottom). They do not need to be submerged in the marinade or anything- but they should be coated completely. Allow the mushrooms to sit stem-side up & allow them to marinate for 20-30 mins minimum in the fridge. The longer you marinate the stronger the flavour will be. You could marinate overnight.
When ready to cook, heat a pan over medium-high heat, and pour in a little bit of the leftover marinade, and discard the rest but keep the bowl.
When piping hot, add the mushrooms to the pan, stem-side down, leaving plenty of space between them. Allow them to cook for 3-5 mins until the liquid begins to release.
Reduce heat to medium.
Take a heavy cast iron pan (or something slightly heavy), and place it on top of the mushrooms to flatten the portobello mushrooms. Press to flatten gently. Cook for another 2 mins.
Flip the mushrooms, and repeat flattening with a cast iron pan for a few minutes. You can add some water to deglaze the pan if you wish.
Remove the cast iron pan, and flip again so they are stem-side down. Turn the heat back up again.
Allow the mushrooms to cook until the liquid is evaporated, roughly 3-5 mins.
Next, remove from the heat
If you want to BBQ your portobello mushrooms for a smokey grilled and char taste, first place the mushrooms into a bowl and toss with a few tbsp of my Guinness BBQ sauce or BBQ sauce of choice.
Preheat your BBQ to medium-high heat.
Sear the portobello mushrooms on the grill for a couple of minutes on each side, until you get a slight char. Transfer to a cutting board, and thinly slice.
Meanwhile, smear a bit of butter on the face of each bun, and toast on the grill until nicely charred.
Spread some BBQ sauce on the bottom of each bun and place a handful of greens, topped with a generous pile of mushrooms slices.
I added some caramelized onions and a drizzle of my Guinness beer cheese.
To make caramelized onions for your sandwich, heat 1 tbsp olive oil in your pan, over medium-high heat.
Add red onions and a pinch of salt and cook 8-10 mins, until caramelized, adding a little bit of water as needed to deglaze the pan.
To make a creamy beer cheese sauce for your sandwich, start by melting ¼ cup butter in a medium saucepan over medium heat.
Whisk in the ¼ cup flour, and cook for 2 mins, whisking constantly.
Add the 1 tbsp mustard, and slowly begin pouring in ⅓ cup Guinness or beer of choice, whisking constantly. Cook for 1-2 mins, whisking. FYI if you're worried about adding alcohol just know that the alcohol gets cooked out of the beer.
Then slowly whisk in 1 cup of soy milk or oat milk. Whisk until you smooth.
Turn down to medium-low and add your dairy-free shredded cheese, stirring to help it melt. You can add more of your milk until you reach your desired consistency. I like a pourable sauce. Voila!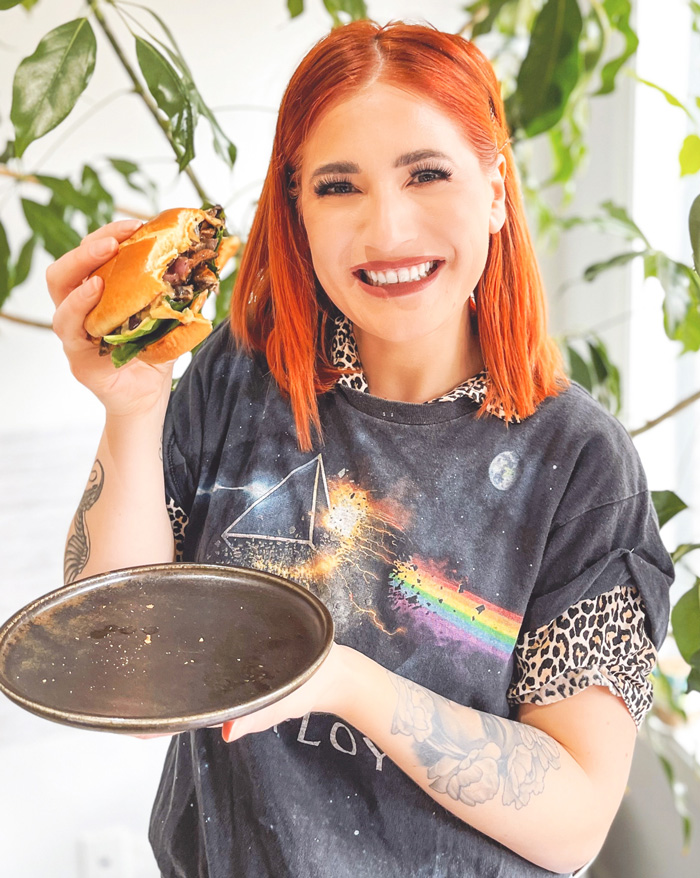 Hey I'm Candice aka The Edgy Veg
– I veganize popular food recipes for vegans, plant-based diets, eco-conscious eaters & people who are trying to eat more plants over… y'know animals or their by-products. I hope you enjoy this tasty vegan recipe!
---
Looking For More Vegan Sandwich Recipes?
Made this recipe? Let me know what you think by leaving a ★★★★★ star rating & comment below. It truly helps me & I really appreciate any support! Feel free to share your food photos on social and tag me @edgyveg so I don't miss it! 
Share My Recipe on Pinterest!