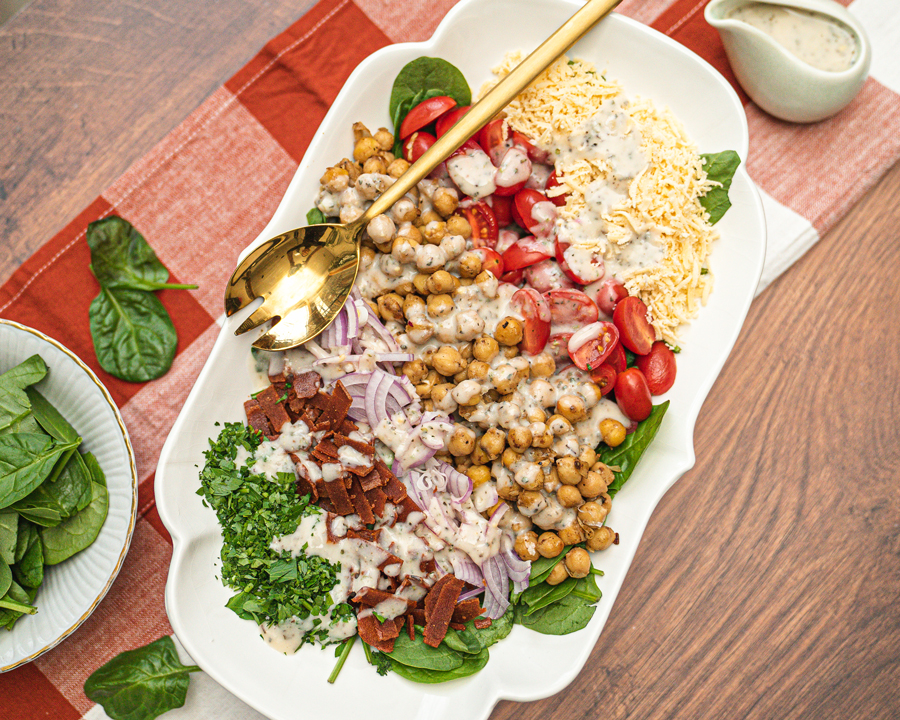 The Best Vegan Cobb Salad Recipe

Vegan Cobb Salad Recipe
"The best salads are the ones with the least amount of greens" – Candice Hutchings. As ironic as it sounds, I am guilty of enjoying my soups and sandwiches more than my sides of greens. That is why I have created a salad that has a lettuce to toppings ratio of 1:9.
A "cobb salad" is a classic American dish that is typically made with a bed of lettuce, covered up with toppings like cherry tomatoes, chopped bacon, chicken, avocado and other vegetables, served with blue cheese/red wine vinegar dressing. You can taste the blend of creamy and flavourful from all the different textures in this salad. This is a veganized version of it #happyveganuary.
Alternative ways to make this recipe:  
You can add all your favorite toppings! You are definitely not restricted from following the classic version of this. Use what you might already have in the kitchen. Some great options are avocado, chopped cucumber, vegan chicken pieces, etc.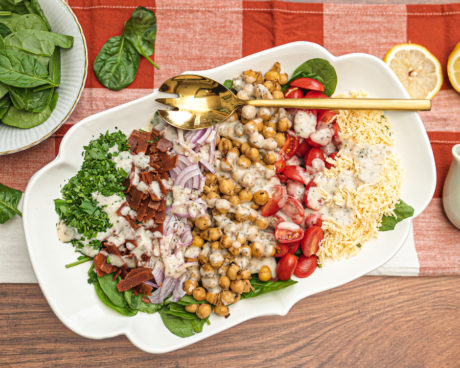 Cobb Salad
A cobb salad is a hearty bowl of salad that will always feel like a full meal. It is packed with high fibers and a source of essential nutrients to give you the fuel you need to start the day. You can also enjoy this dish as a side when served in smaller portions. Personally, I love making a huge portion to share with my friends and coworkers to feast on.
How many servings does this make?
This recipe makes approximately 4 servings. You can always make a larger portion by doubling up the recipe. Or meal-pack by breaking up in separate servings throughout the week.
INGREDIENTS FOR COBB SALAD (VEGAN):
Dressing
Salad
KITCHEN EQUIPMENT:
Vegan Cobb Salad
"The best salads are the ones with the least amount of greens" - Candice Hutchings.
Ingredients
Dressing
Salad
Instructions
In a small bowl or jar, shake or whisk together, yogurt, vinegar, lemon, mustard, basil, oregano, garlic powder, salt and pepper. Set aside.
Place greens in a large platter or bowl.
Arrange the bacon, chickpeas, sliced avocado, cherry tomatoes, onion, and cheese in neat rows along the top.
Sprinkle with parsley and sea or flaky salt and serve drizzled with yogurt dressing.
Nutrition Information
Serving size:
1 serving
Calories:
238
Fat:
13.7g
Carbohydrates:
11.5g
Sugar:
4.5g
Fiber:
6.9g
Protein:
12.75g
Hey welcome to The Edgy Veg
– we veganize popular food recipes for vegans, plant-based diets, eco-conscious eaters & people who are trying to eat more plants over… y'know animals or their by-products. We hope you enjoy this tasty vegan recipe!
---
Looking For More Vegan Lunch Recipes?
Made this recipe? Let me know what you think by leaving a ★★★★★ star rating & comment below. It truly helps me & I really appreciate any support! Feel free to share your food photos on social and tag me @edgyveg so I don't miss it!