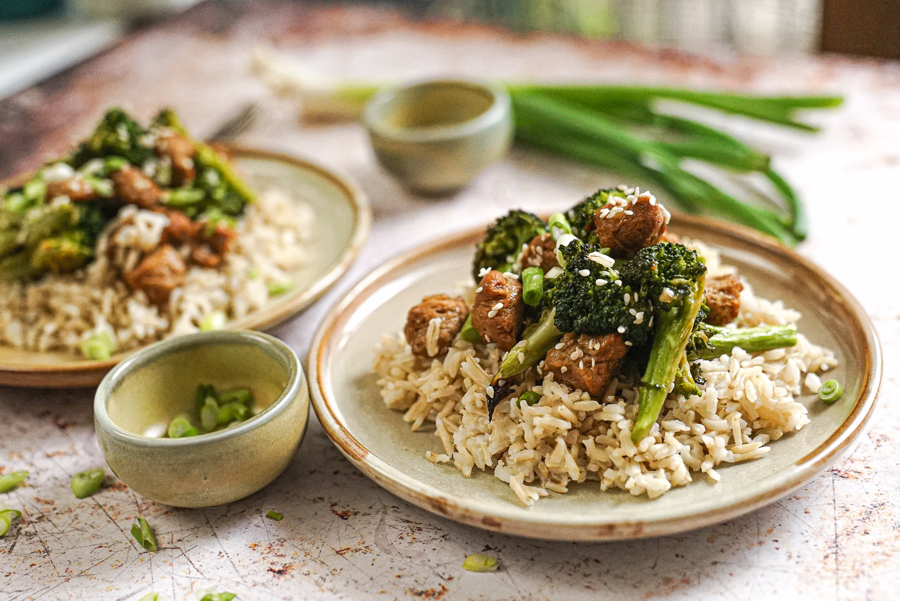 Vegan Beef and Broccoli Recipe
I'm going to show you how to make vegan beef and broccoli recipe in under 30 minutes in one pan! This vegan meal is packed with protein and flavour and tastes just like the Chinese takeout version, but completely vegan! Using a delicious combination of seasonings and ingredients, as well as using soy chunks or soy curls for the beefy element, you can get an amazing vegan beef and broccoli alternative to pair with rice for a nutrient-rich and delicious meal!
If you're looking for a homemade beef and broccoli recipe that's vegan, you're going to love this one! This recipe is also high-protein and nut-free! Perfect for vegans and people looking to eat less red meat!
Related Recipe: Easy Vegan Rose Pasta

Vegan Beef & Broccoli
This recipe's inspiration came from me being in the exact right mindset. Someone I was working with had challenged me to make an air fryer, one pan lunch meal, and I was craving Chinese-American take-out. I made this to fulfill both needs and it's one of my go-to weeknight meals now!
This is a perfect meal, this recipe involves plant-based protein, veggies, carbs, and sauce! The most important piece is the sauce that covers everything and is packed with flavour. I hope you enjoy it!
Related Post: Vegan Cauliflower Lettuce Wraps

INGREDIENTS FOR ONE-PAN BEEF & BROCCOLI (VEGAN):
KITCHEN EQUIPMENT:
Vegan Beef & Broccoli
I'm going to show you how to make vegan beef and broccoli recipe in under 30 minutes in one pan! It's packed with protein and tastes just like Chinese takeout.
Instructions
Line the sear plate with a silicone baking mat or parchment paper and preheat oven to 400F.
In a large bowl, dissolve one bouillon cube into the boiling water. Add 2 tablespoons of soy sauce and 1 teaspoon garlic powder. Add the soy chunks to the bowl and let them sit for 10 minutes.
Make the sauce: To a second large bowl add ⅔ cup no-beef or vegetable broth, 2 tablespoons soy sauce, maple syrup or brown sugar, minced garlic, ground ginger, sesame oil, white or black pepper, and red pepper flakes, if using.
Squeeze and remove the soy chunks from the first bowl and place them onto the lined baking sheet.
Add the broccoli to the sauce and give them a toss. Using your hands, or a slotted spoon, transfer the broccoli to the baking sheet, making sure the excess marinade drips back into the bowl, and reserve all of the sauce. Drizzle oil over the broccoli and soy chunks and mix with your hands to coat. Spread everything out, so it is mostly in one single layer on the baking sheet.
Roast the broccoli and soy chunks for about 10 minutes, or until the chunks are browned slightly and the broccoli is fork-tender.
Meanwhile, in a small bowl or cup mix together 1 tbsp cornstarch with 1 tbsp water and set aside. Then bring the reserved marinade in a small saucepan to a boil, over medium-high heat.
Whisk in the cornstarch slurry until dissolved. Reduce heat to a medium-low, and taste and season with salt, or more broth if the sauce is too thick, whisking until smooth.
When broccoli mixture is ready, remove it from the oven, drizzle with sauce to taste and toss to coat.
Serve over a bed of rice, topped with green onions and sesame seeds and enjoy.
Nutrition Information
Serving size:
1 serving
Calories:
253
Fat:
8g
Carbohydrates:
29g
Sugar:
4.2g
Fiber:
5.75g
Protein:
12.5g
Hey I'm Candice aka The Edgy Veg
– I veganize popular food recipes for vegans, plant-based diets, eco-conscious eaters & people who are trying to eat more plants over… y'know animals or their by-products. I hope you enjoy this tasty vegan recipe!
---
Looking For More Vegan One-Pan Recipes?
Made this recipe? Let me know what you think by leaving a ★★★★★ star rating & comment below. It truly helps me & I really appreciate any support! Feel free to share your food photos on social and tag me @edgyveg so I don't miss it!