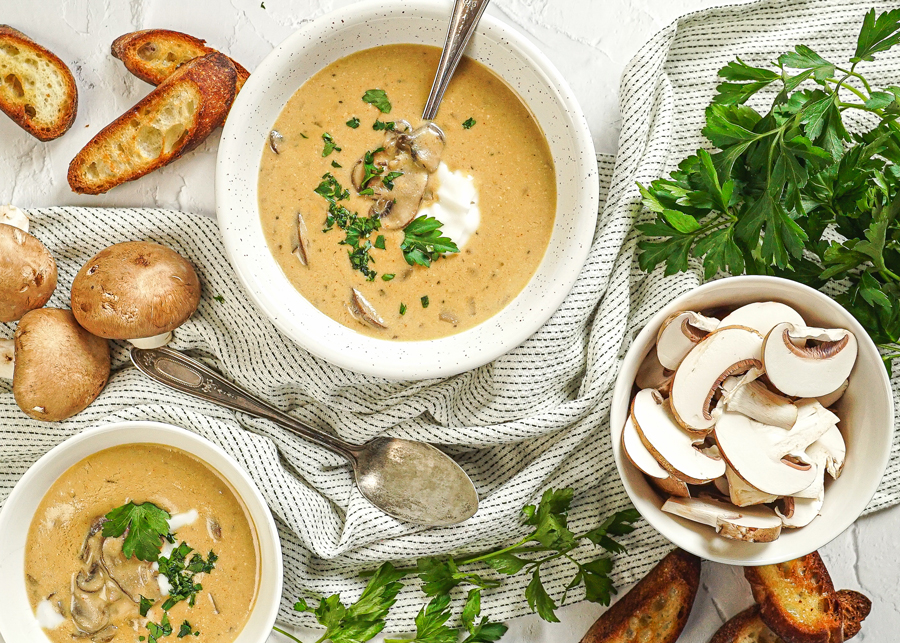 You've got to try these vegan soup recipes for the most hearty and healthy soups! I compiled my top vegan recipes so that you can brave the cold weather with the best soups to warm your tummy!
When the weather is cold, my favourite way to warm up is with a hearty bowl of vegan soup. Over the years, I've been able to make so many classic soup recipes vegan. Most of these are packed with vegetables and spices, and some can be even made quickly in an Instant Pot or left alone all day in a Crockpot.
Vegan Soup Recipes
These classic, broth-based soups are perfect for a meal when you want something light or something warming. Soups freeze very well too which is great if you want to make a big batch. I like to pour cooled soup into a container or large freezer bag and lay it flat until frozen for easy freezer storage. To heat up leftover soup, just defrost in the fridge overnight or on the counter all day, then add to a pot and simmer until heated through.

I've been loving this soup-er simple dinner lately. Using a simple arrangement of vegetables and spices, I get the most flavourful meals in just a short time. Lentils are packed with protein and they just melt into this soup. I love to serve it with a grilled cheese or buttered toast. Get the recipe here!

This easy, 12 ingredient vegan soup is made using a crockpot. You just add the contents to the pot, set it and forget it all day long. You'll know dinner is ready when your house smells like comforting home cooking. Get the recipe here!

If you need a simple way to upgrade your store-bought ramen packets, this recipe is perfect. By using a few ingredients, you can quickly turn your instant ramen into a veggie-filled and flavourful bowl of soup. Get the recipe here!

If you want a quick dinner for the whole family, make this 30-minute lasagna soup in the pressure cooker to have dinner on the table with little to no effort. Perfect for after long walks in the snow or a busy workday. Get the recipe here!
I love cooking with Indian spices and this recipe is packed with them. This healthy meal has been made so many times in my kitchen that I think my instant pot has learned to make it without me. Get the recipe here!

This recipe is based on something my mother used to make when I was growing up in Germany. It brings me right back to cold evenings sharing warm soup around the table with my sisters. This soup will keep you so full and warm and no one would be able to tell it's vegan. Get the recipe here!

Hot pot is for sharing. Gather the members of your house around for an interactive and sharable vegan hot pot soup. This hot broth is going to warm you from nose to toes. Get the recipe here!

Chowders are a fun category of soup because they're creamy and thick and they're good all year round. If you have extra corn in your freezer or pantry, pull it together for this easy creamy corn chowder. Get the recipe here!
Typically matzah ball soup is saved for traditional Jewish holidays but if you're homesick or missing someone special who usually makes matzah ball soup, make a batch and your heart will feel like they're right there with you. Get the recipe here!

Vegan Soups and Stews Recipes
You've got to try these vegan soup recipes for the most hearty and healthy soups! I compiled my top vegan recipes with the best soups to warm your tummy!
Instructions
Plan what vegan soup recipes you want to make.
Gather all your ingredients.
Choose recipes you can make ahead of time
Enjoy your soup now or freeze them for later!
Hi! I'm Candice aka The Edgy Veg
!  I veganize popular food recipes for vegans, plant-based diets, eco-conscious eaters & people who are trying to eat more plants over… y'know animals or by-products of animals. I hope you enjoy this tasty vegan recipe!
---
Looking For More Vegan Recipes?
Made this recipe? Let me know what you think by leaving a ★★★★★ star rating & comment below. It truly helps me & I really appreciate any support! Feel free to share your food photos on social and tag me @edgyveg so I don't miss it!
Share My Recipe on Pinterest!