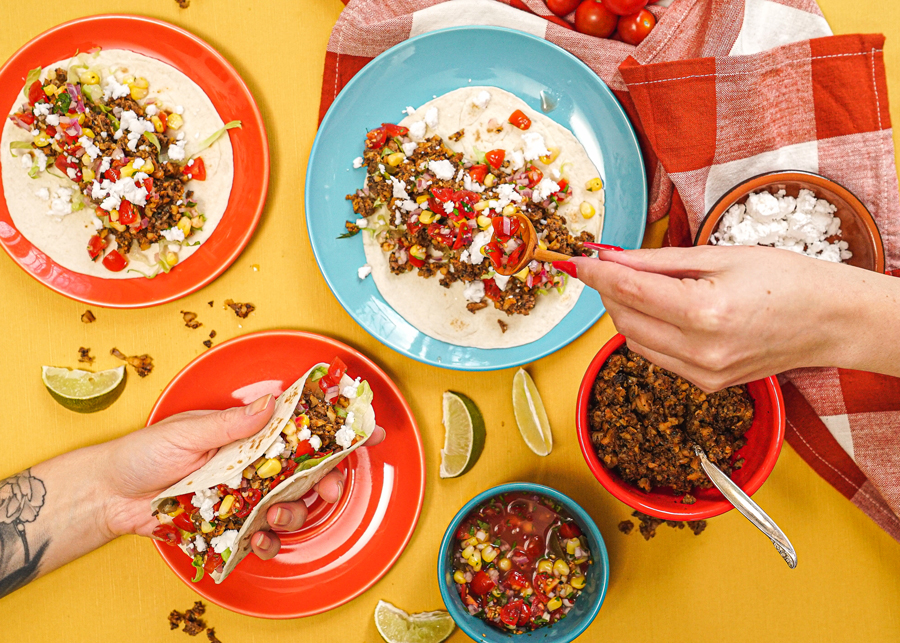 I'm going to show you how to make vegan minced meat in under 15 minutes! This vegan meat replacement is packed with protein and flavour, but completely plant-based! Using a delicious combination of seasonings, as well as using both walnuts and mushrooms for texture, you can get an amazing vegan minced beef alternative to use in recipes for a nutrient-rich and delicious meal!
If you're looking for a homemade minced meat recipe that's vegan, you're going to love this one! This recipe is also gluten-free!
Related Recipe: Walnut Pasta Sauce
Vegan Minced Meat
This recipe is an updated version of my previous take on vegan ground beef from a few years ago. Through some different attempts, I've found that incorporating mushrooms in this recipe really adds a great texture to the final product! I love the way the mushrooms and walnuts in combination make the texture, as well as soak up all of the flavours from the seasoning mix!
I am amazed by the potential of walnuts in vegan cooking and I feel like they are not often the first choice for many vegans. Cashews are amazing in their own ways but can be expensive and walnuts can be not only useful in this recipe, but also in my Walnut Pasta Sauce. Their possibilities are so amazing!
If you're looking for ways to use this vegan minced meat, you can try it in my High Protein Taco Salad Meal Prep, Vegan Beef Wellington, chilli, tacos, nachos or anything else that would use ground beef or veggie ground round.
Related Post: Easy Vegan Recipes Under 10 Ingredients
INGREDIENTS FOR MINCED MEAT (VEGAN + GLUTEN-FREE):
KITCHEN EQUIPMENT:
Vegan Minced Meat
I'm going to show you how to make vegan minced meat in under 15 minutes! This vegan meat replacement is packed with protein and flavour.
Instructions
Add mushrooms to a food processor and pulse until finely chopped.
Heat 2 tbsp olive oil in a large pan over medium heat and cook mushrooms for 6-8 mins, stirring. They should begin to release their liquid and begin to brown.
In the food processor, add walnuts and pulse a few times to break the nuts into smaller pieces.
Add 1 tbsp olive oil, cumin, coriander, tamari or soy sauce, salt, pepper, paprika, garlic powder, onion powder, and chili powder; and pulse until mixed. You want the consistency to be that of ground beef.
Add the seasoned walnut mixture to the mushrooms and cook for another couple of minutes until combined, and heated. Season to taste with salt and pepper.
Use in tacos, burritos, or anywhere you love to use taco meat!
Notes
Are walnuts too expensive? Try using sunflower seeds!
Don't have a ton of seasonings at home? No problem! Try using a taco seasoning packet!
Nutrition Information
Serving size:
1 serving
Calories:
310
Fat:
29.5g
Carbohydrates:
4g
Sugar:
3g
Fiber:
3.15g
Protein:
8.5g
---
Hey I'm Candice aka The Edgy Veg – I veganize popular food recipes for vegans, plant-based diets, eco-conscious eaters & people who are trying to eat more plants over… y'know animals or their by-products. I hope you enjoy this tasty vegan recipe!
---
Looking For More Plant-Based Vegan Meat Recipes?
Made this recipe? Let me know what you think by leaving a ★★★★★ star rating & comment below. It truly helps me & I really appreciate any support! Feel free to share your food photos on social and tag me @edgyveg so I don't miss it! 
Share My Recipe on Pinterest