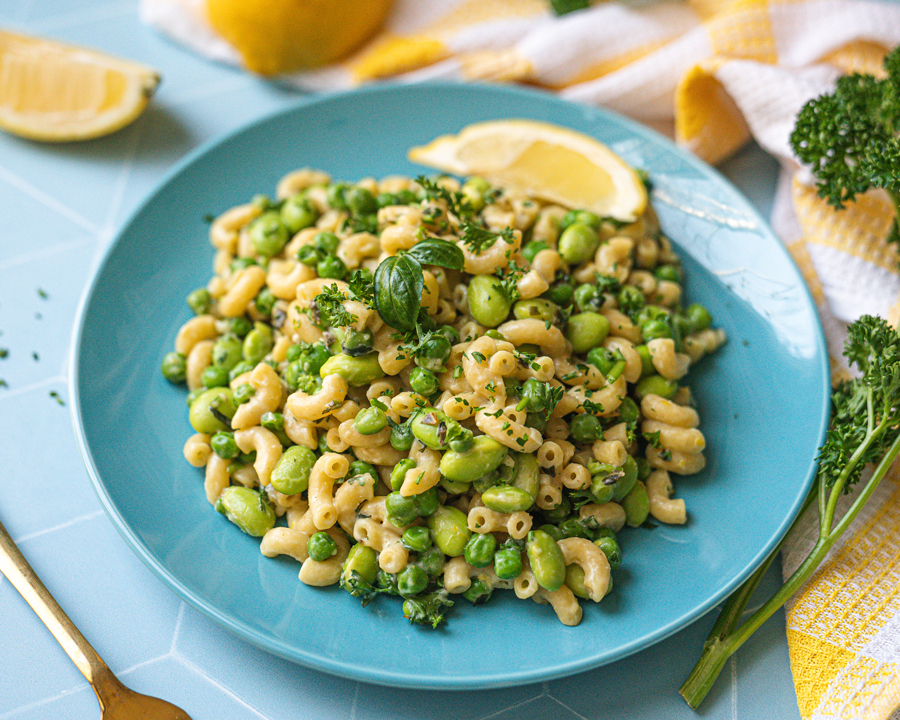 Quick and Easy Vegan Mac & Peas Recipe

Vegan Mac & Peas Recipe
During the busy weeks, I don't always have too much time to cook fancy gourmet foods or make special recipes like my Vegan Popeyes Chicken Sandwich. Although as a determined foodie, I am committed to making every meal I make enjoyable, healthy, and delicious. And one of my favorite recipes that really hits home for me is this super easy to cook is this Mac and Peas Recipe! Convenient foods don't always have to be from fast-food restaurants because all you need for this recipe is boxed mac and cheese with a few key ingredients to make an affordable, yet irresistibly vegan meal.
Alternative ways to make this recipe:  
You can transform your boxed mac and cheese by adding any fresh produce ingredients that are the most accessible to you. I like to add herbs and lemon with some onion or shallots for taste. If you want more texture, you can even add broccoli or asparagus chopped small pieces. Depending on your allergies or preferences, use gluten-free, and dairy-free boxed mac and cheese and use soy-free plant-based milk like oat instead of soy.

Mac & Peas
Don't limit yourself by eating just the plain ol' Mac and Cheese. Unless that is your preference of course. However, you are missing out on all the potential recipes you can create with a simple and instant recipe. Convenience shouldn't lack nutrients, instead, it should compact more essential nutrients you need throughout the day. A healthy body influences a healthy mind. So don't underestimate the power of boxed Mac&Peas next time you go to the grocery store. This recipe takes less than 10mins to make. My best advice is that you should prep all the veggies and proteins while cooking your favorite boxed pasta.
How many servings does this make?
This recipe yields 2 larger servings or 4 smaller ones. It's great for kids, busy adults, and beginner cooks.

INGREDIENTS FOR MAC & PEAS (VEGAN):
KITCHEN EQUIPMENT:
Vegan Mac & Peas Recipe
Boxed mac and cheese is one of the best convenience foods to add a few key ingredients to really transform it. I like them because they are affordable, shalf stable and come in vegan and gluten-free options.
Instructions
Bring a medium pot of generously salted water to a boil.
Add the macaroni and cook 2 minutes less than the package instructions.
When 2 minutes are left on your timer add in the peas and edamame
Remove ¼ cup of cooking liquid & drain the pasta.
Meanwhile, in a small bowl, combine herbs of choice, lemon zest, garlic, 1½ tsp lemon juice and olive oil.
Add the pasta, peas and edamame back to the pot along with the plant milk and butter amounts as directed on the box, the cheese packet, and mix to combine. Add about a scant ¼ cup of the reserved cooking water and finish cooking the dish until noodles are tender to your liking.
Remove from the heat and stir in the herb mixture. Taste and season and/or add more lemon juice to your liking.
Serve with additional chopped herbs and a lemon wedge on the side if desired.
Nutrition Information
Serving size:
1 serving
Calories:
243
Fat:
9.5g
Carbohydrates:
25.3g
Sugar:
4g
Fiber:
2.7g
Protein:
11.4g
Hey welcome to The Edgy Veg
– we veganize popular food recipes for vegans, plant-based diets, eco-conscious eaters & people who are trying to eat more plants over… y'know animals or their by-products. We hope you enjoy this tasty vegan recipe!
---
Looking For More Vegan Convenience Recipes?
Made this recipe? Let me know what you think by leaving a ★★★★★ star rating & comment below. It truly helps me & I really appreciate any support! Feel free to share your food photos on social and tag me @edgyveg so I don't miss it!