Vegan Mac & Peas Recipe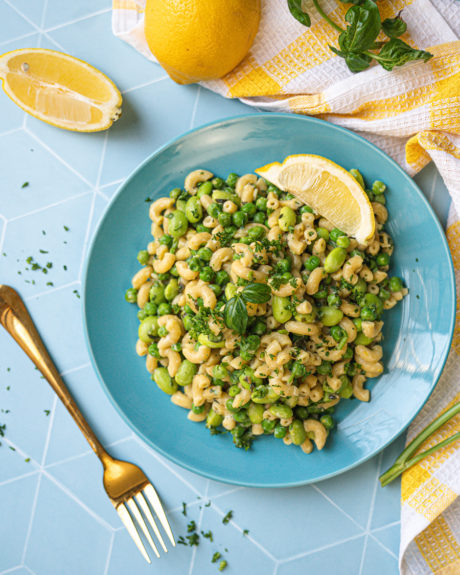 Bring a medium pot of generously salted water to a boil.
Add the macaroni and cook 2 minutes less than the package instructions.
When 2 minutes are left on your timer add in the peas and edamame
Remove ¼ cup of cooking liquid & drain the pasta.
Meanwhile, in a small bowl, combine herbs of choice, lemon zest, garlic, 1½ tsp lemon juice and olive oil.
Add the pasta, peas and edamame back to the pot along with the plant milk and butter amounts as directed on the box, the cheese packet, and mix to combine. Add about a scant ¼ cup of the reserved cooking water and finish cooking the dish until noodles are tender to your liking.
Remove from the heat and stir in the herb mixture. Taste and season and/or add more lemon juice to your liking.
Serve with additional chopped herbs and a lemon wedge on the side if desired.
Serving size:
1 serving
Calories:
243
Fat:
9.5g
Carbohydrates:
25.3g
Sugar:
4g
Fiber:
2.7g
Protein:
11.4g