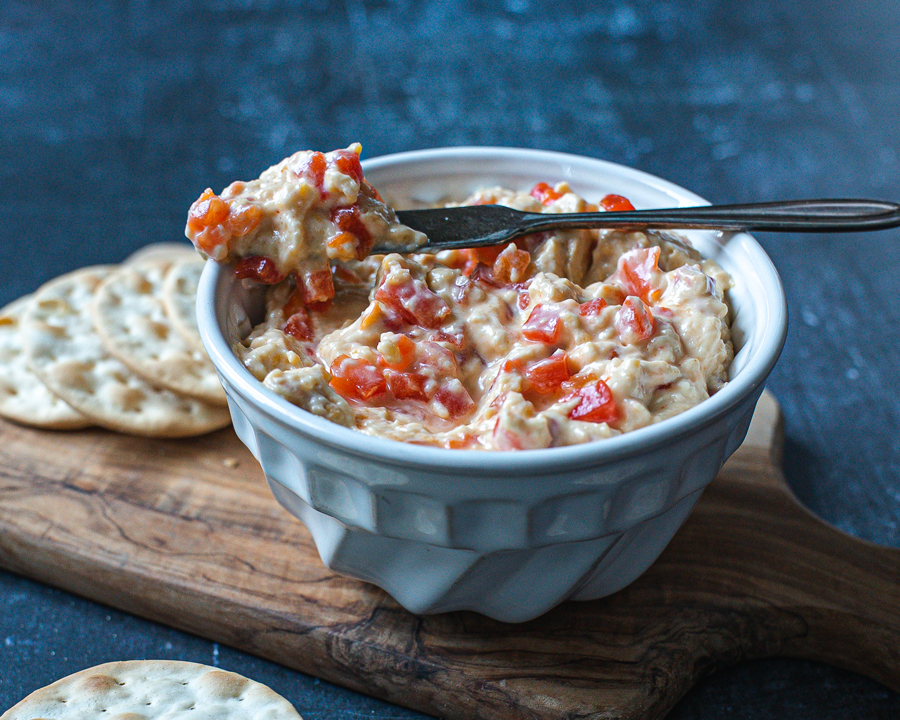 How to make Pimento Cheese Vegan Recipe (under 5-mins!)

Vegan Pimento Cheese
The sauce is the secret ingredient in many Michelin star recipes. As the main component for replacing non-vegan dishes, sauces can make or break your vegan journey. Yes, it is that important. That is why I have archived a list of my creative Vegan sauce recipes here. The most flavorful sauces are the ones that you can dip, drizzle or toss in any food. Today, we are turning Pimento Cheese, vegan! With just a few key ingredients you can easily substitute some of the non-vegan recipes with vegan alternatives. This recipe is so easy to make that it typically takes only less than 5-minutes to make at home! You can use this sauce as a dipping sauce for pretzels or veggies, spread on grilled cheese or over any of your favorite sandwiches recipes. You can make it extra fancy and spread it on my Grilled Peach and Pimento Flatbread recipe.
All you need for this recipe is a food processor, vegan cheese, vegan mayo, and season with some chopped pimentos to blend!
Alternative ways to make this recipe:
I do not recommend changing too many of the ingredients on the recipe if you want to keep the authenticity of the flavors. However, if you cannot find pimentos in your local grocery stores, you can substitute this ingredient with for bell peppers or add jalapenos if you prefer eating spicy over sweet!

Dairy-Free Pimento Cheese
I was inspired to make this recipe after watching the Master's Golf Tournament. Although I am not a huge sports fan, I really enjoy making food that pairs well with the subject of entertainment. I am not sure why, but I have noticed that the Master's Golf Tournament is known to serve pimento cheese sandwiches during their golf rounds. Pimentos are so nostalgic to me because they were such a common ingredient to use in the '70s served with olives. Then over time, it evolved and integrated into different dishes to add a hint of sweetness to the meals. This Vegan Pimento cheese I have created combines the elements of creamy, sweet and savory flavors that I am sure even  Tiger Woods will approve.
How many servings does this make?
This recipe makes about 1 1/2 cups of pimento cheese. Plenty to serve at a party or keep in your fridge to enjoy all week!

INGREDIENTS FOR PIMENTO CHEESE (VEGAN):

KITCHEN EQUIPMENT:
Vegan Pimento Cheese
With just a few simple swaps, you can make an easy 5-minute vegan pimento cheese that you can use for dipping pretzels or veggies, spread on a grilled cheese or other sandwiches, or spread on my Grilled Peach and Pimento Flatbread.
Ingredients
Vegan Pimento Cheese:
Instructions
Place the cream cheese into a food processor, stand mixer, or large mixing bowl with a hand mixer, and pulse or mix on medium until whipped.
Add cheddar, mayonnaise, Worcestershire, mustard powder, garlic powder, paprika, cayenne pepper, onion powder, and pimento, and pulse/mix until thoroughly combined.
Season to taste with salt and black pepper.
Store in a sealed container in the fridge until ready to use.
Nutrition Information
Serving size:
2 tbsp
Calories:
87
Fat:
7.5g
Carbohydrates:
3g
Sugar:
0.5g
Fiber:
0.8g
Protein:
1.25g
Hey welcome to The Edgy Veg
– we veganize popular food recipes for vegans, plant-based diets, eco-conscious eaters & people who are trying to eat more plants over… y'know animals or their by-products. We hope you enjoy this tasty vegan recipe!
---
Looking For More Vegan Dip Recipes?
Made this recipe? Let me know what you think by leaving a ★★★★★ star rating & comment below. It truly helps me & I really appreciate any support! Feel free to share your food photos on social and tag me @edgyveg so I don't miss it!