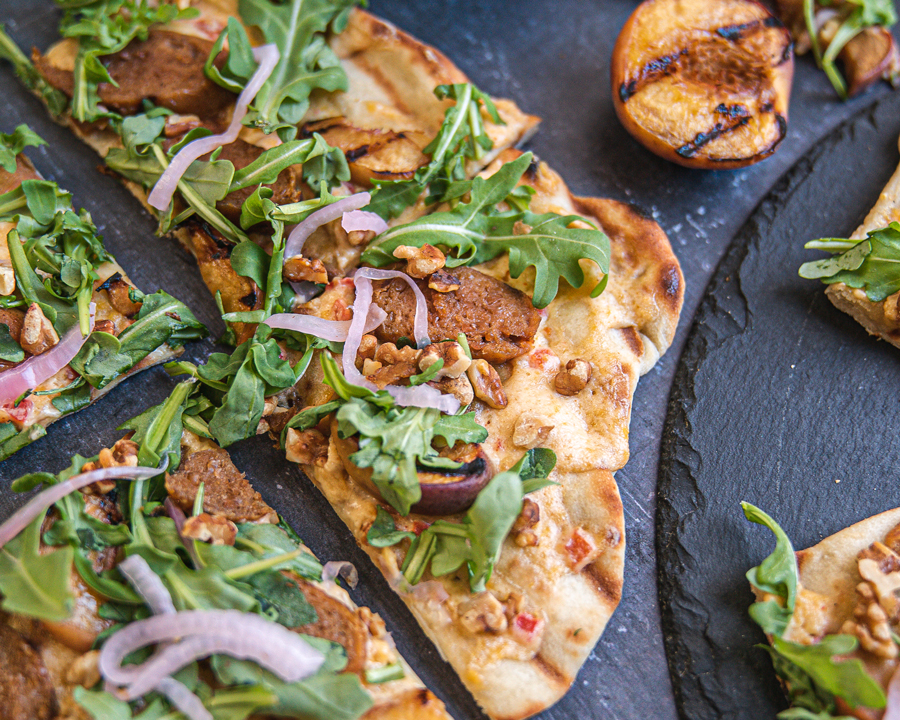 Vegan BBQ Recipes – Grilled Peaches & Pimento Pizza

Vegan Peaches and Pimento Pizza on the BBQ
When the weather gets warmer, it is time to pull out the BBQ grill. As we are transitioning into the Spring/summer weather, there is no better way to celebrate than hosting a barbeque party. But what does a vegan BBQ look like? You may ask. It is filled with absolutely the best and fresh garden foods that you can marinate and season to any flavors you can imagine. Let's start off this new season with easy vegan recipes you can make over the grill.
This peach and vegan pimento pizza is a combination of the freshest and most unique ingredients you can find at the grocery stores. It is grilled to perfection for a summer afternoon lunch or can be made into flatbread to share with friends. The pimento cheese is so versatile that you can use the leftovers to make a grilled cheese sandwich or use it as a dip for pretzels and veggies.
If you want to see more recipes for the grill, you can also check out my Buffalo Cauliflower Sandwich, Vegan Brisket and Korean Cauliflower Skewers.
Alternative ways to make this recipe:
Although this recipe is super unique, if you are allergic to peaches, you can replace it with grilled pineapples instead. Other alternatives to some of the ingredients are pickled jalapenos (instead of pickled onions), or any toasted nuts or seeds instead of walnuts.

Peaches and Pimento Cheese Flatbread
The inspiration for this flatbread or pizza came from the Master's Tournament. Even though I am not the biggest sports fan, I appreciate the different types of foods people like to eat during big sporting events. Master's Golf Tournament is known to serve pimento cheese sandwiches and Georgia peach ice cream sandwiches during their live events. So I combined these popular flavors and turned it vegan, so we don't have to miss out on these fun sporting events either! Say no more to eating just fries and salads in the fields.
How many servings does this make?
This recipe makes about 4-6 servings. 4 full meals

INGREDIENTS FOR GRILLED PEACH AND PIMENTO FLATBREAD (VEGAN):
Pizza
KITCHEN EQUIPMENT:
Grilled Peach & Pimiento Pizza
This vegan peach and pimiento pizza is grilled to perfection and topped with fresh and unique ingredients! This is perfect for a summer afternoon lunch or sliced into smaller pieces and shared as a flatbread with friends.
Instructions
Let the pizza dough come to room temperature and rise for two hours.
Preheat a grill to medium-high, roughly 450F.
Lightly brush sausages with oil, grill for about 6 minutes, turning halfway through. Slice on the bias and set it aside.
Meanwhile, brush the peach halves with some olive oil, and place them on the grill cut sides down for about 3 minutes, or until grill marks appear. Cut into thin wedges and set aside.
Divide dough into 2-4 portions depending on how many pizzas you want to make. Flour a clean counter and pat or roll the dough into circles; they do not need to be perfect.
Let the dough sit for about 5 minutes, then push out the edges again with your fingers or a rolling pin, until you have a nice round shape about 8-12-inches in diameter depending on how many you're making.
Brush or wipe both sides of the crust with oil and place onto a bare pizza peel or cutting board, or one dusted with cornmeal. You can also oil the grill itself with a paper towel if you're concerned about them sticking.
Carefully place each crust onto on grill, and close the lid. Cook for 2 mins then check to see if the dough is browning on the bottom and setting and developing air bubbles on the top. If not, close the grill and continue to cook, checking after every minute until the bottom is browned.
Using tongs or the pizza peel, remove the crust from the grill and place it back onto the pizza peel or a baking sheet and repeat with the remaining crusts.
Spread or dollop some of the pimento cheese on the non-browned side of each crust.
Top with sliced peaches and sausage and place the pizzas onto the grill. Grill for 3-4 mins, or until the bottom of the crust is browned and the cheese is slightly melted.
Remove from grill, place onto a flat surface, drizzle with some olive oil, and sprinkle with salt and pepper. Then, top with pickled red onions, arugula, and toasted walnuts. Slice and serve immediately.
Hey welcome to The Edgy Veg – we veganize popular food recipes for vegans, plant-based diets, eco-conscious eaters & people who are trying to eat more plants over… y'know animals or their by-products. We hope you enjoy this tasty vegan recipe!
---
Looking For More Vegan BBQ Recipes?
Made this recipe? Let me know what you think by leaving a ★★★★★ star rating & comment below. It truly helps me & I really appreciate any support! Feel free to share your food photos on social and tag me @edgyveg so I don't miss it!