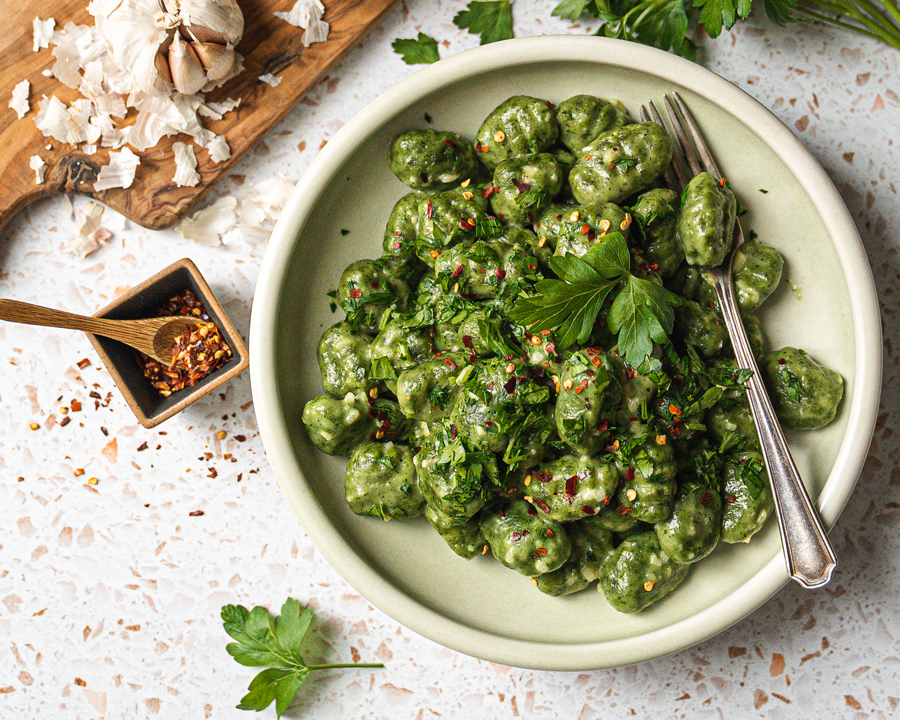 How to Make Spinach Pici Pasta Vegan
You always have that one person in your friends or family group who is super picky about veggies in their food. And we all have tried to sneak in some veggies here and there but failed multiple times. Luckily, I found the perfect way to sneak in extra veggies to make flavourful pasta from scratch! They won't even notice that it's there. Of course, with the powerful algorithm of TikTok, the Vegan Pici Pasta came to fruition. The Pici Pasta is originated in Siena, Itay, and served as a simple and delightful dish that holds so much flavor. With a few simple ingredients and a food processor, you can enjoy a delicious plate of vegan Pici Pasta. 

Vegan Pici Pasta Recipe
Every time I see a viral food video or hack on TikTok, I can't resist trying it. TikTok is one of the fastest-growing social media platforms for innovative chefs. These 60-second videos allow millions of people all over the world to recreate some of these recipes. I love how accessible it is for people to experience food and culture like never before. You can also find me on TikTok @theedgyveg to learn more about some of the viral recipes I have created.
Inspired by TikTok, I have recreated a simple vegan recipe that uses spinach, all-purpose flour and olive oil, with an Edgyveg flare to finish off the dish with a little spice. This simple dish contains tons of iron and micronutrients to fuel the body and mind.
Are there other ways to make it?
Pici Pasta is so verstaile that you can use it as pasta noodles on your favorite pasta dish ingredients! It pairs so well with cream-based sauces like creamy mushroom sauce or walnut cream sauce.
Related Recipe: Vegan Cacio e Pepe

Vegan Pici Pasta
If you've never tried making homemade pasta, this is a great recipe to start with! It only uses a few ingredients and you can add your own twist by flavoring the sauce. This recipe only takes under 30 minutes to make and is a great gourmet meal to enjoy during any time of the day.
First, you want to mix the spinach, olive oil and flour into the food processor to make the dough. After taking it out of the processor, roll the dough until the texture is soft and holds all the ingredients together. Then you want to cut the dough into smaller pieces and roll them into small snake shapes. Next, toss the pasta noodles in a pot of boiling water for approximately 5-mins. Finally, add pasta to a pan with seasoning and vegan cheese. Buon Appetito! For extra protein, you can add vegan chicken nuggets or sausages to the mix.

How many servings does this make?
This recipe makes 4 portions. Perfect for a family meal or leftovers lunch for the next day.
Can I make it ahead of time?
You can make the pasta ahead of time and keep the dough tightly wrapped in the fridge or freezer, then roll into balls, boil and serve as desired.
Related Post: 15+ Vegan Pasta Recipes

INGREDIENTS FOR PICI PASTA (VEGAN):
KITCHEN EQUIPMENT:
Vegan Pici Pasta | Spinach Pasta
With a few simple ingredients and a food processor, you can enjoy a delicious plate of vegan Pici Pasta.
Instructions
In a food processor, add 2½ cups flour, spinach and a pinch of salt, and blend together until all the spinach is broken down.
While the food processor is running, slowly pour in ⅓ cup olive oil. The dough should come together. It shouldn't be sticky. Add more flour if needed.
When the dough is a playdough consistency and not sticky, tear off little bits of dough and roll them into balls. Then roll each ball into a long, thin green bean-like sausage. Alternatively, you can use a pasta machine to make whatever shape you desire. You can cook the spinach pasta right away, or save them for later.
Bring a pot of salted water to a boil making sure the water tastes like the ocean.
Place the spinach pasta into the boiling water, and cook for approximately 5 minutes, and/or until the pasta is al dente and floats to the top of the pot. Drain, reserving a 1 cup of the cooking water.
Meanwhile, in a stir fry pan, heat olive oil and garlic over medium-low heat, cook, moving constantly, for about 5 mins, or until garlic is lightly browned making sure not to brown the garlic too much or else it will be bitter.
Add the cooked pasta, ¼ cup of the reserved cooking water, and chili flakes and toss to coat each piece of pasta.
Add the parsley and vegan cheese, or nutritional yeast (if using) and mix until combined and cheese is melted, adding more pasta water as needed a bit at a time. Taste and season with salt and pepper.
Serve topped with a sprinkle of parsley and vegan cheese.
Nutrition Information
Serving size:
1 serving
Calories:
460
Fat:
18.25g
Carbohydrates:
60.5g
Sugar:
0.5g
Fiber:
3.75
Protein:
10g
Hey I'm Candice aka The Edgy Veg – I veganize popular food recipes for vegans, plant-based diets, eco-conscious eaters & people who are trying to eat more plants over… y'know animals or their by-products. I hope you enjoy this tasty vegan recipe!
---
Looking For More Vegan Pasta Recipes?
Made this recipe? Let me know what you think by leaving a ★★★★★ star rating & comment below. It truly helps me & I really appreciate any support! Feel free to share your food photos on social and tag me @edgyveg so I don't miss it!