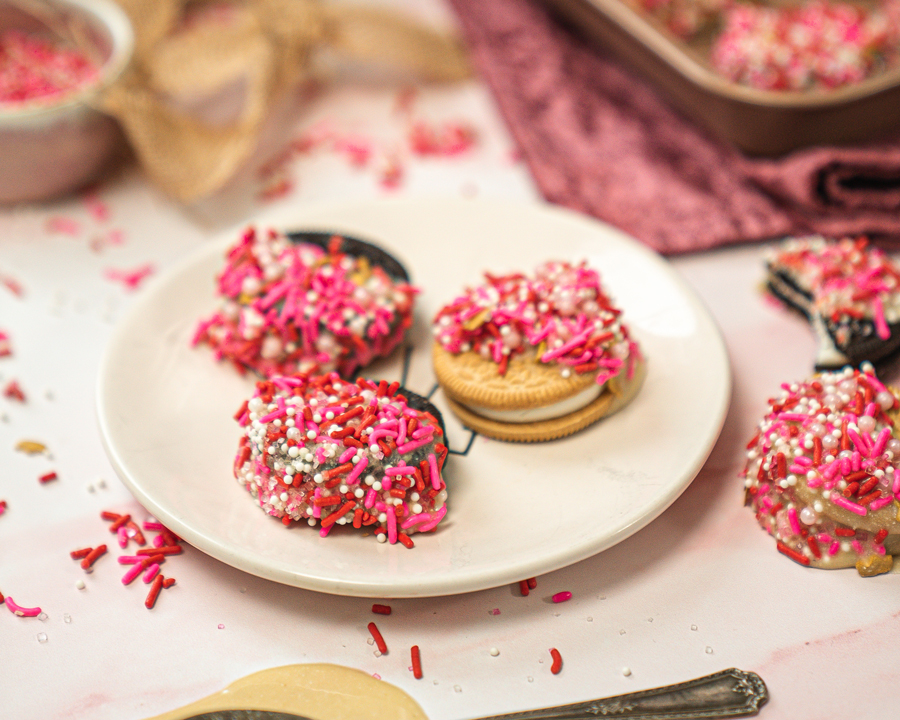 Valentine's Day Chocolate Covered Oreos (Vegan)

Valentine's Day Chocolate
Covered Oreo Cookies (Vegan)
Valentine's Day is just around the corner and finding that sweet and romantic gift for that special someone might feel a little overwhelming. Luckily, I have created this simple & sweet treat you can make at home to add a little extra love without breaking the bank. This Valentine's Day, try out these chocolate-dipped Oreo cookies you can wrap into a perfect gift. First, you want to use "yours" or "their" favorite oreo flavors, mine is the Original Chocolate and Golden Oreos. Then dip into the homemade vegan chocolate sauce, and top it off with pretty pink sprinkles for that finishing touch. Finally, you can wrap these treats with a handwritten card, I guarantee this will leave an unforgettable impression on your Valentine's date.
Alternative ways to make this recipe:  
You can customize and diversify this recipe by using your favorite cookies. You can even use chocolate chip cookies, wafers or any of the vegan cookie snack options here. You can also use any chocolate dips depending on how sweet you want the dips. You can use dark, "milk" or white chocolate, and any sprinkles! You also replace sprinkles with chopped nuts or shredded coconuts.

Chocolate Dipped Oreos
Oreo cookies are one of those treats that became "accidentally vegan", due to the results of the ingredients being more affordable. You can find tons of other accidentally vegan snacks that are store-bought.  Make sure you always read the ingredients on the package before making these delicious sweet treats. A dozen of homemade treats are more sustainable than a dozen of roses.

How many servings does this make?
This recipe makes about 12 cookies, but you can absolutely double or half the recipe to make as many cookies as you'd like.

INGREDIENTS FOR VALENTINES DAY OREOS (VEGAN):
KITCHEN EQUIPMENT:
Valentines Day Oreo Treats/chocolate dipped Oreos/ vegan valentines day Oreo Cookies
You can customize and diversify this recipe by using your favorite cookies. You can even use chocolate chip cookies, wafers or any vegan cookie
Instructions
Place sprinkles into a bowl or bowls depending on how many different types you have.
Line a baking tray with parchment paper and set aside.
Melt chocolate in a microwave or double boiler. I suggest making my white chocolate and then using it immediately from the blender.
One at a time, dip a cookie into the white chocolate, allow the excess to drip off, and immediately dip, roll or top with sprinkles, and place them onto the lined baking tray.
When they have all been dipped, place them into the fridge for 30 minutes or until the chocolate has fully set.
Hey welcome to The Edgy Veg
– we veganize popular food recipes for vegans, plant-based diets, eco-conscious eaters & people who are trying to eat more plants over… y'know animals or their by-products. We hope you enjoy this tasty vegan recipe!
---
Looking For More Vegan Valentines Day Recipes?
Made this recipe? Let me know what you think by leaving a ★★★★★ star rating & comment below. It truly helps me & I really appreciate any support! Feel free to share your food photos on social and tag me @edgyveg so I don't miss it!