Quick & easy vegan mushroom sauce pasta recipe in 15 mins using mushrooms, pasta & other simple ingredients! This creamy vegan mushroom sauce is full of flavour!
Classic vegan creamy pasta sauces usually use raw nuts or seeds that are blended into a cream, but this is a nut-free, gluten-free, dairy-free and vegan mushroom cream sauce.
Other Recipes: Vegan Creamy Garlic Pasta Sauce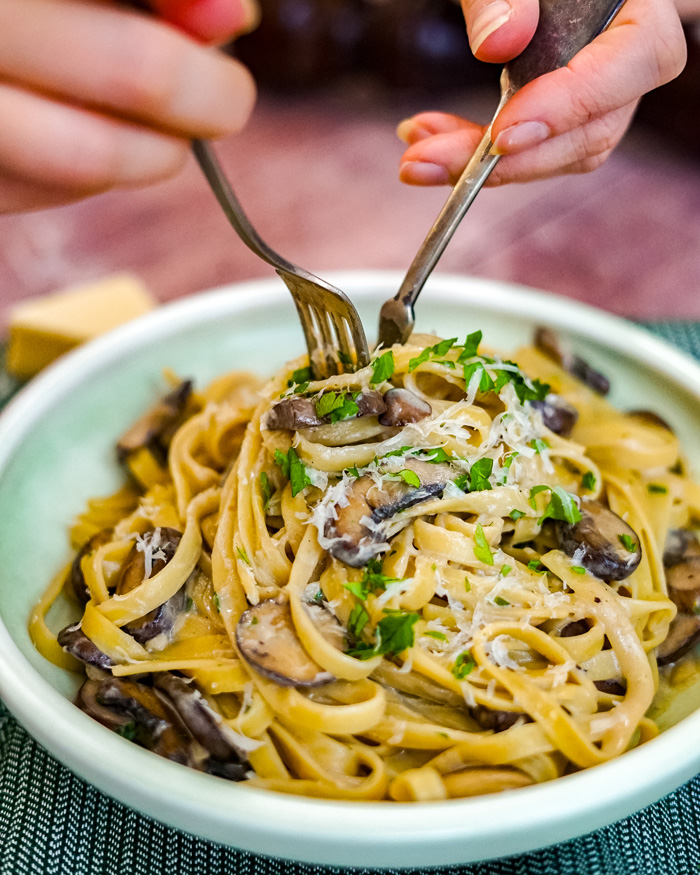 Vegan Mushroom Sauce
GLUTEN-FREE & NUT-FREE
This vegan pasta sauce's main ingredient is mushrooms, but you're welcome to add vegan ground sausage, chopped kale, or other proteins and veggies of choice.
I wanted to share one of my go-to comforting dinner recipes with you. I made this vegan mushroom pasta sauce with only 10 ingredients plus salt & pepper. In just 15 minutes, you can have a delicious & cozy pasta dinner with plenty of leftovers.
INGREDIENTS FOR MUSHROOM SAUCE (VEGAN):
FULL RECIPE DOWN BELOW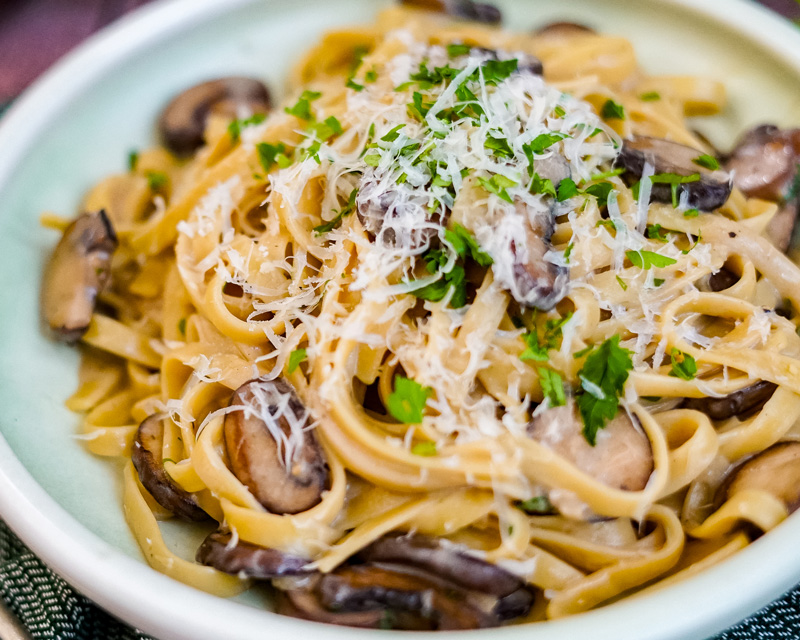 KITCHEN EQUIPMENT I USED:
What is mushroom sauce made of?
Mushroom sauce is made of olive oil, mushrooms, garlic, broth, vegan butter, soy milk, corn starch and vegan cheese!
Can vegan mushroom sauce be nut-free?
This vegan mushroom sauce is nut-free! Instead of nuts, I use vegan butter, soy milk and olive oil with mushrooms for a creamy pasta sauce!
How do you thicken a mushroom cream sauce?
Use corn starch to thicken a mushroom cream sauce as I do in this recipe!
Full Recipe Down Below
Other Vegan Recipes: Walnut Pasta Sauce
Vegan Mushroom Sauce (Easy & Quick)
Quick & easy vegan mushroom sauce pasta recipe in 15 mins using mushrooms, pasta & simple ingredients! Very tasty creamy vegan mushroom sauce!
Serves:
approx. 4 servings
Instructions
Melt vegan butter or margarine, and add the oil in a large pan over medium-high.
Add mushrooms and stir constantly while they cook. Cook until they begin to sweat. Add garlic, and season with a pinch of salt and pepper (optional).
After about 5 mins the mushrooms should be browned.
Add wine to deglaze the pan. Make sure you are scraping the bottom of the pan. Simmer until wine is more or less evaporated.
Meanwhile, bring salted water to a boil and cook pasta until al dente. (1 minute less than the time listed on the package) . Scoop out 1-2 cups of the cooking water, then drain.
Once it no longer smells of alcohol, add the broth, soy milk, and corn starch slurry. Mix well, and simmer until the sauce begins to thicken. Add vegan parmesan and or mozzarella (if using), and mix until it has melted. salt and pepper. Stir to dissolve parmesan and simmer for 2 minutes, stirring regularly.
Transfer pasta into the sauce, toss until coated. Add a bit of the reserved pasta water as needed to get a smooth, velvety sauce.
Garnish with some extra parmesan (you can also use nooch) and parsley.
Serve!
Notes
Store leftovers in the fridge for up to 3 days.
If you're not into cooking with wine, substitute for more broth instead.
Add some vegan meatballs, seitan pieces or other vegan protein for a hearty twist.
Keep some reserved pasta water for reheating. Just add pasta to a pan with some leftover pasta water to reheat, stirring to coat.
Nutrition Information
Serving size:
1 serving
Calories:
435
Fat:
20.5g
Carbohydrates:
41g
Protein:
13.4g
---
Hey I'm Candice aka The Edgy Veg – I veganize popular food recipes for vegans, plant-based diets, eco-conscious eaters & people who are trying to eat more plants over… y'know animals or their by-products. I hope you enjoy this tasty vegan recipe!
---
Looking For More Vegan Pasta Recipes?
Made this recipe? Let me know what you think by leaving a ★★★★★ star rating & comment below. It truly helps me & I really appreciate any support! Feel free to share your food photos on social and tag me @edgyveg so I don't miss it!
Share My Recipe on Pinterest!