Vegan Pici Pasta | Spinach Pasta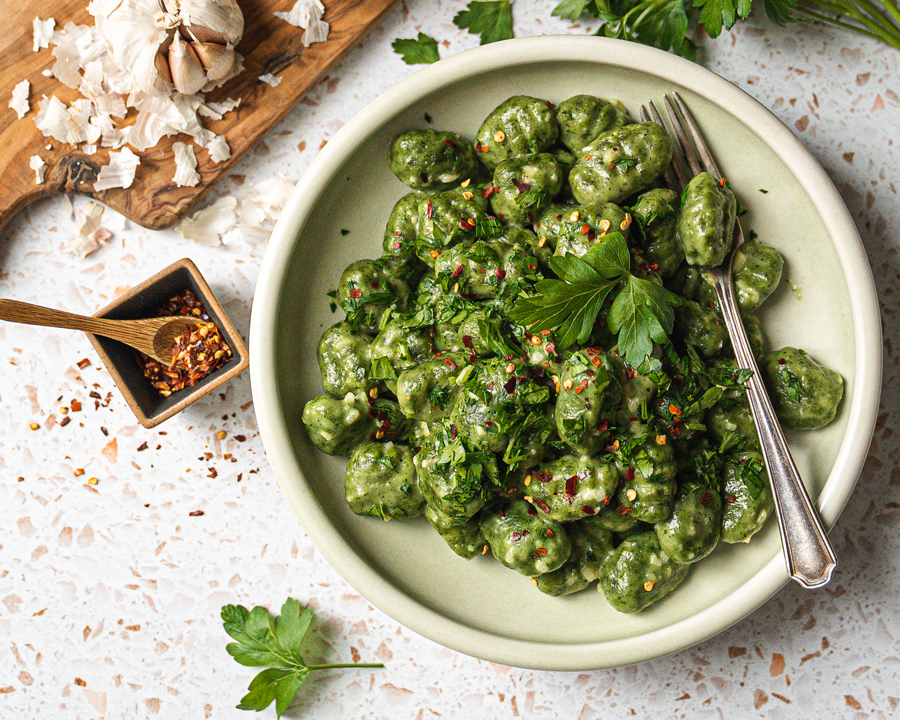 In a food processor, add 2½ cups flour, spinach and a pinch of salt, and blend together until all the spinach is broken down.
While the food processor is running, slowly pour in ⅓ cup olive oil. The dough should come together. It shouldn't be sticky. Add more flour if needed.
When the dough is a playdough consistency and not sticky, tear off little bits of dough and roll them into balls. Then roll each ball into a long, thin green bean-like sausage. Alternatively, you can use a pasta machine to make whatever shape you desire. You can cook the spinach pasta right away, or save them for later.
Bring a pot of salted water to a boil making sure the water tastes like the ocean.
Place the spinach pasta into the boiling water, and cook for approximately 5 minutes, and/or until the pasta is al dente and floats to the top of the pot. Drain, reserving a 1 cup of the cooking water.
Meanwhile, in a stir fry pan, heat olive oil and garlic over medium-low heat, cook, moving constantly, for about 5 mins, or until garlic is lightly browned making sure not to brown the garlic too much or else it will be bitter.
Add the cooked pasta, ¼ cup of the reserved cooking water, and chili flakes and toss to coat each piece of pasta.
Add the parsley and vegan cheese, or nutritional yeast (if using) and mix until combined and cheese is melted, adding more pasta water as needed a bit at a time. Taste and season with salt and pepper.
Serve topped with a sprinkle of parsley and vegan cheese.
Serving size:
1 serving
Calories:
460
Fat:
18.25g
Carbohydrates:
60.5g
Sugar:
0.5g
Fiber:
3.75
Protein:
10g
Recipe by
The Edgy Veg
at https://www.theedgyveg.com/2022/02/04/how-to-make-spinach-pici-pasta-vegan/