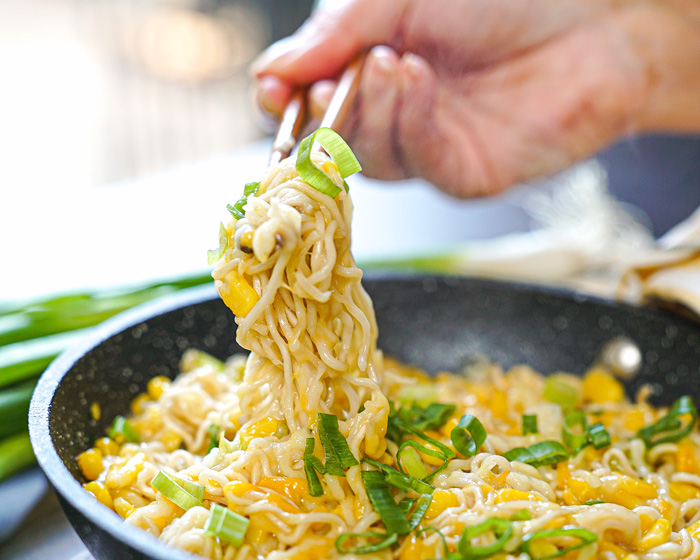 Vegan Corn Cheese Ramen Recipe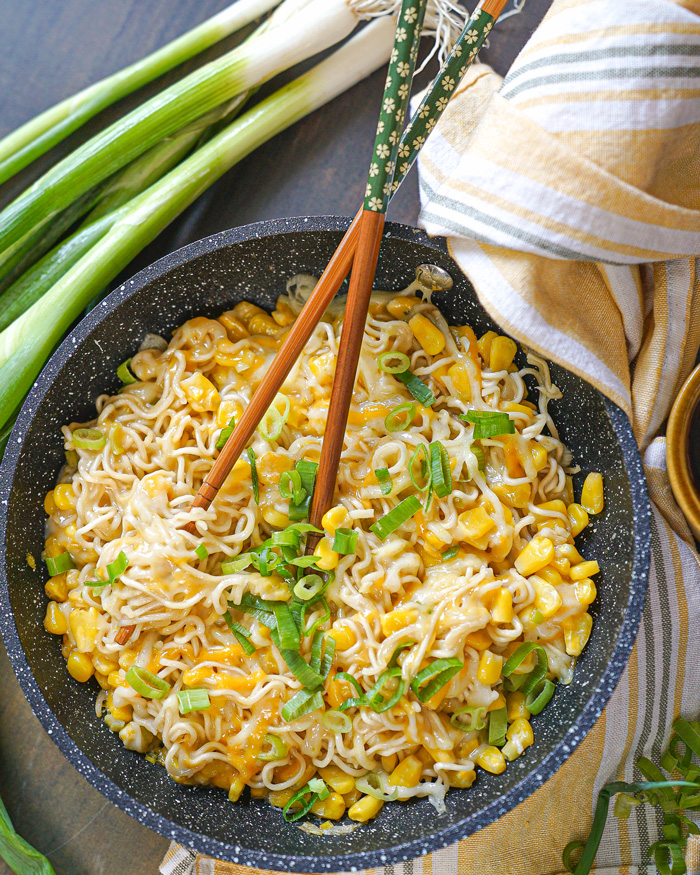 I'm going to show you how to make Korean corn cheese ramen vegan in under 15 mins! Using simple vegan swaps, you can make vegan cheesy ramen inspired by Korean bar food. 
Using only 7 ingredients, you can make a gooey, cheesy cheese ramen to eat as a snack or lunch, or late-night snack shared with friends. 
Related Post: Vegan Instant Ramen
Vegan Korean Corn Cheese Ramen
Korean Corn cheese is a south Korean dish made of canned sweet corn and shredded mozzarella cheese. It's a simple side dish most commonly served and eaten with Korean BBQ, or with alcohol at a bar. It's often made right at the table with a grill insert, or brought to the table bubbling in a hot dish.
Traditionally, the corn kernels are sautéed with butter on a skillet, with onions, bell peppers, or other diced veggies that have been lightly salted and squeezed to remove moisture, and mayonnaise and sugar. Then it is topped with mozzarella cheese and broiled in an oven until the cheese melts, and browns.
Related Recipe: Easy Ramen Noodle Salad
INGREDIENTS FOR KOREAN CORN CHEESE RAMEN: (VEGAN)
KITCHEN EQUIPMENT I USED:
Full Recipe Down Below
Vegan Korean Corn Cheese Ramen
This is how to make Korean corn cheese ramen vegan in under 15 mins! Using vegan items, you can make a vegan cheesy ramen inspired by Korean bar food.
Instructions
Place dried ramen noodles into a large bowl, and cover with hot water. Let sit 2-3 minutes, until soft. Reserve cooking water.
Meanwhile, in a medium to large size pan add vegan butter, corn, light parts of the green onion, sugar, and vegan mayonnaise. Stir and saute until corn is coated and sugar is dissolved about 1-2 minutes.
Add softened ramen noodles, sprinkle the flavor packets, and add ¼ cup of ramen cooking water.
Add green onion and ¼ cup vegan cheese, and toss to coat.
Sprinkle with remaining vegan cheese, and cover the pan to melt for about 2 minutes.
Garnish with additional green onion to serve.
Nutrition Information
Serving size:
1 serving
Calories:
1054
Fat:
62g
Carbohydrates:
107g
Sugar:
13g
Fiber:
7.5g
Protein:
11.5g
---
Hey I'm Candice aka The Edgy Veg – I veganize popular food recipes for vegans, plant-based diets, eco-conscious eaters & people who are trying to eat more plants over… y'know animals or their by-products. I hope you enjoy this tasty vegan recipe!
---
Looking For More Cheesy Vegan Recipes?
Made this recipe? Let me know what you think by leaving a ★★★★★ star rating & comment below. It truly helps me & I really appreciate any support! Feel free to share your food photos on social and tag me @edgyveg so I don't miss it! 
Share My Recipe on Pinterest