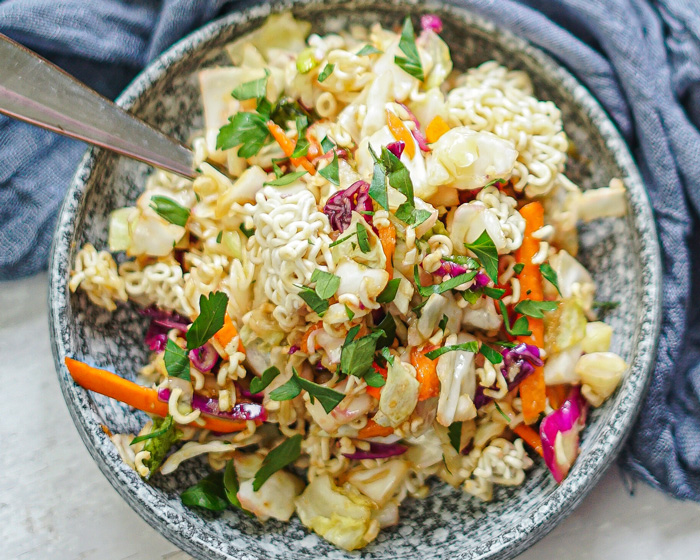 Easy Ramen Noodle Salad Recipe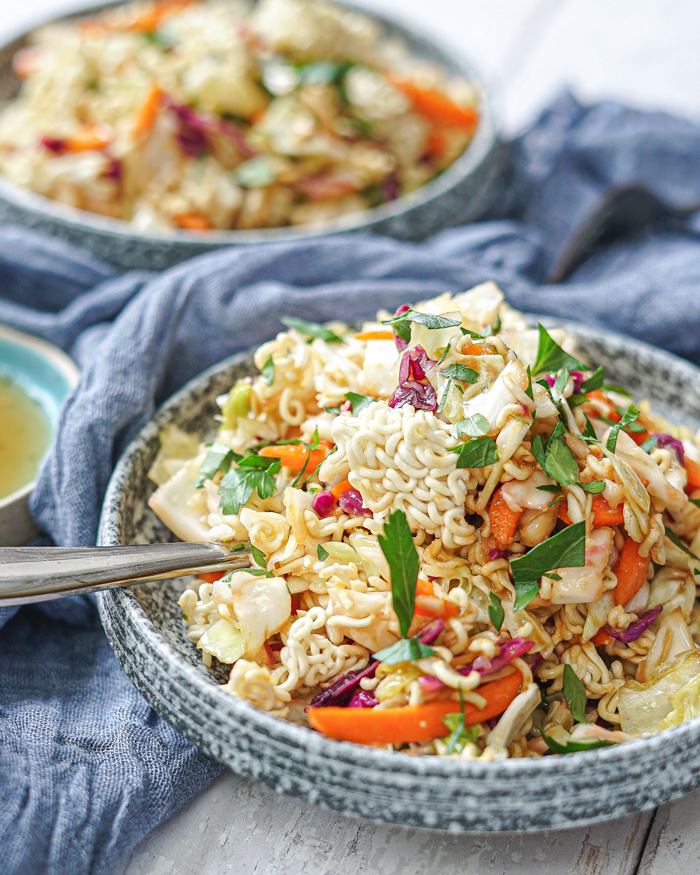 This easy ramen noodle salad recipe is super easy & quick! Using 7 ingredients in just 5 minutes, you can make a healthy ramen noodle salad!
In this recipe, I'll show you how to use instant ramen noodles, salad of your choice and a homemade salad dressing to make a easy ramen noodle salad in just a few minutes using easily accessible ingredients! This recipe is great for picnics, a roadtrip, quick lunch and especially great for students in a dorm room without a kitchen, as a quick meal or to whip up in a quickie!
Related Recipe: Cooked Ramen Noodle Recipe
Ramen Noodle Salad
VEGAN & DAIRY-FREE
This recipe is made easy and uses affordable store-bought ingredients like instant ramen noodles and pre-mixed salad. Trust me, you'll love the crunchy texture the noodles add to the salad. This recipe is easy to customize with your favourite salad! 
I used instant noodles and pre-made salad as they're easily accessible at the store to grab for a quick meal and perfect for those who don't have access to hot water! For this cooked ramen noodle salad, you can use noodles of your choice if you don't want to use instant noodles. 
Related Recipe: Easy Macaroni Salad
INGREDIENTS FOR RAMEN NOODLE SALAD (VEGAN):
Salad Dressing
KITCHEN EQUIPMENT I USED:
Full Recipe Down Below
Ramen Noodle Salad (5-mins)
This uncooked ramen noodle salad uses easy & affordable store-bought ingredients like instant ramen and pre-mixed salad. Trust me, you'll love the crunchy texture the noodles add to the salad.
Ingredients
Salad Dressing:
Instructions
Combine garlic powder, soy sauce, vinegar, olive oil, sesame oil, salt and pepper in a small mason jar & shake up to combine.
Toss the pre-mixed salad with the shaken dressing, and toss until well combined.
Remove the ramen from the package and set aside the flavour packet.
Crumble the uncooked ramen noodles on top of the salad.
Toss to combine the salad with the ramen noodles.
Nutrition Information
Serving size:
1 serving
Calories:
332
Fat:
29g
Carbohydrates:
23g
Sugar:
6.5g
Fiber:
2.7g
Protein:
5.25g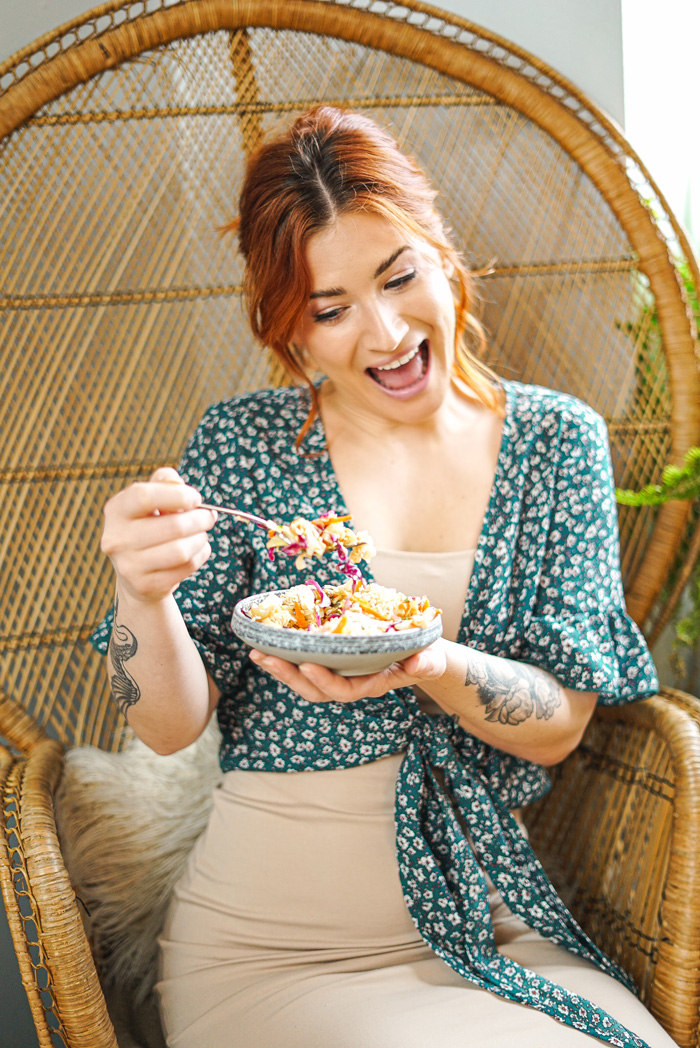 ---
Hey I'm Candice aka The Edgy Veg – I veganize popular food recipes for vegans, plant-based diets, eco-conscious eaters & people who are trying to eat more plants over… y'know animals or their by-products. I hope you enjoy this tasty vegan recipe!
---
Looking For More Vegan Salad Recipes?
Made this recipe? Let me know what you think by leaving a ★★★★★ star rating & comment below. It truly helps me & I really appreciate any support! Feel free to share your food photos on social and tag me @edgyveg so I don't miss it! 
Share My Recipe on Pinterest!