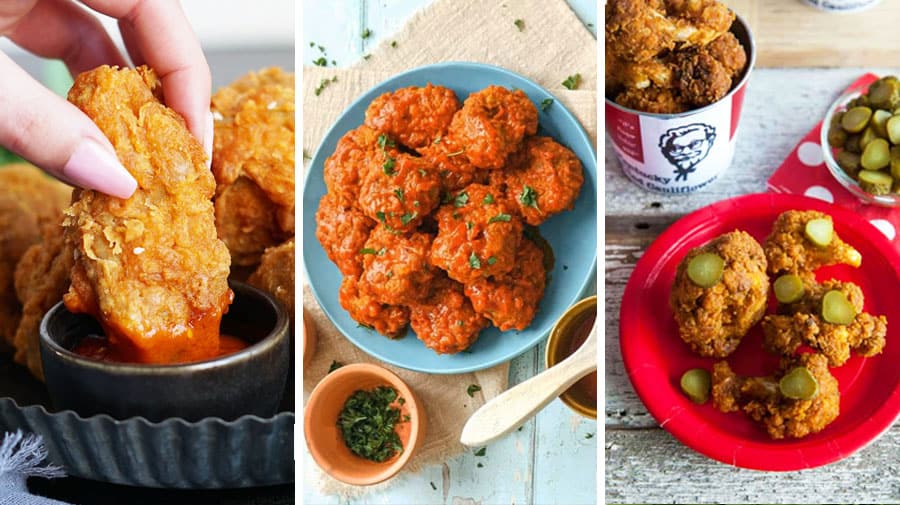 15+ Vegan Chicken Recipes
You've got to try these vegan "chicken" recipes! These mock chick'n recipes range from breaded vegan chicken, chicken pot pies and even popular fast food like KFC chicken that's vegan. I listed my top vegan chicken recipes so that you can make vegan chicken alternatives that taste, look and smell like the real thing!
Vegan Chicken Recipes
This listicle of vegan chicken recipes is for anyone cutting chicken out of their diet or for anyone looking to make vegan chicken dishes for their family and friends; vegan or not-so-vegan. I've listed a range of recipes to make your own vegan chicken at home. From here, you can season and prepare recipes however you'd like. From using seitan to cauliflower, there's a range of ways you can replace chicken in your favourite recipe.

Let's start with my favourite vegan chicken recipe. This vegan chicken is made using 3 popular techniques to replicate the texture of pull-apart chicken. I combined seitan, tofu and jackfruit to get the most realistic texture of pull-apart chicken. This vegan chicken is also packed with protein and fibre and takes on any flavour you want to give it. Get the recipe here!

By far my favourite vegan fried chicken recipe! If you're looking for a copycat fried chicken recipe that's vegan, you're going to love this one! The base of this recipe (without the breading stage) is also gluten-free if you need a GF version!. Get the recipe here!

This vegan chicken recipe is one of the most realistic-looking crispy vegan chicken drumsticks I've ever seen. Using rice paper to create realistic crispy vegan chicken skin with a combination recipe chicken inside, this recipe is one you'll definitely need to try this year. Get the recipe here!

I know vegan chicken made from grapefruit sounds crazy but it's actually based on a Cuban dish! If you're up for a real experiment, and you'd like to give your tastebuds a new experience, this is recipe is super interesting and fun to make with kids. Get the recipe here!

This cauliflower is breaded and fried to give you the same joy as fried chicken but vegan. It uses crushed cereal as a secret ingredient to get a nice coating offering the most crunch out of every bite! Get the recipe here!

This vegan orange chicken recipe uses soy curls as "chicken strips" and uses a flavourful sticky orange sauce to cover the pieces. Pair it with rice and veggies for a perfect meal in just 30 minutes. Get the recipe here!

Vegan pot pies are such a warm and hearty meal for the household. This vegan chicken pot pie is great for the whole family and it freezes well so you can prep for easy weeknight meals all year long. Get the recipe here!

Give these delicious vegan chicken wings a try– I promise they will taste JUST like the meat version. Making seitan chicken has taken me roughly 2 years to perfect. This recipe is moist, and perfectly spiced. For the "bones" you can use either sugar cane or popsicle sticks, or you can simply have "boneless" chicken wings! Get the recipe here!

This easy vegan lunch idea uses store-bought vegan chicken pieces, or you can use homemade seitan or soy curls from the above recipes here to make your own homemade vegan chicken pieces. This vegan chicken recipe is great for on-the-go meals and even meal prep for busy days.  Get the recipe here!

This gooey vegan, cheesy, buffalo chicken dip is perfect for so many occasions. I love to serve it with pita, mini toasts, carrots and celery sticks. The jackfruit in this recipe makes it have the perfect "pulled chicken" texture.  Get the recipe here!

I'm going to show you how to make my vegan chicken and waffles recipe using a quick waffles recipe and my vegan KFC chicken recipe. For the vegan chicken, I use soy curls, but if you don't have soy curls on hand, or you're pressed for time, use frozen vegan chicken nuggets or any other vegan chicken alternative you'd like. Get the recipe here!
---
Vegan Fast Food Chicken Recipes
I believe my calling in life is to make the vegan versions of all of the very best fast-food menu items including vegan McDonald's, vegan Taco Bell and much more! I was put on this world for a reason and that reason was making popular fast food vegan.

If you want to make vegan KFC chicken, all you need to know is the secret of the KFC secret 11 herbs and spices and my recipe for vegan fried chicken. Using the 11 herbs and spices to season, this vegan chicken recipe can get you exactly the flavour of KFC at home without using any animal products. Get the recipe here!

This Popeye's vegan chicken sandwich is one of the most famous fast-food menu items of the decade. People were lining up and fighting over a bite of this legendary fried chicken between buns. This copycat recipe will fulfill your need to try this famous sandwich. Get the recipe here!

These levelled-up nuggets are spicy and crispy and amazing. I recreated them using a tofu technique and seasoning them to taste just like the spicy legacy of Wendy's nuggets. Pair with fries and a drink for a perfect at-home combo. Get the recipe here!

How to make vegan chicken strips? Soy curls are such an underrated way to get vegan chicken at home. By using these dried soy curls, rehydrating them, seasoning them with the KFC secret spice mix and frying them, we get these beautiful bite-sized vegan chicken strips in just 20 minutes. Get the recipe here!

Not that I support Chick-Fil-A at all, but I wanted to make a vegan Chick-Fil-A chicken sandwich for anyone who was looking for vegan chick-fil-A option. This vegan chicken sandwich copycat is one of my most popular recipes for meat-eaters and vegans so I'm happy to make it accessible for all to make! My vegan values of compassion and love for animals go further than just food. While Chick-Fil-A might make a good sandwich for meat-eaters, their company values do not align with love and respect for all. Save your cash and get the flavour you want at home with this copy-cat fried chicken sandwich made vegan. Get the recipe here!

This vegan popeyes fried chicken recipe is another popular recipe! Although it takes longer to make than most vegan chicken recipes on this list, the taste is worth it! There is no reason to head out for fried chicken when you can make this amazing vegan recipe at home without harming animals. You'll love this vegan Popeye's fried chicken recipe, I am sure of it. Get the recipe here!

This recipe is going to take your cauliflower to the next level. Using cauliflower as a replacement for chicken is one of my favourite ways to do vegan fast food at home. This recipe keeps things spicy! Get the recipe here!

15+ Vegan Chicken Recipes
You've got to try these vegan "chicken" recipes! These mock chick'n recipes range from breaded vegan chicken, chicken pot pies and even KFC chicken that's vegan! I've been making vegan chicken recipes for years now and have made it out of almost everything (cauliflower, tofu, seitan, even grapefruit!). So if you're in the mood for an easy recipe using store-bought vegan chicken, or want to make your own from scratch, choose a recipe below and get ready to be amazed.
Instructions
Plan what vegan chicken recipe you want to make.
Gather all your ingredients.
Choose recipes you can make ahead of time if planning a big feast.
Enjoy your vegan chicken with other delicious vegan food!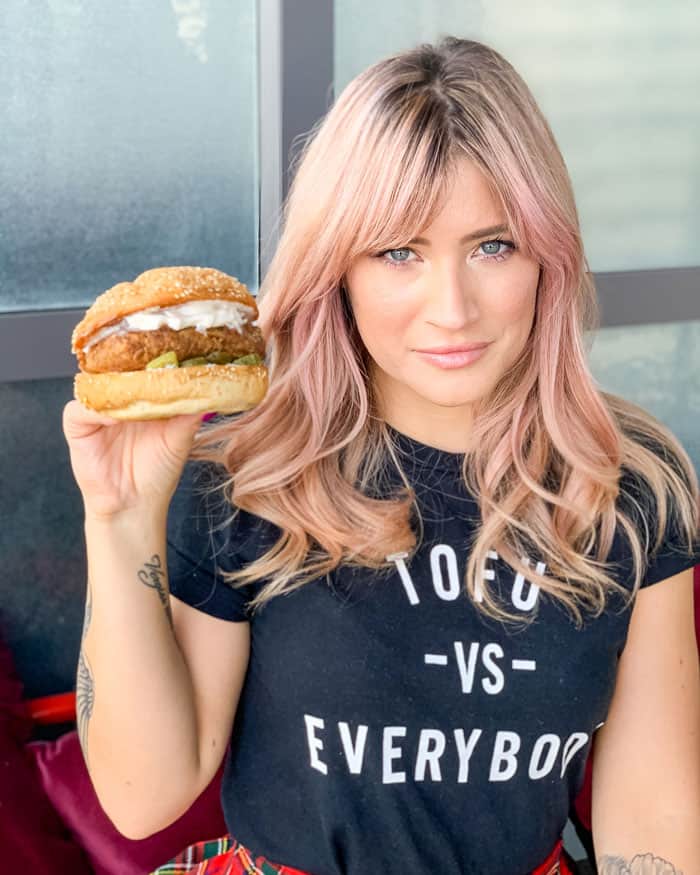 ---
Hi! I'm Candice aka The Edgy Veg!  I veganize popular food recipes for vegans, plant-based diets, eco-conscious eaters & people who are trying to eat more plants over… y'know animals or by-products of animals. I hope you enjoy this tasty vegan recipe!
---
Looking For More Vegan Fast Food Recipes?
Made this recipe? Let me know what you think by leaving a ★★★★★ star rating & comment below. It truly helps me & I really appreciate any support! Feel free to share your food photos on social and tag me @edgyveg so I don't miss it!