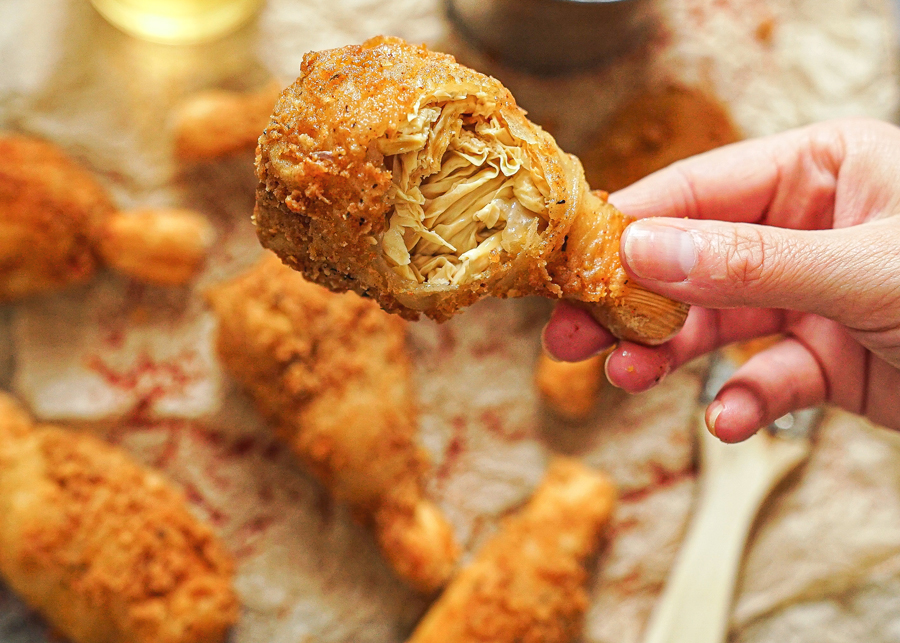 Vegan Fried Chicken with Tofu Skin Recipe
I'm going to show you how to make vegan fried chicken with tofu skin (yuba) in under 30 minutes! This vegan fried chicken is a crispy and juicy copycat with chicken texture and flavour! Why do we get it to taste like fried chicken? Using my recipe for vegan KFC seasoning and dredge, as well as our secret "meat" ingredient being tofu skin, aka yuba which you can find in many health, Asian or international grocery stores! If you don't have access to tofu skin, you can make my vegan chicken drumsticks recipe using rice paper instead, or my vegan KFC chicken recipe.
If you're looking for a copycat fried chicken recipe that's vegan, you're going to love this one! The base of this recipe (without the breading stage) is also gluten-free if you need a GF version!
Related Recipe: Vegan Drumsticks with Rice Paper Skin

Vegan Fried Chicken with Tofu Skin
Sometimes, my best recipes are a result of the inspiration I take from years of my own recipe development. A while back, I made Okonomi Kitchen's Salmon Recipe. The recipe calls for tofu skin, soybean skin or yuba (many names for the same product). I hadn't tried this ingredient before and it fueled inspiration for me to cook with it on my next vegan chicken recipes. I also recently received a package from Faux Bones, which made me so excited to make realistic vegan meats with their wooden "bones" as the base as I was just using popsicle stocks or bamboo spoons for chicken drumsticks.
The star of this recipe is tofu skin, beancurd skin, soybean skin, or yuba is an ingredient made from soybeans. When boiling soy milk, a film or skin forms on the liquid surface and they are collected and dried into yellowish sheets known as tofu skin. They are decently high in protein as well as being able to soak up any flavour you add it, helping this replace meat in many recipes.
Related Post: 15+ Vegan Chicken Recipes

INGREDIENTS FOR FRIED CHICKEN (VEGAN):
KITCHEN EQUIPMENT:
Full Recipe Down Below!
Vegan Fried Chicken with Skin
I'm going to show you how to make vegan fried chicken with tofu skin in under 30 minutes! This vegan fried chicken is a crispy and juicy chicken copycat.
Instructions
In a large casserole or shallow dish, place soybean skin sticks and pour boiling water over them. Let them soak for 10 minutes, or until soft(ish).
Remove from the water, squeeze out any excess liquid and cut each stick into 3 pieces.
In a medium-large saucepan add 3 cups water, bouillon, mushrooms seasoning or msg, nutritional yeast and poultry seasoning, mix to combine. Add soybean skin bring to a boil.
Cover, and simmer on medium-high heat for about 5-10 minutes, or until soybean skin is very soft.
Remove the soybean skin from the broth mixture and place it into a colander to cool slightly. Reserve broth, and set aside.
When the soybean skin is cool enough to handle, divide them equally so you can end up with 8-10 drumsticks.
Soften a sheet of rice paper in the broth and place it on a work surface or clean counter.
One at a time, take whatever "bone" you're using and wrap one strip of soybean skin around it, continue until you've used all the soybean skin from that group.
Now, wrap put the entire drumstick with the softened piece of rice paper. This should hold it all together, if it does not—use a second piece of softened rice paper.
Set drumstick aside, and repeat with remaining "bone" and soybean skin.
Now, prepare the dredge from my KFC recipe (soy sauce, pepper, aquafaba, and 1 tbsp cornstarch) in one bowl and seasoned flour frommy KFC recipe (flour, ¼ cup cornstarch, baking soda, baking powder, thyme, basil, oregano, celery salt, black pepper, mustard powder, paprika, garlic powder, ginger, white pepper and MSG) in another, and heat ¼ cup oil in a frying pan over medium-high heat, or heat a deep fryer, or air fryer.
One at a time, coat a drumstick in the dredge liquid and then coat in the flour mixture. Press flour into the rice paper to coat well, dust off any excess, and place on a wire cooling rack to rest. Repeat.
In batches, fry vegan chicken for 2-3 minutes per side, or until golden and crispy. Remove from the hot oil or fryer and place on a wire cooling rack to crispy up and allow excess oil to drip off. Repeat with remaining vegan chicken.
If using an air fryer: in batches, spray each drumstick with cooking spray and cook at 375 for 5 minutes, or until golden & crispy.
Serve with your favourite sauces or dips, as well as your favourite side. I like to enjoy with coleslaw, mashed potatoes or corn pudding.
Nutrition Information
Serving size:
1 drumstick
Calories:
275
Fat:
22.7g
Carbohydrates:
10.8g
Sugar:
0.7g
Fiber:
1.3g
Protein:
5.7g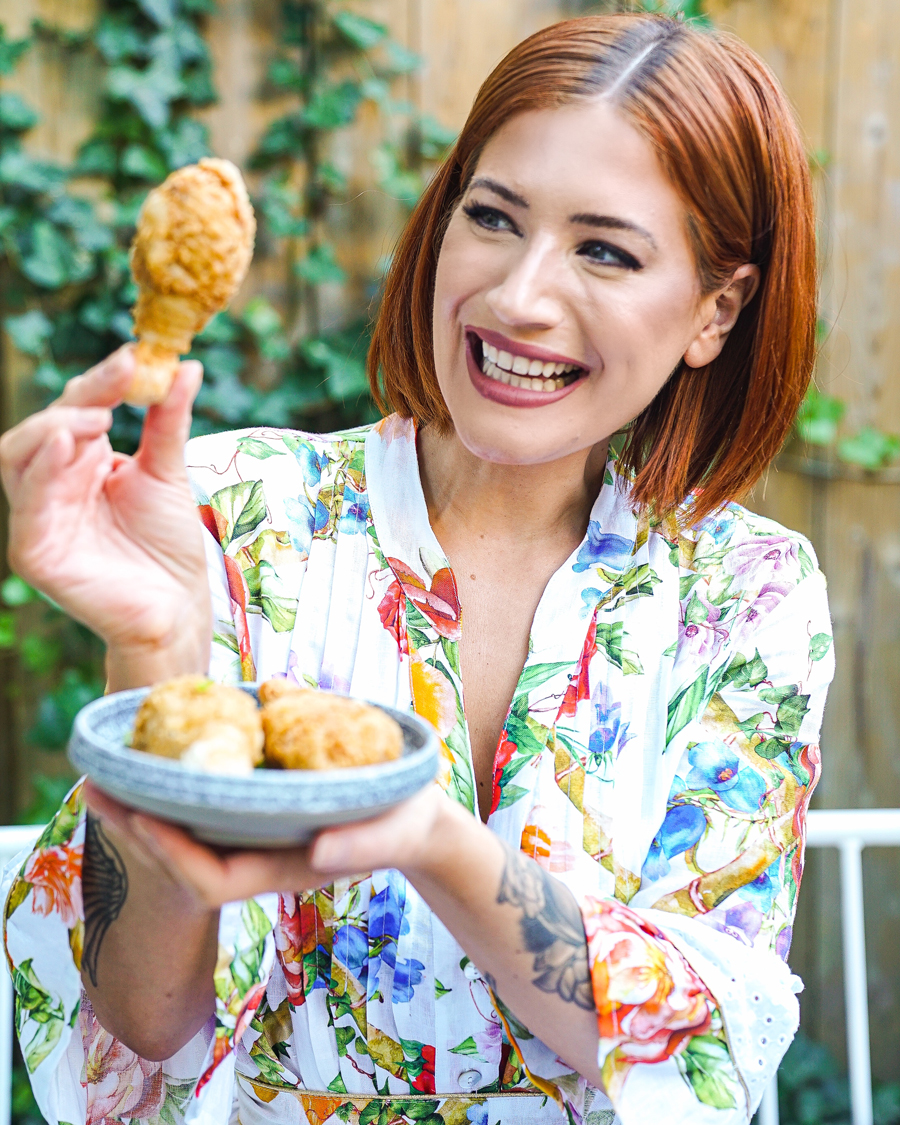 ---
Hey I'm Candice aka The Edgy Veg – I veganize popular food recipes for vegans, plant-based diets, eco-conscious eaters & people who are trying to eat more plants over… y'know animals or their by-products. I hope you enjoy this tasty vegan recipe!
---
Looking For More Vegan Chicken Recipes?
Made this recipe? Let me know what you think by leaving a ★★★★★ star rating & comment below. It truly helps me & I really appreciate any support! Feel free to share your food photos on social and tag me @edgyveg so I don't miss it!