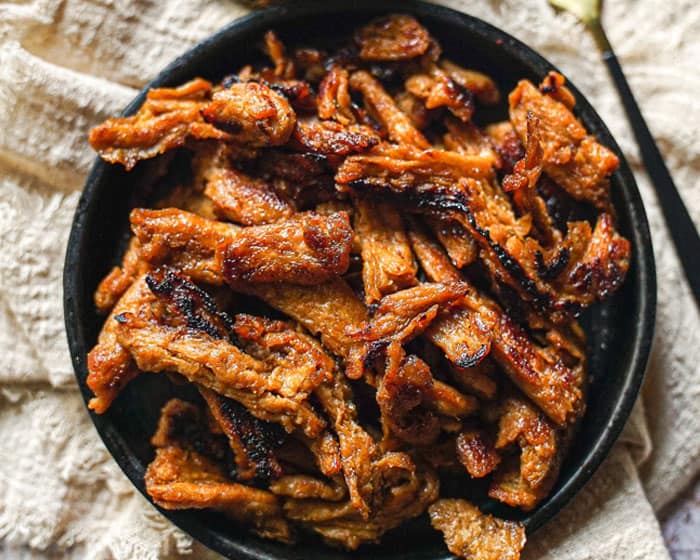 Vegan Steak Strips Recipe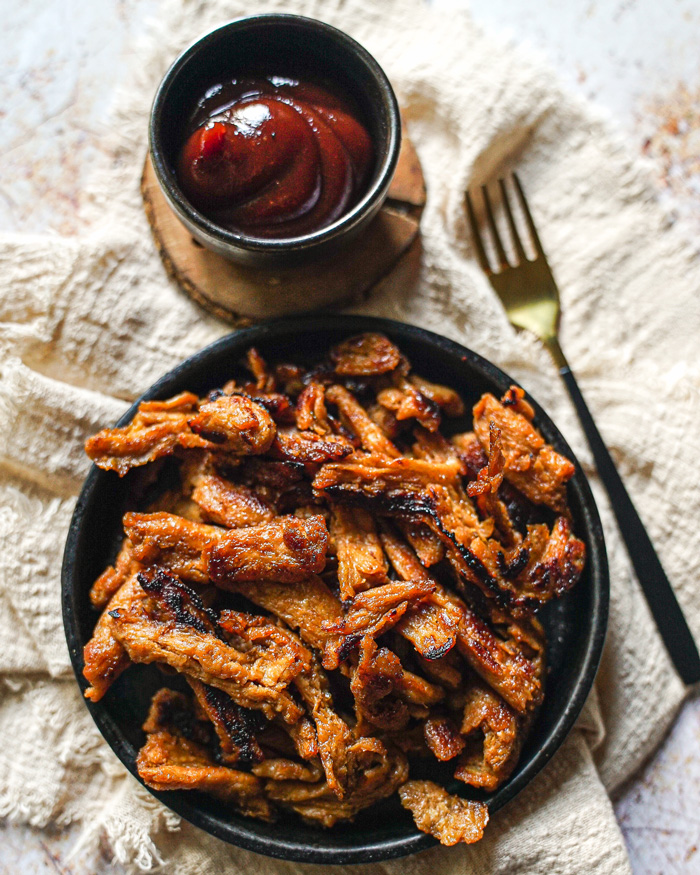 Looking to make Vegan Steak Strips or vegan beef strips at home? My recipe for making vegan "steak" strips takes 15 mins using seasonings and soy curls!
These vegan steak strips are great in tacos, salads, stir-frys and more! Soy curls soak up the seasoning and create a meaty texture. 
Related Recipe: Vegan "Steak" Tacos
Vegan Steak Strips
MEAT-FREE & GLUTEN-FREE
Soy curls are one of my favourite vegan meat replacements. They have a perfect texture, they are shelf-stable and easy to prepare. Just soak the dried soy curls in warm broth, marinade in seasoning, strain and brown in a pan. It's that easy to have vegan beef strips ready for a dish. 
INGREDIENTS FOR STEAK STRIPS (VEGAN):
KITCHEN EQUIPMENT I USED:
Vegan beef strips that can be prepared in 15 minutes pair well with any dish for a perfect weeknight meal or to enjoy your favourite traditionally non-vegan meal in a plant-based way. 

Vegan Steak Strips
This vegan steak strips recipe only takes 19 mins to make! To make vegan steak strips, all you need is soy curls, bouillon cube and seasonings to get an authentic steak strip look and taste. This recipe is loved by vegans & non-vegans.
Instructions
In a large bowl, dissolve one bouillon cube into the hot water.
Once it has dissolved, add the soy curls to the bowl. Ensure they are covered with the bouillon, and let them sit for 10 minutes. If you don't have enough liquid repeat step one.
While your soy curls are soaking, make your marinade.
To a second large bowl, add garlic powder, soy sauce, vegan Worcestershire, olive oil, maple syrup, liquid smoke, and cumin, stir or whisk to combine.
Remove the soy curls from the bowl and place it into a colander, squeezing to ensure they are no longer soaked.
Measure out ½ a cup of your leftover bouillon broth and place it into the other large bowl with the marinade ¼ cup at a time, and stir to combine. Taste for the strength of choice.
Add your soy curls and allow them to soak for 5-10 mins.
After 5-10 mins, remove the soy curls from the bowl and place it into a bowl, again squeezing to remove any excess marinade.
In a hot large pan or grill pan cook the soy curls until they are heated through and browned.
Meanwhile, in a small bowl with a fork combine corn starch with 1 tbsp of water until it's dissolved.
Mix in a ¼ cup of the marinade/broth.
When soy curls are browned, add the sauce we just made into the pan and stir until soy curls are totally coated, and the sauce has thickened.
Nutrition Information
Serving size:
1 serving
Calories:
230
Fat:
17.25g
Carbohydrates:
9g
Protein:
8.25g
---
Hi! I'm Candice aka The Edgy Veg! I veganize popular food recipes for vegans, plant-based diets, eco-conscious eaters & people who are trying to eat more plants over… y'know animals or by-products of animals. I hope you enjoy this tasty vegan recipe!
---
Looking For More Vegan Meat Recipes?
Made this recipe? Let me know what you think by leaving a ★★★★★ star rating & comment below. It truly helps me & I really appreciate any support! Feel free to share your food photos on social and tag me @edgyveg so I don't miss it! 
Share My Recipe on Pinterest