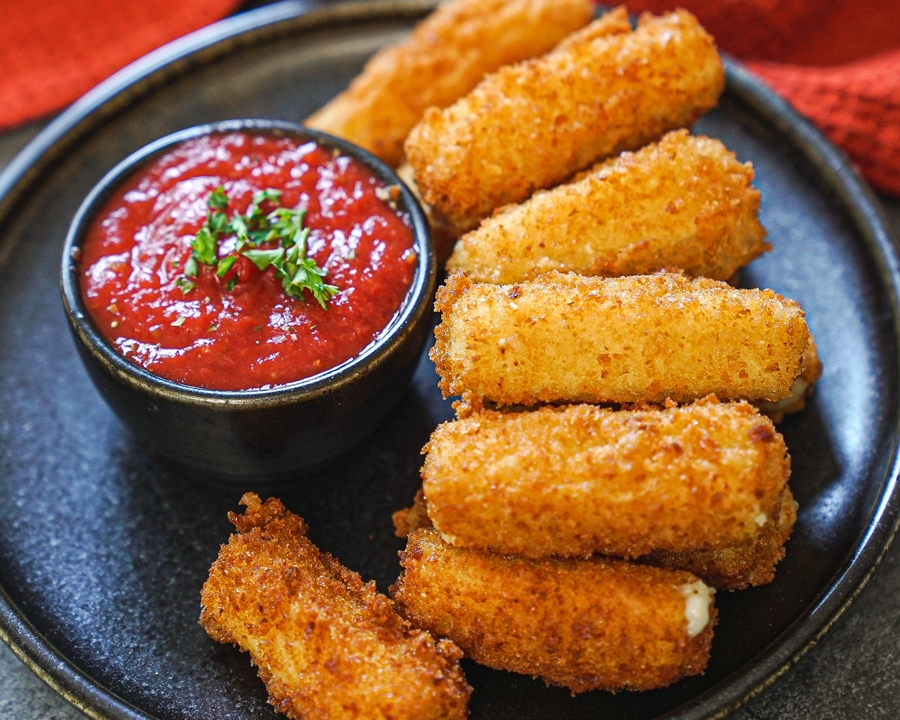 Vegan Mozzarella Sticks Recipe
I'm going to show you how to make easy vegan mozzarella sticks that are crispy and cheesy! Many recipes take over 1.5-2 hours to make mozzarella sticks, so I wanted to share with you the quickest and easiest way to make them. My recipe requires very little work and most time is spent freezing them in the freezer.
Using hacks and 6 simple vegan ingredients from the store, I'm going to show you how to make vegan mozzarella sticks that are just like the classic ones but homemade!
Related Recipe: Vegan Nacho Cheese Sauce

Vegan Mozzarella Sticks
These vegan mozzarella sticks are perfect to share with friends or family or keep frozen until ready to fry and serve whenever. Mozzarella sticks are a popular American appetizer made from long chunks of cheese that are battered, deep-fried and dipped in a classic marinara sauce. The secret for them keeping their shape is keeping them frozen at particular times in their preparation.
All you need to do to make this vegan recipe is dredge your vegan mozzarella cheese sticks, freeze, then fry and serve whenever you want!
Related Post: Vegan Dipping Sauce Recipes

INGREDIENTS FOR MOZZARELLA STICKS (VEGAN):
KITCHEN EQUIPMENT I USED:
Full Recipe Down Below!
Vegan Mozzarella Sticks
This is how you make easy vegan mozzarella sticks that are crispy & cheesy! Let's make vegan mozzarella sticks just like the classic ones!
Instructions
Take your frozen half-cut vegan mozzarella cheese sticks out of the freezer.
In a shallow bowl, combine both italian breadcrumbs and panko breadcrumbs.
In a second shallow bowl, place ¼ cup of flour.
In a third bowl, combine 3 tbsp of flour, cornstarch, water, and 1 tbsp oil.
Dip each frozen cheese stick into the bowl of flour. Shake off excess, and place into the wet corn starch mixture. Then, gently place it into the bread crumbs and press the crumbs on each piece of cheese. Make sure it is well coated.
Place covered cheese sticks onto a wire rack placed inside a rimmed baking sheet, or parchment-lined plate and place into the freezer for at least 1 hour.
Heat oil in your pan (at least 2 inches) or deep fryer to 350F.
In small batches, place breaded cheese sticks into the hot oil for about 1 minute or just until the breading is golden brown. Try not to overcook.
Serve with marinara sauce of choice.
---
Hey I'm Candice aka The Edgy Veg – I veganize popular food recipes for vegans, plant-based diets, eco-conscious eaters & people who are trying to eat more plants over… y'know animals or their by-products. I hope you enjoy this tasty vegan recipe!
---
Looking For More Cheesy Vegan Recipes?
Made this recipe? Let me know what you think by leaving a ★★★★★ star rating & comment below. It truly helps me & I really appreciate any support! Feel free to share your food photos on social and tag me @edgyveg so I don't miss it! 
Share My Recipe on Pinterest