Vegan Mozzarella Sticks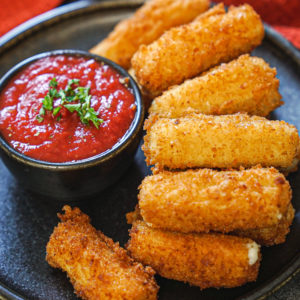 Take your frozen half-cut vegan mozzarella cheese sticks out of the freezer.
In a shallow bowl, combine both italian breadcrumbs and panko breadcrumbs.
In a second shallow bowl, place ¼ cup of flour.
In a third bowl, combine 3 tbsp of flour, cornstarch, water, and 1 tbsp oil.
Dip each frozen cheese stick into the bowl of flour. Shake off excess, and place into the wet corn starch mixture. Then, gently place it into the bread crumbs and press the crumbs on each piece of cheese. Make sure it is well coated.
Place covered cheese sticks onto a wire rack placed inside a rimmed baking sheet, or parchment-lined plate and place into the freezer for at least 1 hour.
Heat oil in your pan (at least 2 inches) or deep fryer to 350F.
In small batches, place breaded cheese sticks into the hot oil for about 1 minute or just until the breading is golden brown. Try not to overcook.
Serve with marinara sauce of choice.