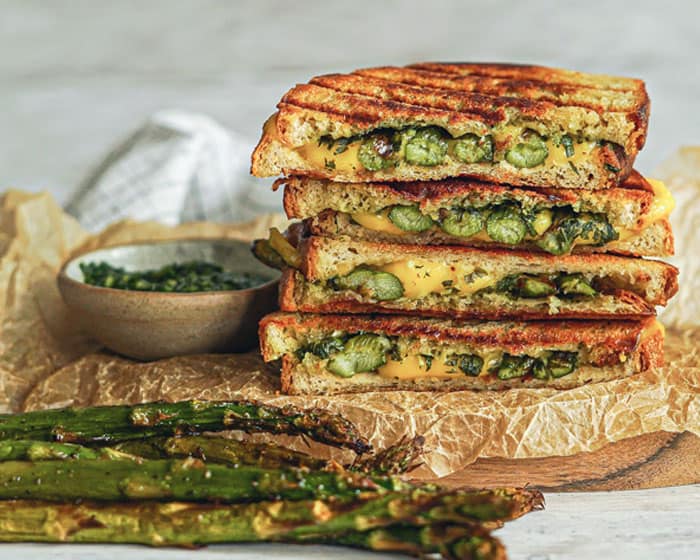 Asparagus Grilled Cheese Sandwich Recipe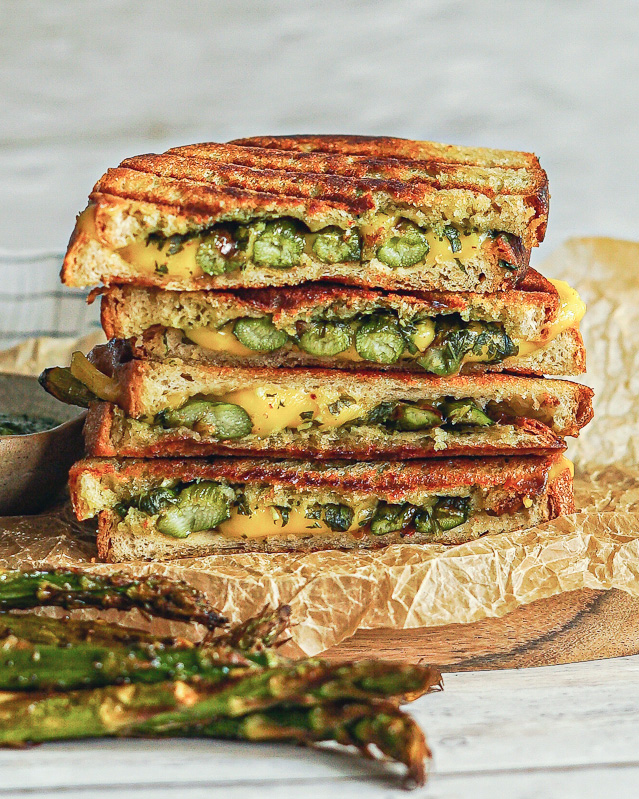 This asparagus grilled cheese sandwich recipe uses 6 ingredients to make the best grilled cheese sandwich! I had leftover roasted asparagus and made this tasty grilled cheese so of course, I had to share it with you!
If you're craving a healthy and hardy grilled cheese sandwich in 20 minutes or less, I'll show you how to make it using roasted asparagus!
Related Recipe: Grilled Portobello Sandwich
Asparagus Grilled Cheese Sandwich
VEGAN & DAIRY-FREE OPTION
This is like a gourmet grilled cheese but healthy! This recipe is great if you have any leftover roasted asparagus or need to make an easy lunch or dinner.
Just roast the asparagus, heat up a frying pan or panini press, and assemble your sandwich. You could also roast your asparagus on the BBQ and make this grilled cheese on the BBQ on a nice summer day!
Related Recipe: Vegan Philly Cheesesteak Sandwich
INGREDIENTS FOR ASPARAGUS GRILLED CHEESE SANDWICH:
KITCHEN EQUIPMENT I USED:
Full Recipe Down Below
Asparagus Grilled Cheese Sandwich
This asparagus grilled cheese sandwich recipe uses 6 ingredients to make the best grilled cheese sandwich using leftover roasted asparagus.
Instructions
Preheat oven to 450 degrees F. Wash asparagus and break off the tough ends. Toss in olive oil, season with a pinch of salt, and a generous sprinkle of pepper to lightly coat them and place on a baking sheet.
Roast in the oven for 10 minutes or until tender.
Heat skillet or panini press on medium heat. While you are heating, spread the butter on one side of both pieces of bread. Spread pesto on one piece of toast on the opposite side of the butter or oil.
Place the vegan cheese in the middle and top with roasted asparagus, create a sandwich. Place on grill for 3-5 minutes; be sure to give it time to toast. Do not rush this step by turning up the heat or your bread will burn!
Flip it over, allowing the other side to the grill.
Nutrition Information
Serving size:
1 Sandwich
Calories:
350
Fat:
16g
Carbohydrates:
40g
Sugar:
3.9g
Fiber:
5.2g
Protein:
10.5g
---
Hey I'm Candice aka The Edgy Veg – I veganize popular food recipes for vegans, plant-based diets, eco-conscious eaters & people who are trying to eat more plants over… y'know animals or their by-products. I hope you enjoy this tasty vegan recipe!
---
Looking For More Vegan Sandwich Recipes?
Made this recipe? Let me know what you think by leaving a ★★★★★ star rating & comment below. It truly helps me & I really appreciate any support! Feel free to share your food photos on social and tag me @edgyveg so I don't miss it! 
Share My Recipe on Pinterest!