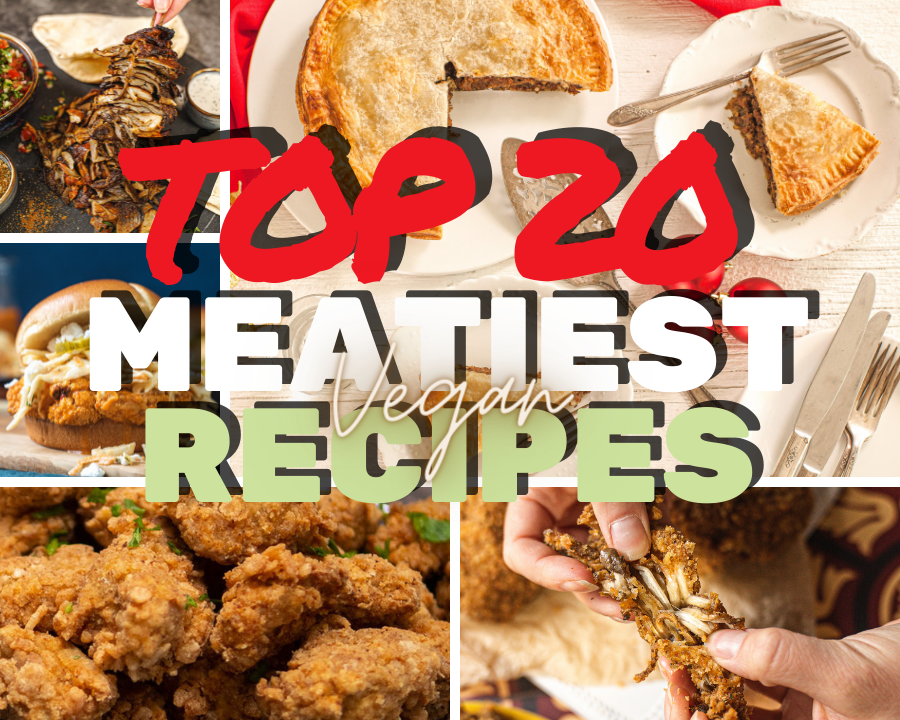 Top 20 Meatiest Edgy Veg Recipes
My legacy on the internet will forever be the woman who turned plants into meat! If you haven't tried any of my meaty vegan recipes yet, here is the list of my top meaty, savoury vegan recipes. I love to experiment with different plant-based foods that resembles the textures, appearances and the flavors of the foods I loved eating growing up. My mission is to turn any fast-food classics as well as classic American-style dishes into vegan alternatives so that no one has to feel left out. If we can enjoy plant-based foods just as much as we enjoy meat, we can really make a diference to our health, our environment and the animals who gives us life. This list is dedicated to those who are are leaning to be more veg-consciuos and open-minded to the possibilities of creating art with cooking. Let's eat with more purpose in order to nourish our hearts, mind and bodies.
The Meatiest Vegan Recipes
This list of meaty vegan recipe ideas is made for anyone looking for plant-based alternatives to classic meat recipes; whether you are a vegan or not-so-vegan, everyone can enjoy these plant-based recipes. This list of recipes is the perfect guide to serving vegetarians or vegans at dinner. Whether you eat meat or not, you will definitely have a great time turning some of your favorite non-vegan foods, vegan.
If you're looking for Vegan Chicken recipes, get them here!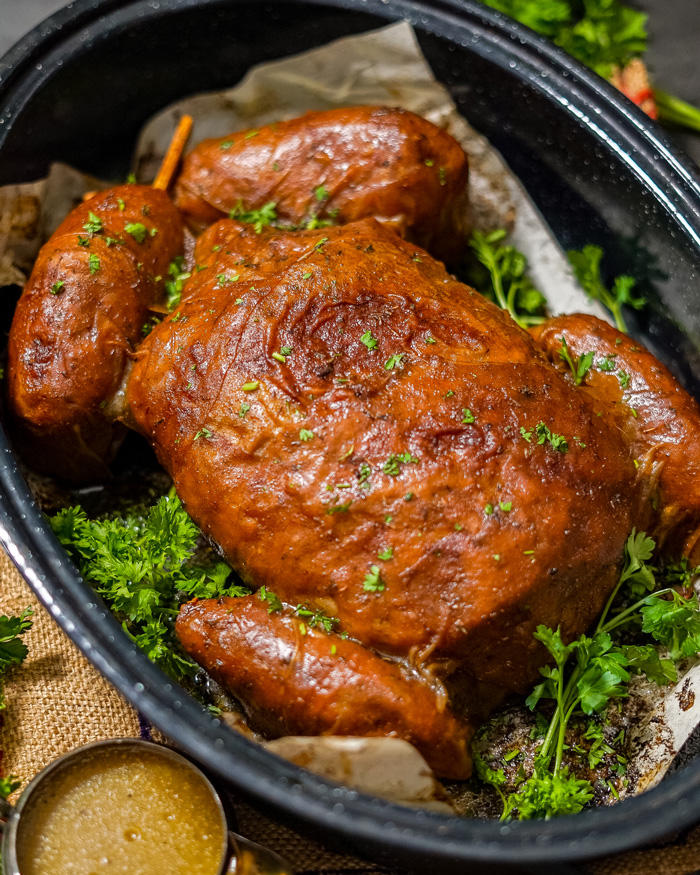 Let's kick off this list with my infamous Vegan Turkey Masterpiece. This whole roast turkey that I made for the holiday season a few years back has been one of the most memorable recipes in my career spanning over a decade. Made using a mix of my favourite vegan meat techniques, with bamboo bones and stuffed like the real thing, this may be the most meatiest attempt that plants have come across.  Get the recipe here!

Mushrooms are one of my favourite secret ingredients when it comes to recreating vegan meat. Its texture and juicy flavours best mimic the taste of roasted beef shawarma. The power of mushrooms is so versatile and their health benefits never cease to amaze me. With a few key techniques, you can turn oyster mushrooms into this amazing homemade shawarma recipe. Bonus points if you cook it on a rotisserie or a barbeque. This is the perfect crowd-pleasing vegan meal. Get the recipe here!

Best Vegan Chicken (1 hour)
Seitan is one of the top con-tenders when it comes to vegan chicken recipes. Its chewy and spongy texture that absorbs any flavours and spices is the perfect imitation of chicken. Using vital wheat gluten, jackfruit and tofu, we are creating the ultimate combustion recipe for nuggets, chicken breasts, or your favorite versions of fried chicken. This is a great homemade substitute to store-bought vegan chicken products. I suggest making large batches in advance to freeze for use at anytime. Get the recipe here!

This walnut and mushroom-based mince vegan meat is the most nutritious and natural ingredients to use as any ground beef recipe. This whole-food recipe is great for tacos, pasta recipes or adding to a salad. It is a quick one to pull together and super healthy to fit most dietary restrictions. This is a great way to transform plants into "meat"! I know you won't want to miss out on it. Get the recipe here!

If you love celebrating any holidays or Sunday get-together dinners with your family, you are probably familiar with roast Ham. But since you went vegan, maybe that option is not so viable anymore. So I wanted to introduce you to this amazing vegan alternative using seitan! You can now share the plate with the classic sides like cranberry sauce, mashed potatos and roasted veggies! What better way is it to enjoy vegan roasted ham leftovers for the lunch on a sandwich or your go-to classic ham and eggs breakfast. This smokey, sweet, clove flavours really hits the nail on the head for recreating roasted ham. Get the recipe here!

I can never get rnough of Mushrooms! You can fry them, roast them or marinate them to achieve reallly strong aromatic flavors. I promise you, frying these fungis will level up your vegan cooking experience and you might just surprise yourself. Simply dredge and deep fry the mushroom clusters after breading it. Then when you pull them apart, you'll be so impressed with the natural pull of the mushrooms that you won't believe this isn't chicken! Get the recipe here!

For a quick weeknight meal, soy curls are my go-to ingredient. The cooking process is so easy! All you need to do is rehydrated, marinade, and cook the "meat' in any way you'd like. For this specific recipe, I chose a steak marinade that you can put into any sandwiches, tacos, or your favorite veggie bowls. This recipe is super beginner-friendly. Get the recipe here!

If you are looking for more of a lighter and juicer "steak" alternative with an unforgettable bite, these portabello steaks are the perfect recipe to serve at your next vegan dinner. These are so simple and meaty, just add marinade to the portabello mushroom, grill in a pan or in the barbeque grill and use as a stand-alone steak, burger, or sliced up to be used as your favorite add-ons. Check out some of the health benefits of portabello mushrooms here. Get the recipe here!

If you love Southern BBQ flavors but are looking for vegan alternatives, you are at the right place! This recipe contains smokey, oaky, BBQ flavors with a texture that resembles the classic Southern American BBQ brisket!. Pair this with cornbread and potatoes and you just might forget that this isn't meat! I've even seen some viewers cook this in a smoker and they absolutely loved it! Perfect for the plant-based grillmasters. Get the recipe here!

Bean curd sheets are very common ingredients that have been used in many recipes for over 2,000 years in Asian countries. It is very low in fat and high in protein. It also has significant health benefits that can reduce cholestrol levels, improve heart health and improve bone health and brain functions. The best part is that they are delicious! If you are craving some chicken wings, but have recently trainsitioned to a vegan lifestyle, this recipe is a must-try! It is truly one of the easiest vegan meat alternatives, in under 20 minutes, you can make chicken drumsticks, wihout the chicken of course! The bean curd sheets absorb the flavour so quickly and the texture is the closest to an actual chicken. Get the recipe here!

As a German descent, schnitzels were one of those go-to meals that we all enjoyed very frequently. When it comes to the holidays, I like to keep tradition alive by making plant-based altneratives to the schnitzels we all love so much. I make a huge batch of these for my family for  Christmas dinners and everyone looks forward to it whether or not they are vegan! You know it's legit when non-vegans enjoy it just as much as you do. Get the recipe here!

When I think of a hearty meal, the good old English Breakfast comes to mind. There are typically 3 different meat portions: eggs, bacon and sausage. But we are transforming this meal with an edgyveg twist by turning meat into plants. Or plants into meat. You don't have to be limited to eating just the beans and bread..Get the recipe here!

Inspired by the queen of cholesterol, Paula Deen, this vegan bacon cheeseburger meatloaf is a statement piece that is quite mesmerizing for your next dinner party. This is a marriage between the most meatiest ingredients you can imagine of putting together. Thankfully, this vegan version might be a little easier on your arteries and tastes way better than the original version . Get the recipe here!

If you have ran out of mushrooms after trying some of these recipes, it's time to grab your cauliflowers. Why settle for just one type of "chicken" when you can have plant-based alternatives in many different ways. This humble vegetable makes an amazing alternative to chicken wings, skewers, nuggets and other well-seasoned, drenched with sauce to enjoy. Get the recipe here!

The most delicious part about Philly cheescake is the smokey and cheesy flavors of the layers between two soft buns – it's both savory and creamy at the same time, this is the ultimate comfort food you can pack to go on a long road trip. This vegan Philly cheesesteak sandwich recipe uses just10 simple ingredients including mushrooms and peppers to get that "Philly cheesesteak" flavor served with any buns of your choice. Don't forget that extra cheese! Get the recipe here!

Using the power of soy curls, you can make so many different vegan "meat" recipes. You can make steak pieces, chicken, fish, and mimics so many more meat dishes you might never have imagined. This time we are using soy curds to turn them into classic KFC popcorn chicken. You might not be able to stop once you get a taste, they are almost too good to share. Enjoy the fast-food flavors you love and enjoy with a plant-based alternative from home. Get the recipe here!

The traditional way of making pate stems from animal cruelty using leftover meat scraps to make a spread. But what if we can still enjoy pate without harming any animals? The mission I have with EdgyVeg is to replace and recreate as many meat dishes as possible. This recipe is just as savory, delicious and better for your health and the environment. Spread it on your bread and social media. Get the recipe here!

Do you ever walk downtown and smell a whiff of Donair on the streets? Me too! But most donair places don't serve vegan options other than falafels. So I decided to take a stance and make my own vegan donair! This meaty, saucy wrap is one of the best combinations, you need to try it! Get the recipe here!

Nothing says "meaty" quite like a meat pie. This Canadian classic is so savory and filling – you will also feel less bloated so you will definitely have room for dessert! This is one of the meatiest dishes you can serve for any special occasion: Christmas, New Years Eve, and anytime you want a hearty homemade meal. Get the recipe here!

If you have a sudden craving for a Big Mac but don't want to wait in line during the lunch rush, this vegan big mac recipe is the perfect remedy! Instead of wasting time and producing CO2 driving and waiting in line to order McDonalds' big mac, I am going to show you how you can make your own in under 10mins! It's time to rethink the idea of "fast-food" by prepping all your meals in advance and choosing healthier, cheaper, and much more nutritious foods to consume! Get the recipe here!
Meatiest Edgy Veg Recipes
Instructions
Plan which easy vegan recipes you want to make.
Gather all your ingredients.
Enjoy your delicious vegan meat!
Hi! I'm Candice aka The Edgy Veg
!  I veganize popular food recipes for vegans, plant-based diets, eco-conscious eaters & people who are trying to eat more plants over… y'know animals or by-products of animals. I hope you enjoy this tasty vegan recipe!
Looking For More Vegan Recipes?
Made this recipe? Let me know what you think by leaving a ★★★★★ star rating & comment below. It truly helps me & I really appreciate any support! Feel free to share your food photos on social and tag me @edgyveg so I don't miss it!